HMD Global, the company behind Nokia phones, just raised $100 million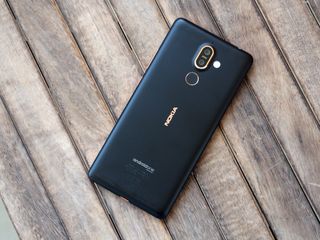 Last year, a company by the name of HMD Global revived the Nokia brand and started releasing a heap of Android and feature phones under the iconic name. 2017 proved to be rather successful for HMD, and to ensure things stay that way, the company recently raised an additional $100 million in funding.
According to Reuters, new investors include FIH Mobile (a subsidiary of Foxconn) and DMJ Asia Investment Opportunity. Jean-Francois Baril, a former Senior Vice President at Nokia, lead this latest round of funding.
HMD Global sold around 70 million Nokia phones in 2017, resulting in total sales of $2.1 billion.
Per HMD Global CEO Florian Seiche —
Nokia's already announced a heap of phones for this year, with some of the highlights being the Nokia X6, Nokia 7 Plus, and the alluring Nokia 8 Sirocco. HMD's been using the Nokia brand to do exciting things in the Android space, and I can't wait to see where it goes next.
Joe Maring was a Senior Editor for Android Central between 2017 and 2021. You can reach him on Twitter at @JoeMaring1.
what they couldn't do with ***** windows phone OS.. keep up the good work Nokia

Can they release a flagship phone that will be compatible with all US carriers please?

I dont believe they're targeting the US audience at this time. They are concentrating their efforts in Europe and Asia where they can expand their portfolio better due to their brand recognition.

I'm sure plenty of people in the US recognize the Nokia brand.

Exactly! The name isn't unfamiliar to many of us. I want a flagship from them quickly

I agree with you, it's just that the brand is better known outside the US.

Targeting the us carriers won't make them that successful due to carriers and their sales reps only caring about iPhone and galaxy/note devices....

Choice is always a good thing. I'm sure a lot of people are tired of iPhone and Samsung . I know I sure am

Those who buy their phones through carrier contracts will continue to have limited brand and model options.

Myself as well but go to a carrier store and try to buy a phone that isn't Apple or Samsung.

They would need to have a flagship to begin with.
When they do, it'll be available in the US through Amazon. Do NOT expect them to bother with American carriers, namely the stubborn two that insist in using CDMA when the entire world is in GSM.
If you want support on Verizon you'll need to convince Verizon to pay HMD to create the phones specifically for them.

The 6.1 or X6 will be my next phone.

I have the 6.1 and it works well.

I can't see the Sirocco selling much, but the 7 plus and 6.1 will sell a lot. Both of those have amazing specs for the cost.

Look. Until Nokia brings something better than that underspecced Nokia 6.1 to the U.S., I don't care. Bring the Nokia 7 Plus. I don't want that Sirocco edition when I can get the Nokia 8 for cheaper.

Nokia has the recognition and chops to make a great go of things in the global market, including the US. I'm an IT professional, and I'm in the process of transitioning our entire company, about 80 handsets, from Windows Phone to Android. Windows Phones have been great for us and served us well, but as devices get lost, stolen, and damaged, I'm running out of options to replace them. I've personally been carrying around the Nokia 8 as my daily driver for a month now. I love the hardware, hate the OS. So many things worked so much better and easier on my Windows Phone, and the Nokia 8, while a good phone with a good design, can't hold a candle to my 3 year old Lumia 950 even just from a hardware standpoint. It has no wireless charging (much less dual like the Lumia), no OLED screen, the camera is not as good, even though it isn't burdened with as many pixels, there's no removable/replaceable battery. It does have a microSD card slot like my Lumia does. Odd that the same company designed both phones... I also have given my wife a Nokia 6.1, and I plan to roll out those same units to our sales and middle management staff. For the price, they are well spec'd, and so far we have no issues with performance in our testing. The field construction workers, who break phones faster than most people go through toilet paper, will be getting the Nokia 2, provided our testing of the units and associated MDM pans out. They are physically very strong and stable units, being made from a unibody aluminum frame. They are low spec budget phones, but that is all those guys need, and the $100 cost is something we can live with as often as they have to be replaced. I and most of my users will miss Windows Phone as an OS, particularly how well it meshed with our Windows domain network and all our other Windows 10 devices. But it seems the masses have spoken and self-created the Android/iPhone dichotomy that we must now operate within. To address one comment... The Nokia 8 and Nokia 8 Sirocco are very different devices, The Sirocco is not just an "edition" of the 8. The Sirocco has wireless charging, and an OLED screen, just to name a few of the differences, so the price difference at least has some justification behind it. Personally, I holding out hope for a Nokia 10 with an 845, 2K OLED, wireless charging, the rumored "penta-lens camera", a 3.5mm jack, and an FM radio chip inside.

According to some older postings on some older forums I've read that when Nokia offers a flagship global release it is going to be available on Verizon as well. That could have changed but here's to hoping that it hasn't

Loving what Nokia are doing on Android. They are s great alternative to the Pixel and are now what Motorola used to be. In fact Nokia have always been a bigger brand than Motorola it's just they choose the wrong OS in Windows Phone which was garbage.
Android Central Newsletter
Get the best of Android Central in in your inbox, every day!
Thank you for signing up to Android Central. You will receive a verification email shortly.
There was a problem. Please refresh the page and try again.