Here's a neat Chrome + multi-window trick you probably didn't know about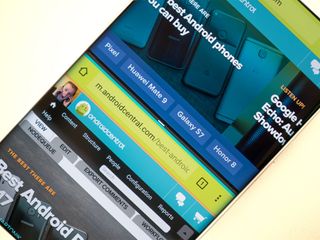 Android 7.0's multi-window feature is great, letting you split your display between two full screen apps. But it comes with a few caveats, including the fact that you generally can't run different instances of the same app in both windows.
Google Chrome, however, is smart enough to juggle tabs between windows, letting you view different pages in each half of the screen. It's a neat trick that you might not be aware of, so here's how you do it.
Creating two Chrome windows
Open Chrome
Long-press the recent apps key to open multi-window mode.
Tap the overflow menu (three dots) in the top right corner
Tap Move to other window
That's it! Your Chrome tab will pop into the lower half of the screen. And you can use this feature to juggle tabs between the lower and upper half's of the screen at will.
Opening a link in a new window
First, you'll need to have Chrome open in multi-window mode.
Long-press the link and tap open in other window
That's it! The link will pop into the lower window and you'll be good to go, with the original page up top and the new one down below.
It's worth remembering that you can open links from the lower window in the upper one using this trick - it doesn't matter which window you're starting from.
Happy multitasking!
Alex was with Android Central for over a decade, producing written and video content for the site, and served as global Executive Editor from 2016 to 2022.
Well my device is still on Marshmallow 6.0.1. so this trick won't work for me.

Thumbs up - For stating the obvious.. 👍🏻

Is there a trick to know which window an app will open up in when using a hidden app drawer type app (Swapps/SwipePad) to launch the second window app? It's frustrating being in an app, long pressing the recent apps button (initiating split screen), then launching an app not in the recent apps list (via the hidden app drawer app), and having the app you want populate the second part of the screen, open up over the first app in the first screen. Sometimes it works right, and goes to the second split screen, but most the time it doesn't. Also, is there a trick to swap top/bottom or left/right app locations in Nougat, like on Samsung phones since 2013?

Even easier on a Samsung S7E that is still on M. I can run the same app in both windows. Doesn't seem to make a difference which app it is.

What do you mean how? With built in multiwindow I'm Samsung's software. Easy to implement 2 separate internet browser windows for example. Been like this for a while now.

Didn't know that. Thanks.

My S7 edge can do this on 6.0.1 Slightly different method but you can definitely have two chrome windows open simultaneously

Why don't it work in marshmallow

Android multi window capability wasn't added until Nougat (v7.0). Marshmallow does not support that feature, unfortunately.

Just got nougat on OP3. And split screen is awesome.

What happens when you close the second window? Are the tabs re integrated or do you keep multiple instances of Chrome open even without the split view? Or are tabs on one window just thrown away? I'd try it right now but my Nexus 7 is on Lollipop and my Pixel has about 50 tabs open which I'd rather not experiment with. :P

Wow that's so useful,I'm not huge on multitasking with apps but so many times I'm back and forth on tabs with chrome it's about time.

Just tried it and it didn't work. It should work, I'm on Android 2.3.6! he he, just kidding. :D

This is great and a perfect reason why havong such a large device like the V20 is a good thing. I really love the size now.
Android Central Newsletter
Get the best of Android Central in in your inbox, every day!
Thank you for signing up to Android Central. You will receive a verification email shortly.
There was a problem. Please refresh the page and try again.