Here are the places you can buy USB-C cables for your OnePlus 2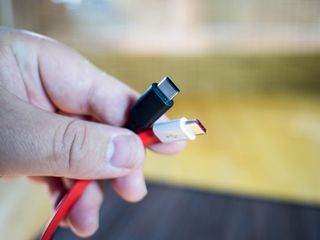 MicroUSB has been the golden standard with Android phones and tablets for several years now, but over the next year there's heavy expectation that we'll see the new USB-C connector take its place. We've seen USB-C show up on the new Chromebook Pixel, but now that this new standard has arrived on smartphones and tablets you're going to need to know where to get some new cables and adapters.
Here's a quick list for you new OnePlus 2 owners, who have undoubtedly become aware of the need for more than the single included USB-C cable.
OnePlus USB-C Adapter
You'd think the first place to look for USB-C cables to hook up your OnePlus 2 would be the company that makes the phone, especially since there's a really nice flat cable packaged with the hardware. Unfortunately, the fabled $5 USB-C cable OnePlus has been promising doesn't exist in their store just yet. Instead, you'll find a USB-C adapter for your existing microUSB cables.
This little snap-in plug will run you $10, which is twice what the cable is supposed to cost, but lets you keep your existing cables.
Buy: OnePlus USB Type-C Adapter ($9.99) (opens in new tab)
Belkin USB-C Cables
A full USB 3.1 type C port is going to be capable of doing a whole lot more than the USB 2 type C port on the OnePlus 2. Data will transfer significantly faster, supported phones and tablets will charge faster, and communication with third-party accessories will number in the thousands. If you have to replace your microUSB cables anyway, you may find it makes more sense to purchase the cables that support all forms of USB-C, instead of just the inexpensive ones that work with what you have now.
Belkin makes sure both cables are available to you, but there's an obvious price difference that will leave you choosing between the two.
Monoprice USB-C Cables
Just about everyone who orders cables on the Internet knows there's one place to go if you want all sorts of cables as cheap as they come. Monoprice has a long standing history of being inexpensive, and the new USB-C cables are no exception.
If you're looking to replace all of your microUSB cables at once, this is probably the best place to start.
Buy: USB 2.0 Type C cable, 3ft ($9.99) (opens in new tab)
Amazon USB-C Retailers
Price is always an important part of shopping for new cables, especially since you undoubtedly need more than one, but style plays a big part for some as well. Amazon has several different companies selling their cables, both in the standard rubber and braided variants.
The two best on the site right now appear to be marked down from significantly higher prices, both of which are well worth considering.
Apple USB-C Accessories
We've all had a good laugh at the cost of Apple's USB-C adapters for their new MacBook, but its list of available USB-C accessories is significant. They are also one of the only cable retailers to offer flat white by default instead of glossy black, so if that's something you feel you need in your life Apple is the best place to look for now.
Buy: USB-C to USB-A Charge Cable ($19.99) (opens in new tab)
My next nexus will replace most of the chargers at home/work/Car
and i will have to look for these cables but i am looking for price less than $5

You sound incredibly cheap.

cables dont even cost more than $5 to make. all those $20 cables are marked up.
I am looking for a cable which gives incredible value for my money.
if that looks cheap then yeah i am cheap. please dont tell me you never look for cheaper product
and you are cheap too

If it cost $5 to make, why would they sell it for $5? Companies are here to make a profit. Cheapo.

read again i didnt say it cost $5 to make. I said it wont cost more than $5 to make so it could cost $2 too
are you butt hurt on what i pay with my money for what i want to buy?? why are trying to stick you face up my ass

I am with you. I used to buy the ''good'' cables but I went through them as fast as the cheap ones. Check out the new Nexus! https://youtu.be/u3uFOavLo_w, not a Rick roll

but there is a point where profit is taken a little too far... for instance I work for a fairly large retailer who sells just those cables... and its more like those $20 cables really only $0.82/cable to make, package, sell, and ship from china... and all of the cables that cost $5 to make actually cost $70 or more. if you want to continue to pay $20 for an $0.82 cable, then by all means go ahead and pay for it then, the rest of us will be a little more wise with our money...
Elitist.

Here you go, Aliexpress directly from the Source(China) Aliexpress is reliable i order all the time just takes about 15 to 25 days. Choose Epacket Shipping!. Less than 6 dollars. 3.1 USB TYPE C :
http://www.aliexpress.com/item/Free-Shipping-USB-C-3-1-Type-C-Male-to-St... http://www.aliexpress.com/item/USB-3-1-C-Type-Cable-1M-For-Macbook-2015-... http://www.aliexpress.com/item/High-Quality-USB-3-1-Type-C-Male-to-Micro... http://rover.ebay.com/rover/1/711-53200-19255-0/1?ff3=4&pub=5575095911&t...

But where can anyone buy a OnePlus Two? Ha. Got eem.

Something came in the mail today..

You should get it sterilized! Post Haste! :)

I was quite impressed when I first heard the Oneplus 2 had USB C, then I saw the actual spec and realised it's a pointless gimmick and the phone should probably have just had micro USB. Disappointing. Wubba lubba dub dub!

These guys are geniuses. Charge early adopters to adapt their current cables. Then some time later, sell them complete replacement cables at a price they can't refuse. Posted via the Android Central App powered by Droid Turbo

Glad to see mono price! Hands down the best place ever for stuff like this!!!

Oh goodie! OnePlus is selling adapters. I'll need those so that my longer cables are still useful. Posted via the Android Central App

I'm currently #27,857 in line for a cable invite.

Hey you took my spot! Check out the new Nexus! https://youtu.be/u3uFOavLo_w, not a Rick roll

I'll take wireless charging for the block... Posted via Serenity

Why in the hell did they brag about this yet it only supports USB 2.0 wtf Posted via the Android Central App

USB-C 2.0 = Stupid + Pointless

Monoprice ALWAYS..and I mean ALWAYS gets my business for cables. Quality audio, video, and charging cables....at prices that often feel like I'm stealing. I pity those who spend 20$ on HDMI cables (or the tools who buy 100$+ Monster ones) bahaha Posted via the Android Central App

Monoprice has a good selection of cables and adaptors for usb c plus the other standards.

OnePlus sells a USB-C cable separately now for $5.49 USD
https://www.androidcentral.com/e?link=https2F2Fcrea...

Please update this article based on the findings of the Google engineer who has found that a lot of USB Type C cables are non compliant and risk damaging your device or charger.

https://www.androidcentral.com/e?link=https2F2Fcrea... has USB-C to A (3.1) cables in different lengths in the $4-5/ea range. Easily find coupon codes for 5% off your order, and free 3-7 business day shipping. They also offer bulk pricing (prices below are for single piece). I just ordered a bunch for around the house and my car, and some C-to-MicroB cable adapters to try out (adapter bits I got on Amazon, even the highest rated ones, are junk). 1ft, $3.68 - https://www.androidcentral.com/e?link=https2F2Fcrea...
1m (3ft), $3.67 - https://www.androidcentral.com/e?link=https2F2Fcrea...
2m (6ft), $5.53 - https://www.androidcentral.com/e?link=https2F2Fcrea...
8in C-to-MicroB adapter cable, $3.62 - https://www.androidcentral.com/e?link=https2F2Fcrea... Sure beats the absurd prices other places are charging for freaking cables.. $20 for a cable? Yeah, no thanks Belkin.
Android Central Newsletter
Get the best of Android Central in in your inbox, every day!
Thank you for signing up to Android Central. You will receive a verification email shortly.
There was a problem. Please refresh the page and try again.