Here are all the phones that have Lollipop so far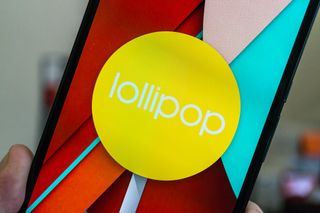 Lollipop was released back in October of 2014, and it's now running on 9.7% of Android devices according to the May 2015 distribution numbers. Finding the phones in that 10% can be a bit of a challenge, though, so we're going to make it easy for you. This is going to be a regularly updated list where we will keep a running tab of which devices are running Lollipop. This list will only show devices that have Lollipop, not devices scheduled for an update that may or may not come. So, if you're in the market for a new phone or just wanting to see if your phone has gotten Lollipop somewhere, anywhere, then you've come to the right place.
A note about this list
All Android One devices are being updated by Google and they are all running Lollipop. In the interest of time, we will not be listing every Android One device for now. If/when older Android One devices stop seeing updates, we will begin adding Android One devices.
Also, we can't possibly list every Android device from every manufacturer in every country. We're sticking to the more "popular" devices, so if you don't see your Android listed hit the forums for the latest discussion.
*may not have rolled out on all carriers/models
Motorola
Moto X (2014)*
Moto X (2013)*
Moto G (2014)
Moto G (2013)*
Moto E (2015)
Nexus 6
Droid Turbo
Samsung
Samsung Galaxy S6
Samsung Galaxy S6 Edge
Samsung Galaxy S5*
Samsung Galaxy S5 Active*
Samsung Galaxy S5 Duos*
Samsung Galaxy S4*
Samsung Galaxy S4 Active*
Samsung Galaxy S4 Duos*
Samsung Galaxy Alpha*
Samsung Galaxy Note 4*
Samsung Galazy Note Edge*
Samsung Galaxy Note 3*
HTC
LG
LG G4
LG G3*
LG G2*
LG G Flex 2
Nexus 5
Nexus 4
Sony
Xperia Z3*
Xperia Z3 Compact*
Xperia Z3 Dual
Xperia Z2*
Xperia Z1
Xperia Z1 Compact
Xperia Z Ultra*
Asus
Huawei
OnePlus
Ara Wagoner was a staff writer at Android Central. She themes phones and pokes YouTube Music with a stick. When she's not writing about cases, Chromebooks, or customization, she's wandering around Walt Disney World. If you see her without headphones, RUN. You can follow her on Twitter at @arawagco.
My Lenovo Vibe Z2 Pro has Lollipop since the end of April

Hello how can I update my Lenovo s930 ?/please help !

LG L90 received Lollipop at the end of April-beginning of May.

Do you happen to know how I could install it?

Just got it on my L90 / D405n - in UK.

My moto g 1st generation still waiting, I don't know what what for, but still waiting. My Samsung Galaxy S 8.4 ,I'll probably be dead before I get it.

The Tab S 8.4 already has lollipop. Mine has been in it since April.

This list will not include tablets. And that little asterisk next to the Moto G 2013 indicates it has not rolled out to all regions/models. But some Moto Gs have seen lollipop.

Or nearly any phone supported under Cyanogenmod, CM12 or later, which is far more than this list.

I have a YU Yureka...
CyanogenOS 12...
Android 5.0.2...

Same here. The list is incomplete

Sprint has not yet pushed Lollipop to my GS 4.

Yea but they pushed it so it's inevitable that you'll be getting it sooner rather than later. Posted via the Android Central App

How long ago, do you know? Never gotten a straight answer from Sprint.

The spark version got it about a month ago, the regular version got it around 2 weeks ago (I believe, not 100% sure)

Thanks for the info. One more thing to bug Sprint about.

Motorola's list would be larger if they wouldnt have axed 5.0 for turbo and 2013 X in favor of 5,1 A lot of these phones will be stuck on 5.0 forever that didnt do this.

There are a good bit of low end and mid range phones that have recently launched with lollipop out of the box as well. Posted via the Android Central App

This list is covering the bigger phones/OEMs. For now, anyways.

My Mom has the S5, and when I told her to check for an update on her phone, I noticed she doesn't have Lollipop. Posted via the Android Central App

Me and my wife both have it. Her on her LG G2 with Sprint. Me on my One Posted via...The One

With such large coverage of the majors, especially the numerous Samsung models, I am surprised the Lollipop figure is just 9.7%.

Lolipop is fucking awful, worst OS ever developed. I think the developers should be fired, Is this what you release to your customers?. Its buggy as hell, No LTE, no wifi, apps crashing, can't place phone calls, keyboard is all fucked up.. I've had nothing but problems since I've updated. Android 4.4.4 was great. Why fix what isn't broken and make it more broken?

That's a problem with your phone.

I totally agree. I upgraded a month/month ago. N I've had horrible service/WiFi since.

Here in Brazil all modern Motorola phones have it, meaning first and seconds gen Moto E, G and X and Moto Maxx (Droid Turbo). Curious, I always thought these things were basically launched US first. Maybe its because or phones here are unlocked, since for most people the career discount is irrelevant (you can get most phones cheaper in retail, unless you have a pretty expensive plan - 100$ plus).

What really annoys me is how guys in the USA believe that the world is the same as them. MOTO G 4 G (LTE) in the UK has NOT been upgraded to Lolliop and I guess other around the world are the same. The 2013 non 4g has Lollipop, yet the phones have basically the same screen, chip et . Why does 4g from 3g cause a problem? Perhaps we all were mugs getting the 4g version. Will never buy Motorola phone again if this is the way they treat customers!

My Samsung Galaxy S4 still doesn't have Lollipop...

8 months on and less than 10% penetration says the Lollipop announcement was a foolish, panicked response to iPhone 6.

My Blu Studio X Plus got the 5.0 update last week.

Ditto. Unfortunately, Lollipop took the X Plus from a reasonably fast off-contract phone to a painfully slow one. I should've gone with the Moto G.

Still waiting on the first generation Moto E in the U.S, but I don't know if it'll work for StraightTalk

Actually, all the Sony Xperia Z series has Lollipop. Not to forget both the Oppo Find 7 and 7a is already on Lollipop.

lollipop screwed my G3 up, done with Android issues. I require something that just works, iphone it is.

I, too, have the issue with Lollipop on my G3 (acore keeps stopping), but I'd rather have KitKat than switch to an iPhone. The issue I'm having (not sure if it's the same for you) has been resolved in Android 5.1. So I'm just waiting for that before I upgrade.

Im having htc desire 820s when it will get its lollipop pls say

Sprint Galaxy S5 Has 5.0 and No problems to report on it.
My HTC Desire 816 from Virgin Mobile has 5.0.2 and runs perfectly! However i no longer see the Desire 816 offered from Virgin Mobile Website???
I Must say this if you have kit kat 4.4.2 or 4.4.4 stick with it!
NO NEED TO Update until they get lollipop fixed like when 5.1 comes out. Have Heard nothing good about 5.0 lollipop and i do not see any improvements since i updated. just looks a little different thats all.

All focus on phones. What about tablets? I own a Dell Venue 8 running Android K. If there won't be an update for this device, then I would like to know.

is there any update for my Alcatel Pop c7?

The original xperia z also have lollipop, i mean all the Z line already has lollipop

How about Samsung Galaxy Avant? That phone isn't really popular
Android Central Newsletter
Get the best of Android Central in in your inbox, every day!
Thank you for signing up to Android Central. You will receive a verification email shortly.
There was a problem. Please refresh the page and try again.