Help get the Android Central Podcast to the top of Pocket Casts' new trending section!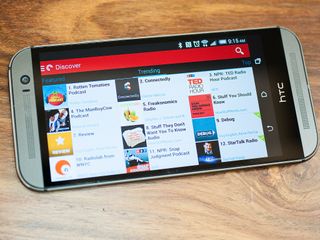 Pocket Casts — one of our favorite podcatchers for Android — has updated with a trending podcasts list. And there are some find selections currently in the top 12 or so, including Mobile Nations' own Connectedly podcast, Review and Debug. And a personal favorite, StarTalk Radio, with some dude named Neil Degrasse Tyson. (Seriously, check it out if you've yet to do so.)
But the Android Central Podcast simply is too far down on that list.
This. Shall. Not. Stand. It's time for a full frontal assault.
This is the Android Central Podcast. And you should add it on Pocket Casts. Defend the republic. Fight till the death. Do not let this atrocity stand. Only you can prevent forest fires.
(Seriously, though, give the update a try, subscribe to our podcast and be sure to catch us live this Friday.
But... but, I was already subscribed! (best podcast app!)

Same here! And I have been using Pocket Casts for ages.

+1 Posted via Android Central App

Ditto the Ditto of the Ditto.

Me too lol Posted via Android Central App

As of writing this the AC podcast is number 66. Posted via Android Central App

I'd love to help, but I use BeyondPod ever since Google Listen shut it's doors.

But you're still 11 on the Top Podcasts list

I'm already subscribed too. Maybe we should all download the latest podcast several times and grab a bunch of the old ones too. Oh wait. That might be considered cheating Posted via Android Central App

Also already subscribed. Love pocketcasts though, best change logs ever.

Best podcast app ever, keeps podcasts, playing positions and everything in sync between my android and iOS devices. Posted via Android Central App

Shameless! I've subscribed to it for years, or as long as it's been around. Posted via Android Central App

Am I the only one using PodcastAddict? Schedules downloads, auto adds/deletes podcasts to play list, tons of widgets that launch the app the way you want (go directly to the player, the playlist, podcast lists). And it's frequently updated. All for the low low cost of free.

I was already subscribed while using Pocket Casts Posted via Android Central App

PocketCasts as good as it is doesn't appeal to everyone with it being a paid app Posted via Stock Nexus 4*
Android Central Newsletter
Get the best of Android Central in in your inbox, every day!
Thank you for signing up to Android Central. You will receive a verification email shortly.
There was a problem. Please refresh the page and try again.