HBO GO comes to the Amazon Fire TV Stick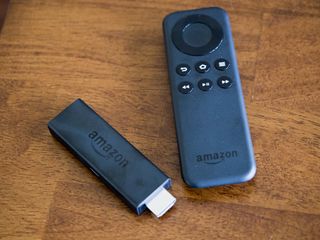 There hasn't yet been a formal announcement, but HBO GO is indeed available for the Fire TV Stick through the dongle's app store.
HBO GO originally hit the Fire TV back in December, but users of its smaller sibling, the Fire TV Stick, were left out of the party with a promise that the service would hit the streaming dongle sometime in the spring.
If you'd like to try the app out on your Fire TV Stick, you should be able to snag it from the device's app store now. However, do keep in mind that HBO GO does require an active cable subscription from a participating provider to use.
Get the Android Central Newsletter
Instant access to breaking news, the hottest reviews, great deals and helpful tips.
Woo Hoo... have had this channel on my Roku for years, LOL

Try putting Kodi on roku ;) i already had hbo sideloaded on the stick anyway.

Seems odd it's just the stick and not Fire TV. Posted via Android Central App

It was already on the Fire TV, just not the stick. Landed on the Fire TV back in December.

Are Amazon kindles any good to use as tablets?
They are on sale at the moment. Posted via the Android Central App

If you are okay with their Android skin then yes. I found them to be very well built. I didn't like the lack of Google apps and the lack of the play store (uses amazons app store). If you are okay with that then I would get one. Posted via the Android Central App

I have one. They are great as a media consumption device. Great screen and snappy performance (I have the hdx 7). A nice feature is that if you have prime you can download (not just stream) a lot of shows, particularly kids shows. And of course you have the Kindle books which are the biggest library.
For productivity I'd go with an android tablet that has access to Google Apps and the play store. For the latest games I'd go with an iPad. Posted via Android Central App

Excellent appraisal, my sole reason for purchasing an HDX 7 was so my son who was going to Afghanistan could download programs for when he had to be away from Wi-Fi. Beautiful screen and fantastic for watching videos.

I swear, if I download this app and it says I can't use it with xfinity... Posted via the Android Central App

Unless it has changed since I tried a couple weeks ago on my Fire TV, Xfinity is not a supported provider. :( I am stuck with my Chromecast for HBO Go.

What's the problem with that?

Does surround sound work?

Surround sound appears to be a go!

Meanwhile nothing comes to Android TV. The biggest failure of all time. I can't wait to sell it.

Orionsaint: throw that Android TV on eBay and post link. I'll bid on it!

It's already there but not for bidding. I have it with a fixed price http://ebay.to/1BzPDlA

Yes you do have it at a fixed price.