Having issues with Gmail today? You're not alone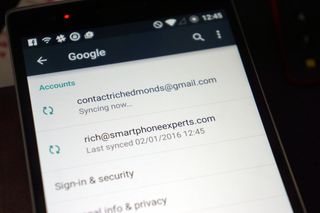 We hate it when services go down, especially ones we rely on for work and/or personal use. Gmail is currently experiencing some problems as we've received reports (and have confirmed ourselves) that the online email platform is having trouble maintaining a connection, resulting in many unable to access their inbox.
We've checked out Google's status dashboard, which details when things take a turn for the worse and nothing appears to have been logged as-of-yet. Social media has also exploded with users unable to connect to and synchronize their Gmail accounts. The service also appears to be resuming for some, so hang tight if you're still having trouble.
View Google's Status Dashboard
Are you having issues today? Let us know in the comments! We'll update this post should further details become available.
I have had small issues with gmail for a while no on my Nexus 5x.. It doesnt notify me when i get emails, or it doesnt sync.
Sometimes it notifies me in the evening, and i can have emails from early in the morning that i have never been notified of.. Settings are as they have always been, on all my phones..
Anybody else had this?

It's pretty common on both the 5X and 6P. It's been happening on my 6P. Posted via the Android Central App

??? Posted from my Nexus 6/Nexus 7 2013/Surface Pro 3

I meant exactly what I said but I wouldn't know, I'm using a lowly Note 5 device, one that I may add has never had an issue with Google services. I find it hilarious that Google's bread and butter devices can't even play nice with their own services.

You are right I have the nexus 5 and have all them issues Posted via the Android Central App

Same here, notifications have not been working properly with Gmail/Inbox for at least a few weeks. I've cleared cache data, cleared data, uninstalled/reinstalled...issues are persistent but irregular.

Yup, plenty of issues with Google notifications across the board actually. Gmail/Inbox, Photos, G+.. My brother has issues with Hangouts in addition to Gmail. It's been going on for months...

I believe that it's a Marshmallow Battery Optimizer issue, it doesn't sync correctly if it's set to Optimize. You have to go into Settings > Battery > 3 dots > Battery Optimization > Select all apps > Gmail > Don't Optimize. This worked for me.

Same issue on my Nexus 6 and it's been annoying me. I think it is an optimization issue, even though changing the settings doesn't fix it.

Yeah, I thought I was alone until a couple weeks ago. It's a known issue:
* https://productforums.google.com/forum/#%21topic/nexus/Ayd_1TOemSE

Hey, Thanks for the technical support connection to internet and assure emails also inbox confirmations kudo's . I haven't been experiencing breach of communication although when explanation of complaints must adhere a short phase " without the means to communicate".

My contacts weren't loading, and first time I tried Gmail this morning it failed, everything working as of 8:04 EST

Going on for weeks..... Absolutely ridiculous Google has let this continue for so long...... I thought Marshmallow was going to be about squashing bugs....I feel like Android has never had so many bugs. Posted via the Android Central App

It's working for me :/ My dad's new Galaxy A5 2016 (imported from Europe) is still giving me notifications from AC about people replying to my comments. So is my backup Galaxy S3 and iPad Pro.

My Google account says "sync error" but all my Gmails are still coming through. I use inbox if that makes a difference. Posted via the Android Central App

Yes and its bullcrap Posted via the Android Central App

Ah, I just got my first Android phone and was wondering why Gmail was saying I didn't have GPS installed or something like that. It would work intermittently so maybe this is why. Ty for the article. Posted via the Android Central App

not had any problems with my Nexus 6P on Vodafone UK Posted via the Android Central App

Just have to say, I have had many a many of android devices(like lots).... And I love my 6p, but I have never experienced sync issues in gmail like this . it works fine for half a day then no go all the time. I depend heavily on gmail for motion activated alerts from security system and it doesn't work very well when it isn't syncing ... Google I loves ya but u need to get this fixed immediately.. Maybe a month ago :-) my other nexii are fine by the way. Posted via the Android Central App

Not sure if this is related but Gmail hasn't synced on my Nexus 6P since 2 days ago... wtf google??

Oh.. Oh... Not syncing, what a surprise Posted via the Android Central App

Error message:
You blocked ascater22@gmail.com messages from this address will be marked as spam.
How do I fix this?
Android Central Newsletter
Get the best of Android Central in in your inbox, every day!
Thank you for signing up to Android Central. You will receive a verification email shortly.
There was a problem. Please refresh the page and try again.