Have you ever had to return one of Google's Pixel phones?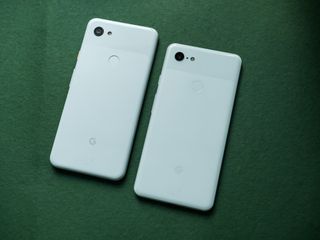 (Image credit: Android Central)
Whenever a new Pixel phone comes out, there tends to be a rush of drama regarding various issues and bugs plaguing the devices. From poor displays, buzzing speakers, bad RAM management, etc., these can push some users to return their phone and start off from scratch.
Taking a look at the AC forums, it would appear that a lot of our users have had to return a Pixel phone at one point or another.
Here's what they have to say.
What about you? Have you ever had to return one of Google's Pixel phones?
Android Central Newsletter
Get instant access to breaking news, the hottest reviews, great deals and helpful tips
Joe Maring was a Senior Editor for Android Central between 2017 and 2021. You can reach him on Twitter at @JoeMaring1.
I had to return my 2XL after a few months bec of the USB type C port. Too much of connecting /disconnecting the charging cable and USB to headphone adaptor wore it out.
Got the replacement and bought a Sony Bluetooth headset which after I replaced with AirPods.

Twice, once for USB c port and once for battery

I had to return both my original Pixel XLs for the microphone issue then return the replacements 6 months later for battery issues. Then I returned 1 of them again two months after that because it wouldn't even power on. To make that worse, the other one failed to charge the same week that I got the other one back. I ended up just returning them both again to get a new refurb and just selling them to my in-laws.

My Pixel 2 XL because of rattling speaker grill.
Replacement was brand new (not refurbished), but affected by the same issue.
At which point I understood that it's a design flaw, and kept it that way. Now things improved by bending the speaker grill a bit, which of course ruins aesthetics a bit, but no more rattling.
Resale value will probably be affected by this visible change, but it was very low anyway, so...
Anyway I don't care, since I'm very satisfied with it and I plan to keep it until the 4A comes out.

Nope. I've owned a Pixel XL and a 2 XL, never had an issue with either that needed a hardware replacement.

2 Pixel XLs and 1 Pixel. Screen failures

Several, first Pixel 3 out of the box had the microphone not working. Wife's Pixel 3 had the USB-C port stop working after 3 months. Probably a good thing as the volume rocker paint quickly wore off, and the speakers started to buzz. Two for two Google.

I returned my pixel3 I had the screen of death it just went black almost wished i purchased from a carrier Google took 2 week to replace it and I had to call them to remove the credit card hold they placed until my return device was received my unit was 3 months when the screen failed

I just got my pixel 3xl 2 days ago, less than 24 hours after receipt my screen died. Luckily I did buy from provider

I've only ever had one Pixel phone: the Pixel 3 XL. I've had it since November and haven't had any issues other than the occasional bug in the Q beta. I'm very grateful that it's working as designed, but also saddened by the fact that I feel grateful for my phone working normally. Hopefully Google irons out and minimizes defects for the Pixel 4 series.

I had a total of 3 defective phones after the first was stolen in transit. Google customer service was horrendous. Waited for hours just to talk to someone to tell them about the situation. They couldn't do anything the time I called. That was when the phone was stolen in shipment. I had to put a hold on my credit card each time and once they said they didn't get the defective device when they did. They barely apologized for the multiple instances of inconvenience. I had two failed screens and one digitizer issue. The software was buggy as well. I have never had a worse experience in Mobile phones ever. To make matters worse there is no physical location you can go and exchange your device which complicates everything. I am a huge Google fan. This was a huge disappointment for me. It will be a long while before I get another one.

My Pixel 2 XL is working great! I've had it a year and a half and I love it still! Mine will rapid charge only if the phone is above 70°, but that rarely proves bothersome. My husband, son, and daughter-in-law, also bought Pixel 2 XL's shortly after they came out. My son had a problem with his first one right out of the box but Target just gave him another one. Then about 6 months ago he had another issue and Google replaced it with a brand new one. Everything's been good since and, even with those issues, he still loves this phone. Note: my son and daughter-in-law both were iPhone users for years before they decided on the Pixel 2 XL!!

My OG Pixel I got at launch just died. Replaced it last week under Device Protection and they sent me a brand new OG Pixel XL. Sure why not. It's just a spare device. Main is a Pixel 3

I love my Pixel 2xl but I am on my 4th in a year. Each time with the same issue. Charging port problem, the phone will charge most of the time but anything data won't work, plugging it into a computer, Android auto and even headphones. My wife is on her 3rd. Twice for this problem and once for a flickery screen

Yes. Pixel 2xl had screen issues and had to be replaced. They fixed it for 300$ and them sent it back but there was still an issue so I sent it back for an exchange. Now I HERE'S WHERE AND WHY I'VE COME TO HATE GOOGLE :
I sent the phone back with Google's preprinted prepaid label via FedEx. Weeks later I learned the box arrived empty at Google and they never told me. I've been fighting with them ever since to take responsibility for this theft. Someone either at FedEx or at Google STOLE my Pixel 2xl and I'm now out à phone. There was also no insurance on the package because Google and FedEx have an agreement not to insure prepaid packages. In short, I'm screwed. I've taken this issue to the BBB of California and they've been useless. I'm now seeking alternate methods to resolve this. All Google had to do was give a store credit and that would have been the end of it. They've been absolute @sswipes throughout the entire process.

My original Pixel phone. I returned a couple of them. First one I could hear some gear noise or whatever when the camera would focus while recording video. The sound could be heard in the videos. The second I returned because of very bad banding on the screen. So like on an all gray screen you could see stripes or bands rather than a solid color. It was bad enough you could see it when you pulled down the notification shade. My pixel 2 I bought used but it has been perfect other than when I dropped it and broke the back glass.

Almost a year into owning my pixel 3xl and I got the super rare bug that doesn't allow my phone to be charged anymore. (Analog audio accessory detected which makes your phone think something is plugged into it at all times so you can't use the USB C port to charge) contacted Google support and they are sending me a "referb" model even tho I bought the preferred care.

No, because I never owned one...😜

My 2xl USB c port stopped working. My new one has a better screen, but not the USB port keeps coming unplugged. Gonna try and clean it out. Still might return this one.

Had a Pixel 2, didn't have to return it, just didn't like it.

Had to return 1 nexus 6p for charge and battery issues. Returned one pixel 2xl due to charge part issues. Customer service is good but it appears Google hasn't figured out their quality control yet as more people have had to return them than other brands.
Android Central Newsletter
Get instant access to breaking news, the hottest reviews, great deals and helpful tips
Thank you for signing up to Android Central. You will receive a verification email shortly.
There was a problem. Please refresh the page and try again.