Harry Potter: Hogwarts Mystery will launch on April 25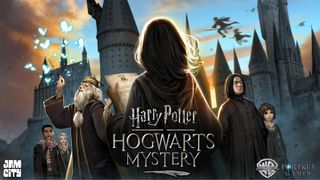 Harry Potter: Hogwarts Mystery was first announced last December, and since then it's been shaping up to be one of the most exciting Harry Potter games to-date. We knew it'd be released at some point before the year was over, but now we have a specific launch date.
According to Jam City (the developer behind the game), Harry Potter: Hogwarts Mystery will be released for Android and iOS on Wednesday, April 25! You can pre-register for it on Google Play right now, and upon doing so, you'll be notified the second the game's released to ensure you're among the first to play it.
In addition to the release date announcement, Jam City also revealed that many of the actors from the Harry Potter movies lent their voice-over work to their respective characters in the game, including:
Michael Gambon (Professor Dumbledore)
Dame Maggie Smith (Professor McGonagall)
Warwick Davis (Professor Flitwick)
Gemma Jones (Madam Pomfrey)
Sally Mortemore (Madam Irma Pince)
Zoe Wanamaker (Madam Hooch)
Harry Potter: Hogwarts Mystery is an RPG that promises to offer a rich story, deep battle mechanics, and a lot of player choice/customization throughout the entire narrative.
Pre-register: Harry Potter Hogwarts Mystery (free) (opens in new tab)
Joe Maring was a Senior Editor for Android Central between 2017 and 2021. You can reach him on Twitter at @JoeMaring1.
I've been playing it for a few weeks now and it's a pretty cool game (and I'm not into mobile gaming). One thing I can say: the story is FAR BETTER than that abomination that Rowling sanctioned to be put on stage in the West End.
And with a proper treatment...it would probably also be a more interesting story than the first Fantastic Beasts film.

Do you have an apk that you downloaded or a preview version from the company?

Here ya go. https://www.apkmirror.com/apk/jam-city-inc/harry-potter-hogwarts-mystery...
It only last about 3 hours in this beta edition, the real game will be much longer

I've been on it much longer than that. I'm on year two of the game and it takes more than 3 hours to get to that point, especially with the energy system they use. I also found some minor glitches when starting year 2. It doesn't interfere with the game but could be confusing if you don't know what you're looking at. I like the original story line but I'm put off by the imbalance of the energy system in the beginning. So, far there is only a small amount of grinding to do in order to stay ahead with some of the character interaction questions. Some of the responses you can give may require higher point values in Knowledge or Courage than if your are playing straight through.

Yeah, also on year 2 here. The most annoying thing is the energy refill times. If you don't start certain tasks with a full bar of energy, specially on the 3 hour ones that need 5 stars to pass, you risk reaching the end and not getting enough stars and then you have to do it a second time to get the rest of the stars. Pretty annoying. And as we progress the energy bar gets bigger but the refill times don't get smaller. Which means it takes longer and longer to refill.

I got it from the Play Store. Beta tester ;)

Would be nice if is actually a game and not cash grab BS like 99.9% of mobile gaming.

I'm on year 2 and so far no need to spend a dime. The things you buy with real money - diamonds - are mostly only necessary to either skip the energy refill time or to buy cosmetic accessories to your character. As far as micro-transactions go, this is one of the good ones.

This man assisted me in hacking my CHEATING HUSBAND Facebook account and he is a very good hacker for services like :WhatsApp, call logs, test messages etc. He delivers in 2hrs or less you can contact him via:
Email: E N R I Q U E H A C K D E M O N 11 ( a t ) G M A I L d o t C O M.
WhatsApp: + 1 ( 6 2 8 ) 2 0 3 - 7 0 0 5
Text/Call: + 1 ( 4 0 9 ) 9 9 9 - 3 4 7 7 .He might ask for who referred you to him say MONIQUE.
Android Central Newsletter
Thank you for signing up to Android Central. You will receive a verification email shortly.
There was a problem. Please refresh the page and try again.