Hanging with Friends now available for Android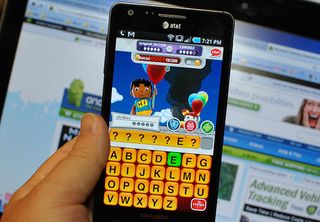 If you love Words with Friends, it's time to try Hanging with Friends. If it looks familiar, it should -- both apps are Zynga favorites. Hanging with Friends is a lot like Hangman, only without the whole swinging from a noose thing. You come up with a word (and get bonus points if it's a nice long one), and so does your opponent. Then the guessing starts. Get too many strikes, and you lose a balloon. Lose too many balloons and gravity takes over.
You can connect with and play against your Facebook friends, a random opponent, search for friends or choose people from your contact list. Or you can just hand your phone to someone and play that way.
Hanging with Friends is free, supported by ads. We've got download links after the break.
Looking for a HwF game? Find an opponent here!
Before I even bother downloading -- can I make dirty words?

Just whatever words are in Zynga's dictionary (which I'm assuming is the same one as WWF).

I was able to use "Shitty", so I'd say, maybe... :D

Been waiting for this, awesome.

Not sure about this game yet. Its 20mb and plagued with the same crap nptification system that made me delete wwf. Plus its not available for my tab. Gonna try to push it over and see if it works. Update: i pushed it to my tab 10.1 and it works fine. The notifications still suck.

Having fun with it already! Peruboy63 if anyone is interested!

Hope it isn't as bad as WWF.That has been uninstalled so any times I was grateful that Scrabble finally came. Maybe they can redeem themselves.

A paid version with no ads would be appreciated. I'll be checking this out anyway though.

I am happy for this, because I like these word games, but I wish they would just port over Chess With Friends already. I used that on my iPhone, but now that I have switched to an Android device, I haven't found a decent chess app yet. (I haven't really looked that hard either, though)

Hanging with friends is really fun. But now it will not load. Please fix the problem
Android Central Newsletter
Get the best of Android Central in in your inbox, every day!
Thank you for signing up to Android Central. You will receive a verification email shortly.
There was a problem. Please refresh the page and try again.