Hands-on with the Samsung Gamepad on the Galaxy Note 3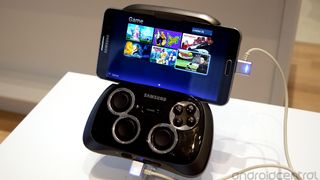 Despite its announcement around the time of the Galaxy S4 launch, the Samsung Gamepad still isn't available to buy. Nevertheless, we were able to track down the gaming-centric accessory on the IFA 2013 show floor and demonstrate it working with a selection of titles on the new Galaxy Note 3. Now slightly redesigned, with differently labelled buttons, the Gamepad we saw in Berlin had a dedicated "Game" button linking into a special games portal on the device. This pauses the current game and pops up a menu, allowing you to choose between compatible titles.
We played Prince of Persia, Sonic 4 Ep. 2 and Need for Speed Most Wanted on the Gamepad connected to a Galaxy Note 3, and performance was as fast and smooth as you'd expect form a Snapdragon 800 device. Some titles did give us issues on this preproduction setup though, with Virtua Tennis crashing at launch.
Connectivity is still handled over Bluetooth, meaning if you don't want to use the attached clip to to create a makeshift handheld console, you can use the Gamepad at a distance. In fact, we even saw the Note 3 linked up to a Samsung TV, with the pad being used as a console-style wireless controller.
Check the video after the break to see the Samsung Gamepad in action with the Galaxy Note 3. We've got more photos of the controller in use with the Note 3.
Alex was with Android Central for over a decade, producing written and video content for the site, and served as global Executive Editor from 2016 to 2022.
Ergonomics looks horrible ...

Agreed.. Looks to me like it was designed by kindergartners for monkeys.

meh.. i'll stick with the moga pro Posted via Android Central App

Thinking of getting a moga but wondering does the controller only work with games from the moga store or can I use games from the play store and also use emulators etc Posted via Android Central App

The Moga pro supports both Moga optimized and HID games. However HID is hit or miss in that I found your A B X Y buttons work fine but the sticks and gamepad don't always work unless you are able to map them. However virtually every emulator I've thrown at it so far allows you to map the d-pad so this isn't much of an issue when it comes to emulators as it is an issue with other games that support HID. I wish a lot more games were Moga optimized and virtually all of the Sonic the Hedgehog games support the Moga gamepads thankfully. Just as long as your emulators support key mapping, your golden. :-)

Thanks for that, all I really care about is emulators and pretty much all the emulators allow d pad mapping. Think I will get the new moga hero power controller when its out. Its cheaper and has better button layout than this too. Posted via Android Central App

Me too. StealthDroid - Working in the Nexus Lab

Psst, just a heads up you called it a shield in the last paragraph lol. Oopps

You latest vaporware accessory from Samsung.. Posted via Android Central App

Ergonomics don't look good...

Would possibly pick one up had they used a normal cross dpad. I would really only use this for emulators so the dpad needs to be good.

Without the DPad doesn't look good. via android central app

Yeah, I'll definitely stick w/ my MOGA PRO. Although I got my hands on the new POWER series at PAX PRIME and they're pretty sick. Slick, both have dual thumb sticks and they do actually effectively charge your battery while you play since they have a separate internal battery for charging so it doesn't diminish the life of the controller charge when you do it.

@ Alex Dobie Thanks for the post. This game pad look horrible, how could Samsung like tech giant release this ??

I don't see the point of gaming on an Android phone unless it is through an emulator, playing some classics. Which this controller has a bad layout for. It doesn't even have a simple d-pad. Posted via Android Central App

So here I am with a brand new Galaxy Note 3, unlimited data, and no gamepad or even a phone case available to go with it yet. Way to go, Samsung, this is how you screw up a launch!

Guys I love your site but did you ever thinked on using a microphone when you shoot video? is just unbereable to listen to all this noise around instead of the person talking.
Or you could do a simple edit and add the voice over.... ;) keep the good job
Thx
David

Does it have any way to remap touch controls to physical controls, like on the Nvidia Shield? The problem with the Moga Pro and Game Klip (I have both) is the lack of compatibility with games that are designed for touchscreen-only controls (like Dead Space).
Android Central Newsletter
Get the best of Android Central in in your inbox, every day!
Thank you for signing up to Android Central. You will receive a verification email shortly.
There was a problem. Please refresh the page and try again.