Hands-on the PLAYBULB LED Bluetooth Candle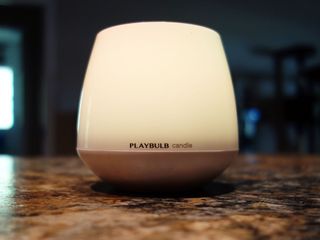 I don't use candles often unless the power goes out or I'm enjoying some Frasier Fir scents during the holidays. The PLAYBULB LED Bluetooth Candle has me considering different setups around my house where these mini lights would look best, and I'm certain that 1 just isn't enough for the full effect I'm after.
This 6W LED bulb is shaped like a flame and sits in the middle of its white circular base. Included with the LED candle are a few scented rings you can place around the light, but they don't seem to provide much of an aroma — even unpackaged. To power the candle you need 3 AA batteries, which are not included, and are installed by unscrewing the bottom disc. You can expect to get around 240 hours of lighting off 3 new batteries. There's a tiny power switch next to the bulb, as well as a hole that recognizes when you blow it out. (Yes, you can actually blow it out like a real candle!)
The PLAYBULB Candle is around 3.5-inches in diameter and feels solid enough to survive a spill or two. The plastic housing around the bulb is translucent enough that each color shines through and is visible at every angle. Even if the batteries wear out, or you want to add some extra flare, flip it over and you've got a spot for legitimate candles measuring nearly 2-inches in diameter.
Read our PLAYBULB Garden Solar LED Light Review
To pair the LED candle to your device, simply turn it on and search under Bluetooth devices. Once added, you'll need to download the PLAYBULB X App from the Play Store (also available on iOS) to control colors and effects. From this app you'll have full rein of rainbow, fade, pulsing, flashing, and traditional candle features. There's also a group tab if you have additional PLAYBULB Candles, offering a way to sync your favorite effects across the board if desired.
Image 1 of 2
Final thoughts
Although the PLAYBULB Candle's design is fairly simple, it actually adds a unique aesthetic that you won't get from a traditional candle. The ability to completely control colors and effects from your device is great, and much more user friendly than the other Mipow lighting products we've had our hands on. For only $19.99, it's not a bad deal — and you can always opt for a 3-pack for a little extra.
Get the Android Central Newsletter
Instant access to breaking news, the hottest reviews, great deals and helpful tips.