This is the PLAYBULB Garden Solar LED Light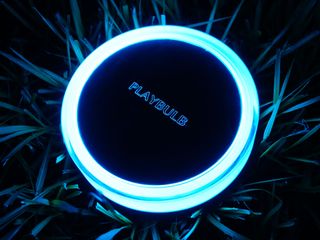 Since our first hands-on with the PLAYBULB Rainbow Light, we've had a chance to check out the rest of Mipow's fancy lighting lineup. The outdoor option we're looking at here is the PLAYBULB Garden — a solar LED light that stakes claim anywhere outside you see fit for novelty nighttime lighting. Included with the Garden are 2 monopods that can be fitted together for extra height if needed. Snap that into place underneath, stick it in your preferred location, and let the sun do the rest.
Since the PLAYBULB Garden is water resistant with an IP56 rating, keeping it outside during rainy days isn't a problem. The internal lithium-ion battery has a capacity of 650mAh and is advertised to last up to 20 hours when fully charged. After a week's worth of use, I have no reason to dispute that claim, as its stayed strong every evening until the sun comes up. Inside is a smart sensor that recognizes when it gets dark — switching the LED light on automatically. When morning comes, it switches off as soon as charging initiates again.
Pairing with the PLAYBULB Garden wasn't as smooth as I'd hoped, though. Underneath the light is a single power button that immediately kicks it into pairing mode when pressed. It took my Galaxy S6 edge a good 10 minutes before it even recognized the light, appearing as "Seven" — likely attributing to the large 7 drawn on the label under the unit. To access the lighting features and color control, you'll need to download the PLAYBULB X app — free for both Android and iOS. If simply pairing over Bluetooth didn't take long enough, getting the Garden light to show up under devices on the app was even worse. After numerous attempts, I had to switch the light off, restart my device, re-enable Bluetooth, then switch the light back on before I was able to successfully get it to show up.
Once paired, it's smooth sailing. You can adjust a single color if you're after a simple accent for your yard, or delve into the effects portion of the app for pulse, rainbow, flashing, and rainbow fade features. I'm not one to draw much attention to my moderately-kept lawn, so I found a medium rainbow fade was a nice look at the corner of my walk way to the front door. Oh, and you'll find that bugs love this thing.
Image 1 of 2
Final thoughts
While the PLAYBULB Garden looks and functions great, you should really think about its intended use in your yard in case one just isn't enough. Its unique look comes with a price, though — $39.99 to be exact. If you're really into maintaining a nice lawn or garden, these smart lights may be ideal for taking things to the next level.
Get the Android Central Newsletter
Instant access to breaking news, the hottest reviews, great deals and helpful tips.