Hands-on with the Acer Liquid E3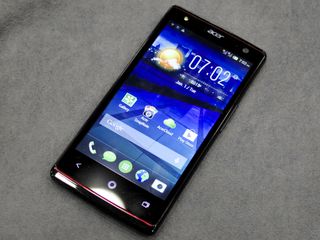 Acer's latest Android handset on show at Mobile World Congress
Before Mobile World Congress even started, Acer announced a pair of new Android smartphones in its liquid series. Of the two its the Liquid E3 that's a little more interesting, with a more premium looking design and the better class – though still mid-range – of hardware.
To recap, the Liquid E3 has a 4.7-inch 720p IPS display, 1.2GHz quad-core CPU and 1GB of RAM. Acer is making a play for photographers especially those who like to take 'selfies' with its 2MP front facing camera and LED front facing flash. Round the back we find a 13MP shooter with a button that can be used to quick launch a designated app or the camera. Software is Android 4.2.2 Jelly Bean at launch, but a KitKat is promised at some point down the line.
Despite distinctly mid-range credentials, the Liquid E3 and its unibody design is actually pretty nice. The rear button is placed pretty much exactly where you would want it to be when you pick the phone up – or at least when I picked it up – and the display is just fine at this size at 720p. Trade shows aren't the place to test the camera, but it's got a pretty decent shutter speed and takes what look like reasonably good shots.
Acer has customized the software on board but update promise or not it's disappointing to see a phone launch in February 2014 on Android 4.2.2. There are a couple of interesting things on board in particular. When you hit the task switcher you see all open apps on one screen. When you only have four it's pretty clear, but ramp it up and the frames keeps shrinking. Acer was also showing off small apps running over the top of other apps which is useful, but also nothing revolutionary.
The button around back under the camera can be used for two purposes. Tap it once and it will launch an app. Stock for this is to launch the music app, but you're able to remap it to launch any app you want. Hold it down and it launches straight into the camera. What it does, it does well, but it does feel like a little too much for what it accomplishes.
All in all, the Liquid E3 is a nice enough mid-range phone, but the software still disappoints. When it has KitKat that may change, but it really shouldn't be launching on 4.2.2.
Image 1 of 8
Android Central Newsletter
Get instant access to breaking news, the hottest reviews, great deals and helpful tips
meh, not for me. There are plenty of other choices that have better software in the mid-range arena. At least from what I can tell, anyway.

Looks like a cheap Sony Z series.

I wish Acer would try to make a really good flagship. I think they could do a good job. Definitely not holding my breath though Haha Posted via a device much better than yours.

whats with the dual data connection?

I believe it's a dual SIM phone. Posted via a device much better than yours.

Not a bad low to mid level device, Acer seems to be testing the smart phone waters it seems before investing in a large stock of high end components, but if they manage this mobile division like there laptop division, they will turn out some good budget minded devices Posted via my outdated Droid RAZR Maxx HD using the Android Central App

I agree regard software, I really don't see any reason for any new phone to not have kit kat when launched now, why waste all that time making your own skin on an old outdated OS Posted via Android Central App

I actually thought they might name this phone "Knight Rider". But that might bring too much attention to the lack of "Kit" in KitKat. Posted from my "KNOX-FREE" 4.3 Sprint GS3 Maxx...!!!
(ZeroLemon 7000mA battery and ZeroShock Case)

Haha, nice one! Posted via Telepathy, Android version 88.85.50 "Carne Asada"

Eh Posted via Android Central App

Got one on contract worst phone i have ever had . Got one and within 5 days took it back to the store as the battery life was not that great and could feel it heating up even on a 5 minute phone call thought i had a faulty one so they replaced it . nope was not a faulty one the new one was the same very bad battery life and and overheats if you use it for any extended time so warning pops up on screen telling you to switch off phone . screen started to flicker also at sides ..And now the icing on the cake switch it off as normal at night went to switch it back on and the phone is dead lasted 2 months apart from the camera what takes great pics as a 13mp do not in any terms get this phone biggest pile of junk ever .

Awesome phone for the price. $249 with dual sim slots. I use for work sim and personal sim. Runs fast(have to disable all the ACER crap running in the background) and smooth. Best $249 for an unlocked phone with dual sim slots I have ever spent !! Just needs a HARD case to protect its plastic housing !!

Had this phone for a week and love it. Battery lasts me about 2 days and no overheating for me. Nice sharpe large screen, great for watching videos on Youtube and the 13mp camera is good too. On contract at £14 a month I'm really happy with it.
Android Central Newsletter
Get instant access to breaking news, the hottest reviews, great deals and helpful tips
Thank you for signing up to Android Central. You will receive a verification email shortly.
There was a problem. Please refresh the page and try again.