LG G Flex 2 hands-on preview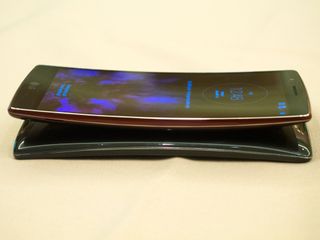 The original LG G Flex always felt like an oddity in the manufacturer's lineup. Decried as gimmicky by some, the G Flex introduced us to a range of exotic new technologies — a curved, flexible Plastic-OLED display, a flexible body, including a unique flexing battery, and a self-healing back. The G Flex was an interesting sideshow for LG, but its lackluster display and camera meant it never really challenged the high-end competition. It was an interesting technical showcase, not necessarily a balanced high-end handset. And then there was the fact that it was just really, really big.
So for its second-generation G Flex, LG has taken things back to the drawing board. Naturally, the Korean manufacturer has upped the specs, moving to Qualcomm's very latest 64-bit Snapdragon 810, increasing the display resolution and improving the camera. But more surprisingly, it's also made the G Flex 2 smaller and more manageable than the original, with a 5.5-inch display size. It's a re-thinking of the original G Flex as much as a successor to that device, and at we've had the chance to play with the device and talk to LG about its development.
Read on to find out what we think.
LG G Flex 2 hardware and design
Smaller, stronger, faster, but just as flexy
Let's start off with the obvious — the G Flex 2 looks and feels like an LG phone. From the buttons on the back, which we've grown to love since the G2, to the slim bezels and curvy design, this device exudes the design language of its manufacturer. Yet LG's taken things a step further with the G Flex 2, making its chassis even more curvaceous and organic than either the G3 or the first G Flex. Just about every surface you'll see is curved, and even the "split hairline" pattern on the rear of the phone spirals outwards from the rear-mounted power button.
In terms of build quality, our first impressions are similar to that of the LG G3 — it's nice plastic, but plastic all the same. It's a shiny plastic smartphone, and that's exactly what it looks and feels like. LG's not trying to create a metal-clad, space-age gadget; instead it's aiming to compete on premium materials of a different kind — specifically, the curved, flexible chassis, and the (second-gen) self-healing back. And in its own way the G Flex 2 is a classy looking phone, coming in muted "platinum silver" and ostentatious "flamenco red" color options.
It's also smaller than the last one. At CES in Las Vegas this week, LG's Vice President of Product Planning, Dr. Ramchan Woo said the decision to downsize from 6 inches to 5.5 came from the realization that this screen size was "the sweet spot" for smartphones. As we approach the likely launch of a successor to the G3 later in the year, it'll be interesting to see whether the manufacturer sticks to this magic number.
In addition, the company's keen to tout the aesthetic and ergonomic benefits of this new design. Dr. Woo claimed the design is simply "more beautiful" and "more comfortable" than the average squarish slab. We wouldn't disagree — in our short time with the G Flex 2 we found it's an easy fit for both hands and pockets, and less protrusive than its similarly-sized cousin, the G3. There's something about the curved design that makes it feel just a bit smaller, and less challenging to palm.
LG's next step was to focus on critical and customer reception of the original G Flex. As we pointed out in our review, the first 'Flex sported a mediocre 720p display and lackluster camera, and these are two areas LG's highlighted for special attention. The new curved 1080p P-OLED display is bright and vivid, and with a density of 403 pixels per inch text looks crisp and clear. LG was coy on the decision to opt for a Full HD resolution on this device, as opposed to the Quad HD of the G3, simply saying 1080 was the most balanced choice for this phone. (And given the battery impact of 2K displays on some devices, we're not complaining about the lack of astronomical pixel density here.)
The surface of the display also houses some unique technology from LG. The company has taken Corning's Gorilla Glass and treated it with its own chemical process to enhance durability. The manufacturer calls the resulting substance "Dura-Glass by LG," and it's claiming a 20 percent increase in strength compared to vanilla Gorilla Glass. On that subject, Woo also highlighted the G Flex's curved design for its ability to resist screen damage better than a flat smartphone display, saying the manufacturer had found this design helped distribute force in a way that made it less likely for the display to go "splat."
Over on the imaging side, the G Flex 2 has inherited the G3's 13-megapixel camera — the same sensor as that phone, backed up by upgraded OIS+ (optical image stabilization) and laser-assisted autofocus for improved low-light performance. And the camera app performs much like the G3, with super-quick captures and good-looking images even in patchy indoor lighting. In addition to the camera hardware, the Qualcomm Snapdragon 810's upgraded ISP (image signal processor) should speed along the process of turning photons into JPEGs.
Upgraded cameras and sharper screens are all well and good, however LG's also made improvements to one the G Flex's signature features. That "self-healing" back, which can "repair" the kinds of small scratches you might pick up through day-to-day wear and tear, has been enhanced to heal much quicker from these minor nicks.
Whereas last year's G Flex healed between 3 and 5 minutes depending on temperature, the G Flex 2 recovers in as little as 10 seconds. We weren't able to test this claim extensively during our time with the phone, but the back panel seemed to survive being lightly scratched by keys with no lasting damage.
And yes, it's still flexible — although the G Flex 2 seems to require a lot more force to bend than its predecessor. This combination of flexibility, strengthened glass and the self-healing rear is intended to make the G Flex 2 a uniquely sturdy phone — a point Dr. Woo gladly demonstrated by throwing his device to the ground and stamping on it. (The phone emerged unscathed from its ordeal.)
LG G Flex 2 internals
The 64-bit Snapdragon 810 has arrived
From the perspective of a tech enthusiast, the biggest deal about the G Flex 2 is what's lurking inside. Powering the phone is Qualcomm's brand new Snapdragon 810 CPU, an octa-core 64-bit part at 2.0GHz that runs in full 64-bit mode on Android 5.0 Lollipop. The G Flex 2 units we used at CES were pre-production devices running far from final software, so it's too soon to comment on performance. In any case, the G Flex 2's announcement as the first Snapdragon 810 phone is an important milestone for both LG and Qualcomm. We'll have more to say on the G Flex 2's performance when final devices become available in Korea later this month.
That fancy new CPU is paired with 2 or 3GB of RAM, as was the case with the G3, and 16 or 32GB of storage, backed up by a microSD slot. Powering the whole assembly is a 3,000mAh fixed battery, and there's some interesting stuff going on here too. LG claims the G Flex 2 can charge up to 50 percent in under 40 minutes using new "step charging" technology, which alternates between charging at 1.8A and 2.6A depending on capacity. We've seen similar technology in action in phones like the Galaxy Note 4 and 2014 Moto X, making it easer squeeze in a quick recharge, and it's good to see LG getting in on the quick charging game.
LG G Flex 2 software and features
Lollipop, selfies and gestures
The LG G Flex is the first non-Nexus handset to run Android 5.0 Lollipop right out of the box, without a software update. (Though we're sure to see more in the days ahead, as CES progresses.) Android 5.0 running on the G Flex 2 looks pretty much the same as the G3 with its recent Lollipop update, which is another way of saying that you're mostly still seeing LG's UI efforts on top of Google's Material Design.
One small but significant though has to do with the G Flex's on-screen buttons. LG's latest uses square, circle and triangle-style buttons like stock Lollipop, whereas an upgraded G3 retains its KitKat-style icons.
For the most part, though, if you're familiar with the LG G3's software, you'll be right at home on the G Flex 2. LG's software design focuses on muted tones and flattened icons and UI elements. Aside from a handful of new wallpapers and animations, it's a familiar visual experience.
There are new software features to discuss, though. The G Flex 2's new selfie shooting mode builds upon the G3's gesture recognition with a new motion-controlled feature, allowing you to immediately preview selfies by lowering the phone after shooting. (It's worth mentioning that both of these gesture tricks seemed to work more quickly than we'd seen from the G3.)
Staple LG features like KnockOn and KnockCode are joined by a new method of previewing current time and notifications without fully powering the phone on. "Glance" lets you peek at this timely info by holding your finger on the display and then dragging down. The notification LED lights up to let you know the phone's paying attention, and more information is slowly revealed as you pull downwards. It's debatable whether this is any more useful than KnockOn, especially as notifications are now displayed on the lock screen in Lollipop, but it's neat little feature all the same.
And finally, LG's also enhanced its Android Wear support, bringing wrist-accessible extensions for features like Smart Notice to Android-powered watches including its own G Watch series.
LG G Flex 2: Our impressions so far
The LG G Flex arrives in LG's native South Korea later this month, with a U.S. launch to follow "soon." We'll wait for finalized hardware to arrive before arriving at our final judgment, but so far the second G Flex appears an interesting addition to LG's portfolio — one that promises to go further than the technical curiosity that was its predecessor.
LG tells us the G Flex 2 isn't replacing the G3 in any way. But by any standard, this latest flexible handset looks like being a solid high-end smartphone with a few very unique tricks up its sleeve, and an arsenal of high-end specs of keep phone nerds happy.
Just how much of a gimmick a curved screens, self-healing plastic and flexible hardware are remains open to debate. But aside from that argument the G Flex 2 has the makings of a really great high-end phone, and that's not something we could say about its predecessor.
We'll have more to say on the LG G Flex 2 in the weeks ahead, so keep watching Android Central for continuing coverage.
Be an expert in 5 minutes
Get the latest news from Android Central, your trusted companion in the world of Android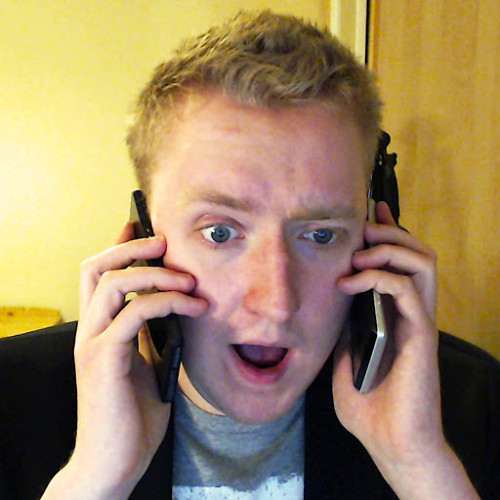 Alex was with Android Central for over a decade, producing written and video content for the site, and served as global Executive Editor from 2016 to 2022.