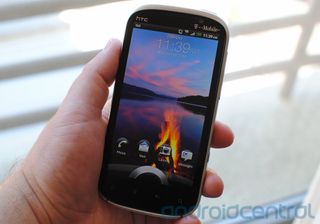 Here we have it, folks, the HTC Amaze 4G on T-Mobile. Maybe it's amazing because of the gorgeous qHD Super LCD display. Maybe it's amazing because it just feels good in your hand. Maybe it's amazing because of T-Mobile's 42 Mbps network. Maybe it's amazing for the 1.5GHz dual-core processor pushing the latest version of HTC Sense. Or maybe it's amazing because HTC finally has begun paying attention to camera quality.
These all are things we'll be testing out over the coming days and weeks. But our initial impressions are pretty good. It's fast. It's sleek. It's not the most svelte phone available today, but we're betting all those superlatives above will make up for it.
Hit the break for our initial hands-on video and some more pics.
Amaze 4G Specs | Amaze 4G Forums
Youtube link for mobile viewing
Android Central Newsletter
Get instant access to breaking news, the hottest reviews, great deals and helpful tips
woo hoo first.... Nice phone too bad in TMo..which I am about to jump from. Finally great devices, but the data and signal coverage is just not keeping up.

It really depends on what's more important to you. Cheaper prices, fast speeds, and free tethering with TMo, but only in TMo areas. Or much broader "4G" ATT network, that's a little slower and more expensive. Or Verizon which can have the fastest speeds if you live in an LTE area, but otherwise is a slow CDMA network. But again you pay immensely for it. Or Sprint which has fast network if you live in a WiMax area, otherwise you're in a slow CDMA network. To me, price is most important. Especially over the lifetime of the contract, and i'd rather save to $200+ by staying with TMobile and get free tethering.

You made a pretty good analysis of the different providers there.

Interesting, because I'm actually planning to dump Sprint after 13 years and go to T-Mobile becuase from everything I've seen their data (even though it's not "true" 4G) is blowing away Sprint. I live in downtown Chicago and over the last year Sprint has clearly started throttling back our 3G speeds and WiMAX is next to usless due to its poor penetration (I work in a building, something apparently WiMAX wasn't designed for). I have an EVO 4G (loved) and an EVO 3D (meh) and can't wait for Wednesday to pick up the Amaze.

Seems a lot snappier than most other Sense 3.0 phones out.

God that's a sexy phone. I'm considering this even though the Nexus is coming out. I'll just have to wait to see what the Nexus brings.

well something to correct it is not using sense 3.5, its using sense 3.0, which is pretty good, I will stick to the galaxy s2 , since nexus will be exclusive Verizon for the first couple months.

Huston, we have a typo.
"the gorgeous qHD Super LDC display"

"Houston", we have another typo. ;)

lol crud. I knew that looked wrong. Curse you karma!

lol crud. I knew that looked wrong. Curse you karma!

T-Mobile speeds in Boston area are very fast, the speeds in my town are over 9.5 MB download and over 3 MB upload, these are daytime speeds, at night they are even faster. AT&T and Sprint can not touch those speeds, Verizon's LTE might be faster, but in some areas, and in the next month or so T-Mobile's speeds are going to be bumped up even faster. They are far from behind the times. I don't care what label they put on their Network, those speeds are just ass kicking fast. That phone is much nicer in black, top quality construction, great specs, better then 99% of what is out there now. I like it HTC makes a quality product, maybe better then the Samsung GS2.
PS I have accounts with both Verizon and T-Mobile, IMO I think T-Mobile is better, battery last twice as long on the HSPA+ Network and it is very stable. T-Mobile is far from behind the times, AT&T and Sprint are talking a great game but I say show me don't tell me.

T- Mobile speeds in the Cincinnati, OH area is in 13MB download according to the Samsung Galaxy S II and the Speedtest app. No it is not exactly 4G but it is kicking my DSL line's butt. I'm sticking with T-Mobile and can I just say I LOVE the Samsung Galaxy S II. If Gingerbread is this nice I'm curious to see what ICS brings.

I just really HOPE T-Mobile does wayyyy better marketing with this phone and the galaxy s2 plus whatever they bring out in the future!!! Because they are having some great devices coming out now but nobody really knows about them because of they're horrible marketing so i HOPE they finally wake up and get it crackin:)

I'm using a European Galaxy S2, which I like, but I also like the rounded shape of many HTC phones like this. I wonder when we will see the various 720p phones in the EU, plus how good and stable Ice Cream will be.

Bottomline here this is definitely a great device to have HTC is making some serious moves especially in 2012 with the upcoming snapdragon S4 platform which will be able to support quadcore 1.5 to 2.5Ghz processor with 1.5gb of ram. Better days are definitely ahead in htc land. Meanwhile this is great for the end of 2011..

I love the sensation design so much and this phone is so strangely ugly it makes me hate the sensation now as well. like meeting the retarded smelly brother, with a 1.5 GHz dual core.

Im so torn between the sgs2 and this..im not sure what to go with. I currently have a vibrant, and really like the ui and the amoled display. I want to give htc a try, but im not sure if sense is for me. Also i kinda wanna wait and see what the new nexus will have... ughhh!! Im gonna have to go to a tmo store and really compare the two.

Brilliant! You mean actually hold them in your hands before proclaiming a winner? Wish more people thought of this before their fanboyism takes over. Looks like a sweet phone. I have greatly preferred SAMOLED over any of HTC's screens in the past, but we will have to see how this stacks up!

@Phil, is the dedicated still camera shutter button a two stage (i.e. - half press to focus, full press to snap shot) button, or is it a basic single press like a lot of HTC's are? Also, you need to do a Head to Head comparison between this and the new T-mob GSII! :-D Thanks

Is the android central sound track available for download?

There's is a link in the beginning of all Android Central videos that have the website of the track

And of course Phil reviews the cool phones :)

Rockin with the Sensation now...no upgrade till December, but this might be what I get :D
Android Central Newsletter
Get instant access to breaking news, the hottest reviews, great deals and helpful tips
Thank you for signing up to Android Central. You will receive a verification email shortly.
There was a problem. Please refresh the page and try again.