Hands-on with Android Wear 2.0: New design, watch face complications and handwriting input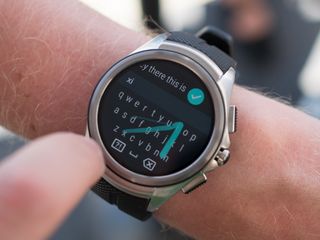 During the opening keynote of I/O 2016, Google dropped a pretty significant update to Android Wear on us. Android Wear version 2.0 refreshes the whole notification interface with a Material Design overhaul, and includes new features for watch faces and text input. Further, the latest update will let developers run apps natively on the watch with absolutely no communication to a phone required.
And while Android Wear 2.0 isn't arriving in an official capacity until this fall, developers can download a preview of the software right now to get a good look and start developing apps for it. We had an opportunity to take it for a spin here at Google I/O 2016, and here's a quick look at it running on an LG Watch Urbane 2nd Edition LTE.
Design changes
Image 1 of 2
Image 2 of 2
On the design front, the "card" metaphor we all know has been scaled back. Notifications are still stacked cards that you can flick through one at a time and interact with, but the bright white color and defined lines surrounding each card is gone in exchange for a black interface that focuses on the content and notification's icon.
The app launcher has also been redesigned to swoop along the curve of round watches, putting emphasis on the central app and fading the others into the background. This gives you something a bit more appealing to look at, but it also gives you a bigger touch target to tap when you find the app you want.
Custom complications
Image 1 of 3
Image 2 of 3
Image 3 of 3
Functionally, the first big change is support for customizable "complications" on watch faces. Developers will soon be able to define areas in their watch faces where additional information can be displayed, and the user can then choose what to put there. The process for choosing which data goes where is up to the watch face developer, but in the end it comes down to a system dialogue that lets the user choose from any installed app that is set up to display a complication.
For example, your watch face could have room for two small complications and one large one — the two smaller ones could show the time in a different time zone and your step count, while the larger one could show the top item on your to-do list. At this point the choices are going to be limited because there are only a small set of test cases and developers haven't had time to make complications yet, but you can easily see developers building in great extensions of their apps to show up as complications on your favorite watch face.
New text input methods
Image 1 of 3
Image 2 of 3
Image 3 of 3
Android Wear has relied on voice dictation for text input — save for the few who installed third-party keyboards — but in the latest software you get a few great options. Google's great "smart reply" feature for giving you context-aware phrases to reply to messages is here, but so are handwriting input and a full gesture keyboard.
Handwriting input works by writing one letter at a time with your finger as the canvas on the screen slides along, giving you more room for additional letters. It'll decipher what you've scribbled and show you at the top of the screen the sentence as you go — once you're done, tap send and the message is on its way.
The gesture keyboard works exactly like a miniature version of the Google Keyboard on a phone or tablet. Slide your finger along the letters and even down to the space bar to type individual or sets of words. As the text is predicted you'll see your message typed out, and you can autocomplete words with a tap on the suggestions at the top of the keyboard.
Much more to come
There's a whole lot in Android Wear 2.0 that we haven't yet explored and won't be able to see for some time until developers get their hands on it, but so far this really does stand up to the claim of being the biggest update to the platform since its inception.
Andrew was an Executive Editor, U.S. at Android Central between 2012 and 2020.
Anyone remember when Android was just supposed to compliment your phone, rather than completely replace it?

Yep Posted from my Nexus 6/Nexus 7 2013/Surface Pro 3

I think some degree of phone independence is great for specific usage cases (music, exercise) and scenarios (Wi-Fi when you're home)... Seems they're taking it much further tho, possibly in part to get around iOS limitations tho I dunno how many iOS users really cross shop Wear devices. Never really understood why anyone would pay for data on a watch either...

That was a stupidity and I've said it from the beginning. Just build enough convenience into a device as the powerful hardware allows, instead of artificially restraining the usage for no reason and getting lost in metaphors. I just love the full-phone features of my Watch Urbane 2nd Edition.

I love my LG G Watch its amazing. Had it for awhile and ill be looking for a new one Android Wear device once summer ends! Posted via my LG G4

No the first ever android wear device Posted via my LG G4

You mean the Samsung Galaxy Gear Live? Posted via the Android Central App

The G Watch and Galaxy Gear Live were launched alongside each other.

Same, if my G Watch doesn't receive these new features then I'll upgrade.

Yeah. I'm an OG G Watch user, and it still works pretty good for me. I really hope it gets the update, cause I don't know if I can afford to upgrade anytime soon.

I wonder if the first generation Moto 360 will get this update?

Not holding my breath. Posted via the Android Central App

It would be great if it did get the update Posted via the Android Central App

I'm doubtful, because of the SoC, been eyeing some Fossil watches already myself... Tho I'd stick to the 1st gen 360 if it did get the update, for my use it's fine and the pokey OMAP doesn't bother me at all.

Cool... waiting for a moto 360 rollout. Regarding watch complications... the full paid version of Intellicom does does this to some degree. You can add watch sub-dials to display steps, weather...etc. I am hoping they improve voice recognition too.

Tons of watch faces did this already, it's something that should've been there in the stock API from the start IMO... I've had Moto's Dials face displaying date (a tap takes you to calendar), steps, and a quick Shazam button since forever.

So will this roll out to all android wear watches?

Glad I got the LG watch urbane 2nd edition LTE. This is gonna be a great update. Posted via the Android Central App

yep I'm loading it to give a test run

I'm really hoping for some rendition of the Urbane without the LTE connectivity. Don't get me wrong, that's sort of the point but I just don't want to pay more onto my phone bill for simply having my watch connected to my phone haha

You can just not get a sim card for your Urbane 2 LTE.

Yeah, I'm happy to see it running on the urbane 2 lte. I was wondering how updates would work with the lte part Posted via the Android Central App

Like that they moved a little further away from the card UX. Seems to be taking a lot of hints from S2 in the latest iteration. luvin my s7 edge

Complications look a lot like what Minimal and Elegant can do. Posted via the Android Central App

Just waiting on a nice looking watch without a flat tire to try 2.0 out.

Huawei watch is what you want Ayyyyy lmao

Not likely, by the time 2.0 comes out. I have a 360 v2 and Hwatch (I prefer the 360, of the two), but if I were buying now, I'd buy the Urbane 2 LTE. Posted via the Android Central App

This'll come to my LG G Watch R, right? Android Wear is pretty much Nexus. Posted from one of my various Nexus devices.

This url:
http://www.lg.com/uk/smart-watches/lg-W110
Seems to suggest so (in the tech specs section), however it also seems very early to update the details on that page. I'm wondering whether it was an error before. Would be good though, I love my g watch r.

Google needs to state what watches are/aren't getting it as soon as it's ready, hopefully they'll be at least as transparent as they are with Nexus updates. I'm not being bitter, just wanna know whether I need to add a new watch to my wishlist... :p I'm pretty darn happy with the 360 but 2.0 is looking good. If anything I wish they'd iterated a bit faster with Wear...

I'm hoping they'll fix some of the architectural decisions that they've made in the current 1.x version that makes precisely zero sense. Why, for example, is app installation either/or? Why force phone apps to auto push to the watch: these are separate devices and I don't want some of my phone apps on my watch! Moreover, why push all my google services crap to my watch? I've already had the case where google services consumed over 75% of my watch storage (with apps consuming the rest - ran out of space!) and I had to delete my entire google services history on my phone to get space back on my watch! Who is making these architectural decisions?? Posted via the Android Central App

So basically, Google is playing catch up with Samsung and its Tizen OS on the Gear S and Gear S2 3g watches. These have offered notifications over wifi and cellular, voice and keyboard input, smart replies, web browsing, standalone navigation (with Google Maps traffic and routing info) and other apps, full text messaging (standalone and as if from your phone) and other new features for almost 2 years. Good for Google. With its scale, maybe people will start to realize these features are very much worth having. It as been a pleasure to be able to leave my phone at home for trips to the gym, store, etc. And while browsing the web on such a small screen is not ideal, it is very useful in a pinch. Of course, when Apple finally adds these features in 3-4 years, it will have "invented" them because all Samsung ever does is copy Apple. Just like Apple now has an ad hyping its find my iPhone feature from the Watch (so long as it is within bluetooth range, of course, otherwise useless). Another feature that the Gear S and S2 3g have had for years and can be activated from a cellular or wifi connection, so if you leave your ;phone at a friend's, you can use your watch to wake it up

No, they are expanding on what is already surpassing Tizen OS. My LG watch 2 LTE does more today than my Gear S did, partially because there are more developers willing to work on stand alone apps for it.

I don't think smart watches are a good idea unless their upgrades can go past the lifecycle associated with phones. I have watches that are over thirty years old.

well, your watch has only one single purpose and is mechanical, and not as technically sophisticated as todays technology. also, your smartwatch will still work fine without getting any updates anymore, you dont even need a phone for most functions.

I'm looking firward to more stand-alone functionality. Would be great if Whatsap, Hangouts, Audible, Amazon music worked in stand-alone mode. I've been using my LG watch Urbane 2 LTE since November and when I leave my phone behind,to go running I am still somewhat limited.

What are the odds of getting previews for AW 2.0 like they have for Android N?

Looks promising. Might be tempted to try Android Wear again.
Android Central Newsletter
Get the best of Android Central in in your inbox, every day!
Thank you for signing up to Android Central. You will receive a verification email shortly.
There was a problem. Please refresh the page and try again.