Hands-on with Android Wear 2.0: New design, watch face complications and handwriting input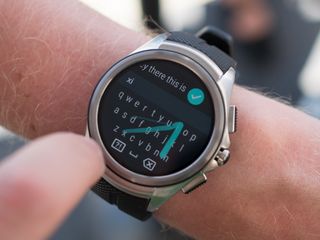 During the opening keynote of I/O 2016, Google dropped a pretty significant update to Android Wear on us. Android Wear version 2.0 refreshes the whole notification interface with a Material Design overhaul, and includes new features for watch faces and text input. Further, the latest update will let developers run apps natively on the watch with absolutely no communication to a phone required.
And while Android Wear 2.0 isn't arriving in an official capacity until this fall, developers can download a preview of the software right now to get a good look and start developing apps for it. We had an opportunity to take it for a spin here at Google I/O 2016, and here's a quick look at it running on an LG Watch Urbane 2nd Edition LTE.
Design changes
Image 1 of 2
On the design front, the "card" metaphor we all know has been scaled back. Notifications are still stacked cards that you can flick through one at a time and interact with, but the bright white color and defined lines surrounding each card is gone in exchange for a black interface that focuses on the content and notification's icon.
The app launcher has also been redesigned to swoop along the curve of round watches, putting emphasis on the central app and fading the others into the background. This gives you something a bit more appealing to look at, but it also gives you a bigger touch target to tap when you find the app you want.
Custom complications
Image 1 of 3
Functionally, the first big change is support for customizable "complications" on watch faces. Developers will soon be able to define areas in their watch faces where additional information can be displayed, and the user can then choose what to put there. The process for choosing which data goes where is up to the watch face developer, but in the end it comes down to a system dialogue that lets the user choose from any installed app that is set up to display a complication.
For example, your watch face could have room for two small complications and one large one — the two smaller ones could show the time in a different time zone and your step count, while the larger one could show the top item on your to-do list. At this point the choices are going to be limited because there are only a small set of test cases and developers haven't had time to make complications yet, but you can easily see developers building in great extensions of their apps to show up as complications on your favorite watch face.
New text input methods
Image 1 of 3
Android Wear has relied on voice dictation for text input — save for the few who installed third-party keyboards — but in the latest software you get a few great options. Google's great "smart reply" feature for giving you context-aware phrases to reply to messages is here, but so are handwriting input and a full gesture keyboard.
Handwriting input works by writing one letter at a time with your finger as the canvas on the screen slides along, giving you more room for additional letters. It'll decipher what you've scribbled and show you at the top of the screen the sentence as you go — once you're done, tap send and the message is on its way.
The gesture keyboard works exactly like a miniature version of the Google Keyboard on a phone or tablet. Slide your finger along the letters and even down to the space bar to type individual or sets of words. As the text is predicted you'll see your message typed out, and you can autocomplete words with a tap on the suggestions at the top of the keyboard.
Much more to come
There's a whole lot in Android Wear 2.0 that we haven't yet explored and won't be able to see for some time until developers get their hands on it, but so far this really does stand up to the claim of being the biggest update to the platform since its inception.
Sign up for Black Friday email alerts!
Get the hottest deals available in your inbox plus news, reviews, opinion, analysis and more from the Android Central team.
Andrew was an Executive Editor, U.S. at Android Central between 2012 and 2020.