Hands and eyes on View-Master for Google Cardboard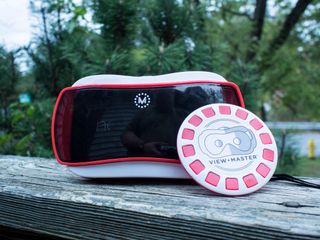 Just in time for holiday sales, Mattel's kit for Google Cardboard is starting to hit shelves. The View-Master Virtual Reality box takes the classic design from our childhood, makes some room on the inside for a phone, and offers a unique content ecosystem alongside Google's increasingly popular Cardboard platform. It's a fantastic combination of virtual reality, augmented reality, and a universally appreciated hardware profile.
Let's take a look.
Image 1 of 3
If you've ever used a Google Cardboard accessory before, there's not much out of the box that will surprise you here. Mattel has wrapped the friendly View-Master plastic around a phone holster and a pair of lenses, and a button for touching the screen when it's all closed up. The holster mechanism is well built, and holds up to the Nexus 6 or iPhone 6S Plus with little issue. Getting the Nexus 6 out of the plastic holster is a little tricky, but anything this size and smaller will work in this kit with no problem.
When the View-Master is closed you'll notice on the left you have a wrist strap to keep your child (or, cough, grown child — erm, self) from dropping what is now a several hundred dollar toy, as well as a speaker grill to push audio from the enclosure out to your ears. The speaker grill is only on the right hands side, so front-facing stereo speaker phones don't make a ton of difference in this setup.
Image 1 of 3
Like all Google Cardboard experiences, you need some apps to get started. Fortunately, there are a lot of those in the Play Store now. The Google Cardboard app will read the barcode on the inside of the View-Master and ensure your other Cardboard apps are properly calibrated to this setup, and once that happens you'll find using this accessory is just like using any other Cardboard accessory. The black rubber eye holes on the View-Master to a great job pushing out light and completing that immersive experience, but otherwise it's a very familiar setup.
If you want to go beyond the Cardboard experience, Mattel has includes a demo reel that takes you back to the days of putting small image discs in your original View-Master and going on a 3D journey. Unlike your old school View-Master, the included disc offers a slightly more interactive experience. Instead of sticking it in the View-Master, you set it on the table in front of you and access the corresponding app on your phone.
Mattel currently has three apps that play nice with this disk, and when you launch one of them the camera on your phone will activate and an augmented reality experience begins. Once the disc is discovered on the table in front of you, an AR image with several navigation options appears on the table and encourages you to play along.
This included demo reel gives you a sampling of what you can explore in the Wildlife, Space, and Destination apps, but you don't get access to the full version of either. These expansions can either be purchased in the store with a separate set of plastic reels for more augmented reality experiences, or purchased through the app you are currently in to unlock the rest of the features. Like the version with the physical accessories, the in-app upgrade will run you $14.99. If you're planning on playing with your kids, the physical accessories are probably the way to go.
For $30, Mattel has nailed the overall experience here. It's a great Cardboard viewer, the demo experiences work well, and it's clearly designed for View-Master fans new and old. (And since it's plastic it should be a little harder for youngsters to kill.) Plus it works with a wide variety of hardware, where many of the less expensive versions of Google Cardboard have not. We'll be exploring this more very soon, but as out of the box experiences go consider us impressed.
Get the Android Central Newsletter
Instant access to breaking news, the hottest reviews, great deals and helpful tips.