Hands and eyes on View-Master for Google Cardboard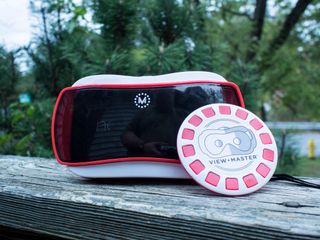 Just in time for holiday sales, Mattel's kit for Google Cardboard is starting to hit shelves. The View-Master Virtual Reality box takes the classic design from our childhood, makes some room on the inside for a phone, and offers a unique content ecosystem alongside Google's increasingly popular Cardboard platform. It's a fantastic combination of virtual reality, augmented reality, and a universally appreciated hardware profile.
Let's take a look.
If you've ever used a Google Cardboard accessory before, there's not much out of the box that will surprise you here. Mattel has wrapped the friendly View-Master plastic around a phone holster and a pair of lenses, and a button for touching the screen when it's all closed up. The holster mechanism is well built, and holds up to the Nexus 6 or iPhone 6S Plus with little issue. Getting the Nexus 6 out of the plastic holster is a little tricky, but anything this size and smaller will work in this kit with no problem.
When the View-Master is closed you'll notice on the left you have a wrist strap to keep your child (or, cough, grown child — erm, self) from dropping what is now a several hundred dollar toy, as well as a speaker grill to push audio from the enclosure out to your ears. The speaker grill is only on the right hands side, so front-facing stereo speaker phones don't make a ton of difference in this setup.
Like all Google Cardboard experiences, you need some apps to get started. Fortunately, there are a lot of those in the Play Store now. The Google Cardboard app will read the barcode on the inside of the View-Master and ensure your other Cardboard apps are properly calibrated to this setup, and once that happens you'll find using this accessory is just like using any other Cardboard accessory. The black rubber eye holes on the View-Master to a great job pushing out light and completing that immersive experience, but otherwise it's a very familiar setup.
If you want to go beyond the Cardboard experience, Mattel has includes a demo reel that takes you back to the days of putting small image discs in your original View-Master and going on a 3D journey. Unlike your old school View-Master, the included disc offers a slightly more interactive experience. Instead of sticking it in the View-Master, you set it on the table in front of you and access the corresponding app on your phone.
Mattel currently has three apps that play nice with this disk, and when you launch one of them the camera on your phone will activate and an augmented reality experience begins. Once the disc is discovered on the table in front of you, an AR image with several navigation options appears on the table and encourages you to play along.
This included demo reel gives you a sampling of what you can explore in the Wildlife, Space, and Destination apps, but you don't get access to the full version of either. These expansions can either be purchased in the store with a separate set of plastic reels for more augmented reality experiences, or purchased through the app you are currently in to unlock the rest of the features. Like the version with the physical accessories, the in-app upgrade will run you $14.99. If you're planning on playing with your kids, the physical accessories are probably the way to go.
For $30, Mattel has nailed the overall experience here. It's a great Cardboard viewer, the demo experiences work well, and it's clearly designed for View-Master fans new and old. (And since it's plastic it should be a little harder for youngsters to kill.) Plus it works with a wide variety of hardware, where many of the less expensive versions of Google Cardboard have not. We'll be exploring this more very soon, but as out of the box experiences go consider us impressed.
Russell is a Contributing Editor at Android Central. He's a former server admin who has been using Android since the HTC G1, and quite literally wrote the book on Android tablets. You can usually find him chasing the next tech trend, much to the pain of his wallet. Find him on Facebook and Twitter
Looks cool. I always thought cardboard reminded my of my childhood ViewMaster toy, btw, typo in "It's a great Cargboard viewer, the demo experiences work well, and it's clearly designed for View-Master fans new and old." Should be Cardboard.

Shut up and take my money!

Ok so does that mean I shouldn't wait for the $99 Google viewer? Posted via the Android Central App

doesn't look like there are head straps to wear hands free is that right?

I got one yesterday, and I gotta say for $30 I couldn't be happier. I spent so much time with it last night that I had to recharge my droid turbo! My 3 year old son was able to quickly figure it out, and loves it...even though it says ages 7+.
A few notes...
The setup is frustrating as hell if you dont have google cardboard app installed. Ignore what the instructions say, install cardboard first. THEN get the experience apps.
The lack of a head strap is a bit frustrating, if only because of a health issue it's difficult for me to hold it still and firmly against my face at all times...I may have to rig something.
No good way to get wired headphones to work with this, so make sure you have bluetooth. Headphones make the experince WAY more immersive and fun, for me.
Overall, I am super super happy with this. I can't wait til more robust VR solutions fall into the realm of affordability, this has definitely whet my appetite!

That sucks about the headphone jack.

I'll forgo the $108 on Amazon and go with the $30 option at Target. I just checked local stock and will be picking up some of these for Christmas gifts (and one for me, of course). Same thing I did with the BB-8 at a local Sprint store: 3 for gifts, 1 for me. Posted via the Android Central App

How does the compare to Samsungs Gear VR? What's the difference besides the head strap on the Gear? Posted via the Android Central App

The gear vr store is really coming along lately. Additions like SmashHit and Netflix are really cool. I really wish that the vr store would allow play store apps to be integrated or accessed. But the vr store has really been pollished the last couple updates. I don't imagine this viewer will compare well to gear vr experience. Probably compare better with cardboard.

I've got mine on hold at Target. They didn't even know they had it in stock! I'm not too worried about a strap. Posted via the Android Central App

I didn't know they had them at Target. I'll have to check out later. What department in Target are they located in?

I'm guessing with the electronic games in the toy section opposed to t.v.'s, tablets, and phones.

I'm in Orlando Florida. Waterford Lakes store. Posted via the Android Central App

The packaging clearly indicates the compatible phones. But has anyone tried to use it in smaller screen phones like Moto G 4G or Sony Xperia Z3 Compact? How's the experience? Is that possible to do this on those phones?

The Target app will actually show you the side of the aisle where you can find the thing. That said, I guess it doesn't update in real time, because the two stores I've been two were sold out even though the screen said it was in stock at both.

I just picked one up at alocal Target store, be sure to come armed with the UPC code in this article. It was not on the store shelves yet. Posted via the Android Central App

Just picked mine up as well, Target only had 4 in the backroom at the high volume store I was at, I would expect these to go well for the holidays. Nice replacement to my falling apart cardboard, and to hold me over until the gear vr is released.

Might have to try this Posted via the Android Central App

Ok I've been playing with it for about an hour, definitely nice quality. I found it easy to set up. The phone holder actually does a good job, I have a Note 4. My daughter was a little upset at the Halloween 3D videos we saw. How exactly will $99 version be better other than having a strap? Store clerk almost acted like the Target Lady from the SNL skit and went to get one when he finished checking me out at register. Posted via the Android Central App

Well the LG phones with back buttons work with this? Sorry I haven't paid to much attention to Cardboard.

The LG G3 and LG G4 are specifically on the compatibility list, so they better work properly! :) I purchased mine earlier this week for pickup at the local Walmart. It's supposed to be available for pickup today.

Kinda lost. I put my Moto X Pure in and launched the Viewmaster Destinations app, but I couldn't get it to recognize the demo reel that came with the unit. It just kept counting down from 5 to 0 and telling me to take my phone out of the headset to return to the main menu. How do I get it to recognize the demo reel? Is there a way to control the phone and apps without taking the phone out of the headset? Is there a way to calibrate it? I checked out A Time in Space and it's really nice but, for some reason, I have to turn my head all the way to the left to see straight ahead. Orienting my head to straight ahead shows me the right structure of that wing or pod or whatever it is. The headset is great but the little instruction booklet sucks and there doesn't seem to be any decent set of controls?

I hope the Moto X Pure has a gyroscope, but now I'm starting to wonder....The Moto X Play doesn't, which means VR won't work.

I've used my Moto X Pure with Cardboard without issue. It drains battery pretty quick but I worked well.

Yeah, my MXPE got pretty toasty. But seriously, how does this thing work? How do I start the demo reel up? How do I calibrate it?

Not sure if anyone is reading these comments since the article is a few days old. I just picked one up today. I've had the gear vr for my note 4 for several months and love it. One complaint with the gear vr is I could never get any cardboard apps to work in the vr headset. I would tilt the USB input back to put the phone in the headset, but there was no way to control anything in the cardboard app. This view master has a button on the side (like the old school one) that pushes a conductive pad thing to hit the middle of the screen, effectively giving you a 'button' or a way to interact with the cardboard apps. I'm pretty sure I'm keeping this view master. Probably won't use it for the view master Mattel apps (kinda lame compared to the other apps I've now discovered), but I've had a blast the past couple hours playing with cardboard apps. Overall the gear vr headset is a more polished experience, watching movie clips and playing games is much more engaging, but for the fun little games/experiences available via the play store, this view master thing is perfect.
Android Central Newsletter
Get the best of Android Central in in your inbox, every day!
Thank you for signing up to Android Central. You will receive a verification email shortly.
There was a problem. Please refresh the page and try again.