Hands on with the Alcatel One Touch Idol X+ and wristband accessory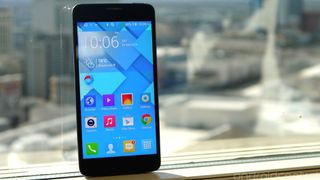 We go hands on with Alcatel's newest handset live in Las Vegas
We're here in Las Vegas at CES with Alcatel, and we've had chance to spend a little quality time with its latest Android handset, the Idol X+. Launching today, the Idol X+ is due to go on sale in January beginning in Asia, with selected Russia to follow in Q1.
The Idol X+ isn't the most spec'd out Android smartphone you'll find, but it's plenty solid enough. Out front we're looking at a 5-inch, 1080p display, and a wholly plastic construction with an exterior trim that bares a pretty accurate resemblance to brushed metal. Down bottom it looks like there's a pair of speakers, but it is in fact only one, with a 13MP camera round the back, and a 2MP 1080p shooter on the front.
At 7.9mm, the Idol X+ is pretty slim, and for a large phone it's plenty light enough to hold. Underneath, the Idol X+ is carrying a new Mediatek MTK6592 octa-core processor, clocked to 2GHz, with 2GB of RAM backing it up, and 16GB of internal storage.
More, including our hands-on video, after the break.
The speaker holes on the bottom of the phone as we've mentioned cover just one speaker, there's no stereo sound. But, with a combination of hardware and a specific audio codec, Alcatel claims 'HiFi sound' from the Idol X+. We gave it a little trial run, and at half volume the sound was pretty loud in both music and gaming, and delivered a generally good quality sound.
On the software side we're looking at Android 4.2.2 Jelly Bean, with some light customizations on the user interface front. It isn't particularly over the top, but it's pretty bright. One of the nicest software touches is Alcatel's new camera app, with a bunch of options that includes live filters, overlaying the viewfinder as you shoot your images.
So, it's a pretty solid mid-range effort, with plenty of solid specs on hand. Connectivity for the Idol X+ is limited to HSPA, with no LTE version coming to market at this point. We're not likely to see it any time soon in the U.S, either. Beyond just the phone, though, Alcatel did have a couple of accessories to show us for the Idol X+; a set of pretty nice earbuds, and a wearable accessory.
Coming in the retail box with the Idol X+ is a pair of JBL earbuds, through a new partnership between the two companies. They're pretty good, certainly better than your average run of the mill headsets that come with a lot of phones. Also shown off today was the wristband accessory – yes, that is what it's currently known as – which is Alcatel's own wearable. The meat of the device is a dongle which slots inside the rubber wristband – or potentially other wearable form factors – which uses an LED system to pass on notifications from your phone, as well as acting as a pedometer, sleep tracker and proximity alarm.
It's basic, sure, and in it's current form will only be compatible with the Idol X+. The future may see this extend to other Alcatel phones, and beyond, and maybe it'll get a proper name at some point.
So they stole 99% of Samsung's TouchWiz, and just added more colour and made it a little bit better... but still, wtf.

So they stole 99% of Samsung's TouchWiz, and just added more colour and made it a little bit better... but still, wtf.

I think they were going for iOS 7

I think it looks like the ugly lovechild of iOS 7 and touchwiz. Posted via my kitkat-powered machete with a Tegra 4

Turned the video off as soon as I saw that capacitive menu button. Otherwise the phone looks like the lovechild of LG and Samsung in terms of the skin. Posted via Android Central App

Where do they even sell these Alcatel phones?
I hear about them once or twice a year at these trade shows, but then they disappear.

Mentioned Asia and Russia. Maybe by Asia they mean Kazakhstan or Mongolia.

US Cellular here in the states. I think prepaid too.

The UI isn't terrible, but it looks weird. UI aside, a2014 flagship should not be shipping with Android 4.2. That's like a 2013 flagship skipping with Ice cream sandwich.
They could have at least give with 4.3 instead of 4.4 Posted via my kitkat-powered machete with a Tegra 4

The wristband looks like a fitbit Posted from the ONE

They should've skipped the capacative buttons and went with on-screen ones.. they should've also went with stock Android 4.3 (at least) with some light customizations for whatever exclusive features they have. Other than that not entirely too bad..

That looks like a nice little device its cool that europe gets alot of cool interesting looking devices we dont really get to see unless we import

Pretty nice device. Not the best, but certainly not the worst. It's a solid device. For the right price, it could be a good deal :)
Android Central Newsletter
Thank you for signing up to Android Central. You will receive a verification email shortly.
There was a problem. Please refresh the page and try again.