Grain Audio PWS.01 Wireless Speaker review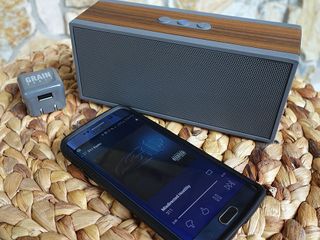 It's hard to not fall in love with the beautiful walnut enclosure of this Bluetooth speaker, but having legit sound processing technology to boot makes this handsome devil all the more appealing. Designed for those who truly want the best sound from a portable speaker, Grain Audio's PWS.01 (opens in new tab) is one worth writing home about. Jump past the break to get the full scoop of what it's pushing and the goodies bundled with.
It won't take your calls, and it won't wirelessly charge your Qi-enabled device — no. The PWS.01 has one sole purpose, and that's providing you with amazing sound wherever it resides. Grain Audio has kept functionality simple with this wireless speaker, yet crafting a body that's designed to enhance the audio experience through and through. The enclosure is made of an FSC-certified walnut with a hand-applied oil finish that's water resistant (not to be confused with waterproof). FSC being the Forest Stewardship Council, which is 100% for sustainable harvesting of wood, protecting fragile ecosystems and stands against illegal logging practices.
The edges are lined with an easy-grip rubber that surround the speaker grille on both sides. Underneath is a pair of rubber feet that do a jam-up job of preventing any slipping and sliding, regardless of surface material. On top you'll find the power and volume buttons, sharing the same matte finish as the edges. The 3.5mm auxiliary port for direct connections without Bluetooth, as well as a micro-USB port for charging its internal lithium-ion battery, can be found on the side. A Grain Audio logo is engraved into the wood on the opposite side, which looks quite nice.
Fully charged the PWS.01 will rock your socks off for a completely-acceptable 8 hours. It comes bundled with its own folding blade charging adapter, 5ft micro-USB charging cable, mesh carrying bag, and a 40" auxiliary cable. It's reasonably sized, measuring 7" x 2 3/8" x 3 1/8", not ideal for pocket storage by any means, but the included bag is perfect for tossing in a backpack or carry-on.
The mesh carrying bag easily houses the PWS.01 and features a buckle lock at the top that keeps the wireless speaker from slipping out. I noticed that the bag seems to be water resistant as well, adding extra defense while toting the speaker around on foot.
Pairing is straightforward with most Bluetooth devices; holding down the power button a few seconds puts it into pairing mode (indicated audibly) and shows up under devices as Grain Audio - PWS.01. No NFC pairing with this guy, which isn't really a deal-breaker for the extra few seconds it takes to scan for the device.
Inside are two 2" proprietary loudspeakers that feature a patented bass isolation system and passive radiator, topped with Waves MaxxAudio sound processing — recipient of a Technical GRAMMY Award. The PWS.01 also comes loaded with Bluetooth 3.0 + A2DP with aptX and AAC technology for the highest quality audio standards. When hearing the PWS.01 (opens in new tab) next to my ZENS Bluetooth Speaker/Wireless Charger, the tone is noticeably different. There's a richness to the mids of the PWS.01 that ZENS' dual speakers don't put out — playing to the strengths of that wood construction. The bass kicks when volume levels go up without drowning out the rest of the mix; that is, until you're cranking it to the point of distortion. It's still plenty loud for most living rooms before getting to that unpleasant point, though.
Image 1 of 7
The verdict
As great as the Grain Audio PWS.01 (opens in new tab) sounds, it's in that higher price range that not everyone can easily afford. Granted, its sound quality and construction play a role in that, it could be a bit more affordable — minding you can't manage calls, skip tracks, or pair using NFC. Negatives aside, it's an excellent wireless speaker that blends well almost anywhere aesthetically. It's currently priced at $249.99 through Amazon, if you decide you want those rich acoustics of the PWS.01.
Buy now (opens in new tab)
Android Central Newsletter
Get instant access to breaking news, the hottest reviews, great deals and helpful tips
I have the Grain Audio in-ear headphones, and the sound is amazing

I was eyeballing those, too. My concern was the fit since my ears spit out earbuds like a kid eating broccoli.

They come with 4 different sized buds. I was a little concerned too because I usually have to wear a smaller bud in my right ear than my left one. They fit pretty well and don't fall out on my 5-7 mile walks in Georgia summer heat.

Nice! Maybe I'll get a pair and try em out. Thanks!

Yo Posted via the Android Central App

Bought a $30 Bluetooth speaker off of amazon and it works great. The sound is a lot better than I expected and it gets pretty loud too. After seeing what the cheap ones can do there is no way I would ever pay $250 for one Posted via the Android Central App

And you don't tell us what one it is.

i know right?! lol I'm curious now, I want one I can put in my bathroom to just listen to music/news while i get ready for work in the mornings. Tired of using my cell phone speakers.

FWIW, i bought the $60 Sharkk bluetooth speaker on amazon and its pretty awesome. PLenty loud, enough bass to not sound tin-y, and lasts about 8 hours as well. Not to mention that their customer support is amazing if you have to deal with them (my battery started not lasting as long after 6 months and they sent me a new updated version and let me keep the old one with no hassle at all). I am in the same boat... will not pay $250 for a speaker when cheaper ones sound almost as good. This one is good enough that i have 5 people that bought them now after using mine for a bit. OH.. and it has NFC pairing, calls and can pause and skip tracks....

I bought the 15 dollar wireless speaker from Walmart, and have loved it. It lasts about 6 hrs on 3/4 volume and I can skip tracks, answer calls, etc... I can't find it on the Internet but I've seen it in all. Walmarts

And a 100 dollar phone is on par with a 700 dollar phone. Posted via the Android Central App

This crowd doesn't appreciate good sound. A $300 Bose speaker DOES NOT sound like the $15 Walmart special.

Nope it doesnt. But my $60 one from amazon sounds pretty dang close for the price and the fact that i could buy 4 or 5 of them for the same price. Bose doesnt sound THAT good anymore. They are overpriced and underwhelming from my experience.

So right, and it's probably the same crowd that has to have the 700 dollar phone but not the 500 dollar phone. Posted via the Android Central App

There are some very good sounding bluetooth speakers for a fraction of the price that the Bose goes for. And much higher quality selections for the price of the Bose. Just all depends on the person's budget and that they're going for though.

Could anyone tell me which phone case that is? It looks really nice!

Currently using the OtterBox Symmetry Case on my S6 edge.

Thanks! Purchasing right now.

To the author: you said it has a 60 inch auxiliary cable bundled with it. Wouldn't that be massive? Posted via the Android Central App

Phew, good call—thanks. I'm still learning to count, don't mind me. ***40"

This thing is in the same price range as my Sony SRS X5, and I have to say the X5 kicks! Any one else with the X5 and the Grain have anything to say in terms of comparison? Posted from my Samsung Galaxy Note 4 with the official Android Central app for... Well... Android!

OONTZ Angle Plus from Cambridge Soundworks. The Bass is insane. It's loud. It's weatherproof and the battery lasts a really long time. Also comes with a mousepad type thing to place under it to stop it from bouncing around on bass heavy music. Best 33 bucks I've ever spent.

If it is good enough for me to not have to setup something bigger, then it may be worth it. I'd have to hear it though, as it's not likely to sound anything like an actual professional recording studio. I've bought eight speakers, gave three away, took two back to the store because the phone speakers were more powerful. The best sounding combo I found so far is the HTC boom bass woofer which uses the phone speakers for mids and highs. Of course all of the bt speakers sounds lame compared to a 2800 watt system with zero distortion, but you don't need all that for the bedroom or kitchen. The favorite for bathroom use is the phone itself, as it sounds good and I can take a call in the shower without having to switch from an external speaker.
I do have to say that the lack of NFC is a big minus. Posted via the Android Central App

Brent, you should check out the Klipsch units at some point.
Android Central Newsletter
Get instant access to breaking news, the hottest reviews, great deals and helpful tips
Thank you for signing up to Android Central. You will receive a verification email shortly.
There was a problem. Please refresh the page and try again.