A foldable Pixel could be released sooner than you think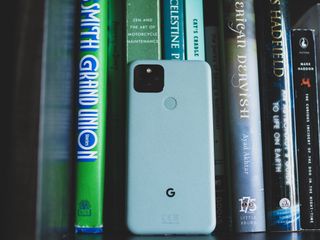 (Image credit: Android Central)
What you need to know
Samsung Display is reportedly developing foldable OLED panels for an upcoming Google Pixel phone.
The upcoming foldable Pixel is tipped to have a 7.6-inch main display and could debut sometime in the second half of the year.
Xiaomi and OPPO are also said to have ordered foldable OLED panels from Samsung Display.
Last year, an internal Android document had revealed that Google was working on a foldable phone codenamed "passport" for 2021. More details on the upcoming foldable Pixel have now emerged, courtesy of Korean publication The Elec.
As per the new report, Samsung Display is currently developing foldable OLED panels for Google, Xiaomi, and OPPO. The foldable Pixel will apparently have a 7.6-inch main display, just like Samsung's Galaxy Z Fold 2. Aside from the display size, however, the report doesn't reveal anything else about the device.
OPPO is tipped to be working on a clamshell phone with a foldable 7.7-inch panel. The Galaxy Z Flip, which has a similar form-factor, features a much smaller 6.7-inch panel. Xiaomi, on the other hand, has ordered an in-folding 8.03-inch panel from Samsung Display. The outer screen on the Xiaomi foldable will also be quite large at 6.38 inches.
The global foldable phone market is currently dominated by Samsung, which isn't a surprise. If the report is indeed accurate and all three companies enter the foldable phone market later this year, Samsung's market share could come down significantly. Companies like Xiaomi and OPPO are known to offer great hardware at aggressive price points, so you can expect their first foldable devices to be a lot more affordable than the best foldable phones from Samsung.
WOW seriously! That would be great 🙂

They should first make a good phone.

A foldable Pixel would be a huge failure. Google can't even release a standard phone without hardware issues. A foldable phone sounds like a nightmare.

Foldable phones don't exist until Apple develops it. Apple invented 5G afterall.

Oh gawd no. Pixels should be an option to get nice clean Android at a reasonable price. That has been stretched lately already. There isn't a single 'affordable' foldable device out there, and it is just getting worse with Huawei's $2700 device. Besides that, as someone else pointed out, Google is not the most polished hardware company.

Google and foldable phones = disaster which would be overpriced.
Android Central Newsletter
Thank you for signing up to Android Central. You will receive a verification email shortly.
There was a problem. Please refresh the page and try again.