Google's Nexus Player to be available in Japan by the end of February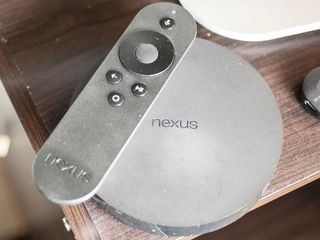 It looks like the Nexus Player is beginning its exploration of the wide, wide world. Google announced today that the Android TV device will be coming to Japan at the end of February for 12,800 yen (about $108).
Google revealed the expansion in a blog post today, noting that this is the first time that the Nexus Player is being sold outside of North America. It also says that, upon release, it will have content available specifically for its Japanese customers:
Hopefully this signals the start of wider availability around the world for Google's own Android TV offering.
Source: Google
I think it's hilarious that they mention Soul Calibur given that the game isn't compatible with the Asus Nexus Player Gamepad.

Im not one to complain about such things but this picture is getting old. It looks like a used and abused nexus player with greasy nexus lettering and appears to have dander all over it, not pleasant on the eyes. Other than that keep up the good work lol

I was just about to write the same thing. What a horrible picture to use, especially a picture marked with the Android Central in the corner.

Ha! I was thinking the exact same thing, but was not going to post anything about it until I saw your post. I'm tired of this insanely bad photo!

What the hell is going on? Every day coming something new ? Can I have just normal mobile phone? Is it my smart phone ok I have Samsung Galaxy S4 GT-I9505. IS THIS OK ANDROID FOR NOW?

What the f...? Posted from my Droid Turbo, Kelly and Ozone

Cocaine Is a hell of a drug.. Posted via the Android Central App

What the, seriously you are talking bat sh!t crazy-ness

So far I've been disappointed with the Nexus Player. They haven't updated the Entertainment apps at all. Same small selection since it launched. Yeah they add game apps now and then, but nothing to write home about. It seems like the device is not supported. Another thing is the Chromecast app doesn't recognize the Nexus Player as Chromecast. It says it's not plugged in.

I agree on the support.. But it's not a chromecast, it has Google cast, can function like a chromecast, not need from the app though. When Android TV and Google cast are in TV out of the box I'm sure it wouldn't work with the CC app either. Posted via Android Central App

I think the comment was regarding the fact that sometimes the Nexus Player disappears from the "available devices" list when you go to cast something from your phone, tablet, etc. It annoys me too. All the more reason I'd like to have a software function to reboot the Nexus Player, so I don't have to go into the cabinet and hard boot it by unplugging it.

No I wasn't, but that has happened before and I have to plug the device on and off to fix it. I'm referring to the Chromecast App itself. When you run it on your phone/tablet. It scans for Chromecast and never finds it on Nexus Player. It tells me it's not plugged in. It's like it doesn't consider it the real Chromecast. The funny thing is Chromecast still works with youtube, hulu etc.

The only reason I wanted to use the Chromecast app with the Nexus Player was to mirrorcast. So far the only device I've gotten to mirrorcast on the Nexus Player is a Nexus Device. For obvious reasons I guess. I've tried LG, Samsung and now I'm currently trying the Tegra Note 7. None of them can mirrorcast on the Nexus Player.

I'm with you, but I want to give the Goog and the devs some time. I'd rather they not rush it and as it stands, I'm fairly happy with just YouTube, Plex, Red Bull TV, and Google Play Movies & Music. I've added some things from the web version of the Play Store such as the HDHomerun app, which in turn activated the Live Channels app. I've not messed around too much with side loading, as the apps I would side load (i.e. Watch ESPN, etc.) are available on my Apple TV, so I just use that. Just like Chromecast app support took a while to get off the ground, I trust more support for Android TV will come in time.
Android Central Newsletter
Thank you for signing up to Android Central. You will receive a verification email shortly.
There was a problem. Please refresh the page and try again.