Google's new Sound Amplifier app will help you hear better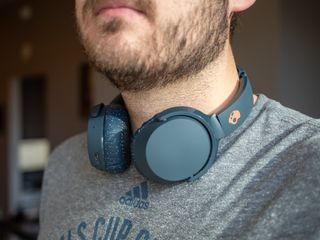 What you need to know
Sound Amplifier will help boost important sounds such as a person's voice while filtering out background noise.
It is available on Android phones running Marshmallow and above.
Sound Amplifier can now be easily launched from the home screen.
Google is continuing on its mission to make the world more accessible to people using their Android phone. The latest innovation is set to help those with hearing loss with the Sound Amplifier app.
By using Sound Amplifier, users who have some hearing loss can help boost the audio of their surroundings on Android phones running Android 6.0 Marshmallow and above, allowing you to tune out crowd noise and better hear the sounds you want or need to hear, such as the person you're having lunch with in a crowded restaurant or a professor in a large lecture hall.
To accomplish this, Google made use of its machine learning capabilities and analyzed thousands of sounds to determine how best to isolate the important ones. It also sorted through publicly available hearing studies to determine how people hear and then created simple controls in the app to customize and enhance how you hear in different environments.
The new UI makes it easier than ever to make adjustments and visualize how those adjustments are being applied. Along with enhancing the UI of the Sound Amplifier app, Google has also made it quicker to launch by making the shortcut available on the home screen. No longer will you have to dig through the settings in order to launch it.
If you'd like to try it out for yourself or know someone who could use it, Sound Amplifier is available for free on Google Play (opens in new tab) on Android phones running Marshmallow and above.
Google's making phones more accessible to people with speech and hearing impairments
Get the Android Central Newsletter
Instant access to breaking news, the hottest reviews, great deals and helpful tips.
Impressive! I'm one of those people who are always told they are playing the TV too loudly....

I downloaded, but cannot see on home page

You have to turn it on in your accessibility settings if it doesn't show automatically. Not sure why they don't tell you, but it works for me now that I have done that.

I'm guessing you're on a Pixel 3? If so, you didn't need to download it. Its already installed on your device and available in Accessibility options.

I'm going to use this for spy work and ghost hunting!

Glad it's out, as I get asked about apps like this. There are other's that work, more or less, but I think this one would be more effective.

I'd just be happy if there was a great eq for Android. I used viper4android back when I used to root.

"Google's new Sound Amplifier app will help Google hear better" 😏

So no Bluetooth support yet? That sucks. I hope they'll fix this soon.

"wired headphones (required)" should be in "What you need to know", and don't choose a misleading photo.

This is absolutely idiotic! Google play puts out an app that doesn't work with Bluetooth. I use a Google pixel 2 cell phone, guess what no headphone jack, so it doesn't work! A wonderful app built with dead ends.

i'm guessing it'd work if you use the adapter. I'd also assume they have a good reason for required wired headsets at this time and aren't doing it just to annoy you. If they could use bluetooth, they probably would. So its not really a dead end in that regard.

I have some some hearing loss from nerve damage due to noisy environment. I also have tinnitus. This could be a great app but yeah it definitely needs bluetooth support.

Sound Amplifier is already available on Pixel 3 and is in Accessibility options. If you don't see it in your apps, you're probably using Pixel 3 and have to activate it that way.

Can someone at AndroidCentral reach out to Google about the wired headset requirement? I'm interested in knowing why that limitation is there and if its temporary or there's something bigger in the way and we shouldn't hold our breath for bluetooth anytime soon.