Google's mid-range Pixel phone to come out next year with a Snapdragon 710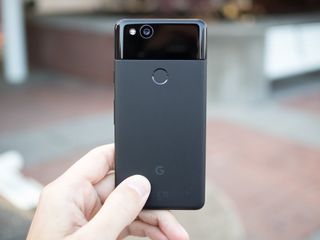 Google's big hardware release this year is expected to be the Pixel 3 and Pixel 3 XL this October, but starting next year, we could see a mid-range Pixel added to the lineup.
According to Roland Quandt on Twitter, Google's currently working on a "mobile device" that's powered by Qualcomm's new Snapdragon 710 processor and is scheduled for a release at some point during the first half of 2019. There's no word on pricing or other specs, but this sounds a lot like the mid-range Pixel we first heard about last April.
In addition to Google, HMD Global is also reportedly working on a Snapdragon 710-powered Nokia phone that'll be released even earlier this autumn or winter. The Nokia phone is currently codenamed "Phoneix" while the Google one is known as "Bonito." For what it's worth, Bonitos are a type of medium-sized fish. Medium-sized fish = mid-range Pixel phone? Perhaps.
The term "mid-range" typically means that corners are cut in some areas to keep prices low, but thanks to the Snapdragon 710, performance shouldn't see much of a hit at all. I recommend reading through Jerry's breakdown of the chipset, but it's essentially a Snapdragon 845 with better power efficiency and scalebacks where they make sense.
HMD Global's already proven to be one of the best players in the mid-range Android space, and I'm beyond excited to see what kind of work Google can do here, too.
Snapdragon 710 chips mean nobody has to spend $1,000 on a phone
Android Central Newsletter
Get instant access to breaking news, the hottest reviews, great deals and helpful tips
Joe Maring was a Senior Editor for Android Central between 2017 and 2021. You can reach him on Twitter at @JoeMaring1.
What does this have to do with HMD other than them also releasing a Snapdragon 710 based device?

Bonito also means pretty in Spanish and ending in o gives it a masculine slant. So pretty boy.

Perhaps they'll call a mid-ranged Pixel a Nexus. The Android One's could then be budget devices.

Bonito are also delicious if you grill the steaks. A little darker and juicier than Skipjack, which actually is a good thing on the grill. And now I'm hungry and these stupid peanut butter crackers aren't going to cut it.

Man, I love peanut butter. What were we talking about?

Peanut butter - love it - especially when you go to the store and grind it fresh. 👍

There's nothing saying "they WILL" release an 710 mid-range device. But I wouldn't be surprised at all; they should be targeting the $400-500 range and unfortunately in a 1080 6" phone.

I think this is going to be the phone for me if it doesn't have a notch and isn't a phablet. I don't care much about how good my camera is and I am guessing the camera will be one area a midrange phone will suffer a little. A lot of midrange phones have headphone jacks as well which would be a nice comeback.

I doubt Google will crap out on the camera, plus I doubt the headphone jack will return.

Main thing i'm interested in is camera performance. If the mid-range Pixel has the same camera as the SD 845 variants coming out later this year, this would be an awesome phone. But I have a feeling manufacturers are going to put crap components in these mid-range phones, and make them "well, they were cheap, so I can let poor quality slide" type of devices.

"That'll be $799 since it's mid-range"

Probably. Mid-range is the Moto G6. I highly doubt it's that cheap.

I hope by mid-range, they price it circa 499/549 or Nexus 6P level pricing.

maybe take the Xiaomi Mi 8 as a hint? ~$500 for a decent phone.

I see people claiming that $800 is the new mid-range pricing. These types of statements are erroneous and misleading. Current mid-range phones like the Nokia 6.1 are sub $300 devices to Nokia 7 plus (sub $400). I fully expect a phone with the SD710, assuming all else is equal, to debut in the sub $500 range. The problem is that at that price range, it's competing against phones like the Oneplus devices which feature top of the line specs. I am really curious to see what Google will do with this chip in a "pixel" phone. This will still be a top range phone with top range pricing but it's not going to be in the $800 range. The regular pixel will cost in the $700 range and if this phone is more expensive why would anyone buy it?

This mid range Pixel phone would compliment my Pixel 2 XL perfectly. I have no interest in getting the Pixel 3 XL with that notch as it's not likely Google will include the ability to hide it like the OnePlus 6.

Your pixel 2xl is already a mid range phone with that **** screen it has and schizophrenic design of the back of the phone.
Android Central Newsletter
Get instant access to breaking news, the hottest reviews, great deals and helpful tips
Thank you for signing up to Android Central. You will receive a verification email shortly.
There was a problem. Please refresh the page and try again.