Google's 'Live Channels for Android TV' app will do live channels for TV ... just like Google said it would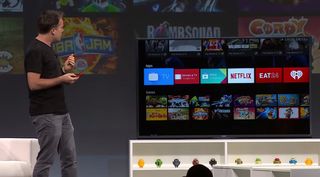 What's new is that that Google's got a dedicated app in Google Play
Peep at Google's own app listings (opens in new tab) in the Google Play Store today and you'll find a new entry — Live Channels for Android TV (opens in new tab). Don't get too excited just yet — you can't install it on any current devices, and chances are it's going to end up in the upcoming crop of sets running Android TV anyway. And seeing as how CES is right around the corner — if you think we went big last year, just wait — that's a pretty solid bet.
And here's the thing: It's exactly what Google's Dave Burke told us about during the Google I/O in June in San Francisco. What's new today is that there's an app in Google Play.
Here's Burke at Google I/O:
Keep watching and you clearly see a "TV" app running on that Sony set.
The prospect of live, IP-based television isn't exactly new for Android. The now-defunct Google TV tried to tap into it, and the likes of Bloomberg already has a live feed on the Nexus Player. The included screen shots here feature a "channel sources" option, but it'll probably be a cold day in Hell before you're able to simply pick from, say, Comcast, DISH, Time Warner or some new source as simply as you'd ... wait for it ... change channels. (Wouldn't it be great if we were wrong, though.) But that doesn't mean there won't be some sort of options. And if you were using an Android-based television UI to move between, say, an HD antenna and a satellite box, that might be how you do it. (It's also just icons on a screen so far as you an I are concerned at this point, so things may very well change.)
What we have right here, right now is Google getting ready ... for something.
Image 1 of 4