Google Wifi vs. Plume: Which should you buy?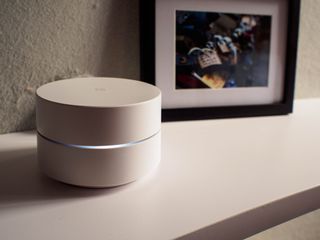 (Image credit: Google)
Google Wifi
Google's Wifi system comes in single and three packs, and it's super easy to add more pieces as you expand your home.
Google Wifi
Easy installation.
Can be placed on a shelf or desk.
Higher upfront costs.
Less advanced features available.
Plume
Plume's model is a bit more interesting in that the hardware is cheaper, but users have to pay for a subscription for some features. Depending on exactly what features you want, that could save you some money.
Plume
Lower upfront costs.
Plugs right into a power outlet.
Restricted to where you have power outlets.
Ongoing subscription fees for some features.
While they're priced a bit differently, both Google Wifi and Plume are great ways to get better Wi-Fi coverage in your home.
Features
Swipe to scroll horizontally
| Header Cell - Column 0 | Google Wifi | Plume |
| --- | --- | --- |
| Ethernet backhaul | Yes | Yes |
| Power cable | Yes, USB-C | No |
| Automatic updates | Yes | Yes |
| IPv6 support | Yes | Yes |
| Custom DNS | Yes | Yes |
| UPnP | Yes | Yes |
| Guest network | Yes | Yes, with subscription |
| Family controls | Yes | Yes, with subscription |
| USB device support | No | No |
How do they compare?
The most obvious difference between the two systems is the hardware. Plume plugs directly into a power outlet, while Google Wifi includes a USB-C power cable (and can work with most third-party cables). Which one of those is better depends on the layout of your house: plugging a router directly into the power outlet is easier, but being able to put it on the shelf will keep it from getting knocked around by pets and kids.
The next obvious difference is in the pricing: Google Wifi starts at $130 (or sometimes on sale for $100) for a single router and $300 for a three-pack. The Plume routers are cheaper by themselves, but you can't buy them without also buying a subscription, especially if you want certain features. The cheapest way to get started is $99, which gets you three routers and a year of service.
Lifetime membership is a one-time $200 fee, which comes to $239 if you haven't bought any Plume routers yet. That's still cheaper than the Google Wifi three-pack, and you can still expand it with new routers if you move to a bigger home. If you stop paying the subscription, your Plume routers still work, still get updates, still allow you to change your network name and password, but you don't get access to some advanced features.
Both Google Wifi and Plume support Ethernet backhaul, so you can have the mesh routers communicate over a wire to make your network that much more stable. The smaller Plume only has one Ethernet port though, so it can't be used for both connecting to one of your devices and for Ethernet backhaul.
They do have a lot in common though. Both support automatic updates, so your network is always safe as can be. Neither has a USB port for connecting a printer, hard drive, or other devices to your network. Features like IPv6 support, custom DNS, and DHCP and UPnP support are present for both. Both offer smartphone applications for iOS and Android so you can check on your network from anywhere in the world.
They also both include family controls to keep your child's device locked down after certain hours, but Plume only allows this if you've paid for a subscription. Same with guest network support, but that's a bit more granular. Plume allows you to have a guest network, but devices in your main network — say, a Sonos speaker you want your guest to be able to use — can still talk to devices on the guest side.
In the end, neither system is better or worse than the other. It's alos worth considering if you need a mesh systems with some of the best wireless routers omitting the feature. The one you choose should be based on the layout of your home, and whether you want to pay the subscription for extra features.
No nonsense
No dealing with subscriptions.
Google Wifi makes it super easy to get started on your mesh system, and there are no ongoing fees. The separate power cable gives you a bit more freedom when placing each router.
Super subscription
Cheaper to get started that Google's system.
Plume's subscription model may seem like a bad thing, but even with a lifetime membership, it can end up being less expensive than Google's system.
Get the Android Central Newsletter
Instant access to breaking news, the hottest reviews, great deals and helpful tips.