Google Wifi vs. Eero 6: Which mesh router should you buy?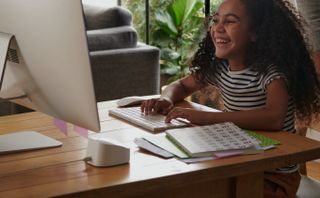 (Image credit: Eero)
Eero 6
Eero 6 provides the right amount of speed for most homes with 500Mbps in a mesh thanks to its AX1800 setup. It has a compact size and a great app. A Zigbee smart home app is built-in and it works with Amazon Alexa for voice control. Eero Secure is also a great add-on for those that want some extra security on their home network.
Eero 6
Wi-Fi 6 has plenty of speed for most people
Easy setup
Compatible with all other Eeros
Two Ethernet ports on base units
More expensive
Google Wifi
Google Wifi is simple to use, easy to set up, and inexpensive; you can even run a cable to a switch should you need to do it. If you just need enough speed for streaming and browsing, Google Wifi is still a good choice. You can add more Google Wifi or Nest Wifi nodes to expand the network as well.
Google Wifi
Great Google software
Easy setup
Works with Nest Wifi
Two Ethernet ports on each unit
Google collects data
Slow even by Wi-Fi 5 standard
Both Google Wifi and Eero 6 are excellent entry-level mesh Wi-Fi systems and each delivers on their main promise — better Wi-Fi throughout your home. Eero 6 takes the lead thanks to its faster speeds and more modern Wi-Fi standard. While it's still only dual-band, it should be able to provide enough speed for a 500Mbps internet connection.
Google Wifi vs. Eero 6 The important details
Both devices are focused on the user experience with consistent security and feature updates and great apps. They offer all the basic networking control you'd need for your home network and have additions like access control, easy-to-share passwords, guest networks, and device prioritization and pausing.
Google Wifi only supports Wi-Fi 5 (802.11ac) and its dual-band connection offers up to AC1200 speeds. Eero 6, on the other hand, uses Wi-Fi 6, which offers AX1800 speeds. While neither of these systems is a great fit for a gigabit connection, for most homes, they're more than adequate. Still, Eero 6 will provide faster speeds to Wi-Fi 6 devices and will have greater mesh performance even for Wi-Fi 5 devices.
Swipe to scroll horizontally
Header Cell - Column 0

Eero 6
Google Wifi
Wi-Fi standard
Wi-Fi 6 (802.11ax)
Dual-band
Wi-Fi 5 (802.11ac)
Dual-band
Wireless speed
AX1800
AC1200
Ethernet
2 Gigabit LAN (1 occupied for WAN)
2 Gigabit LAN (1 occupied for WAN)
Dimensions
3.91 x 3.82 x 2.42 inch
4.18 x 2.71 inch
Voice Assistant
Amazon Alexa
Google Assistant
Power requirement
15W
15W
It really comes down to how fast your internet connection is. If your connection speed is less than around 400Mbps, either system will work fine. If you need a little more speed, Eero 6 will be worth the extra cost.
If you need something with more speed, Eero has the Eero Pro 6 with an AX4200 connection and Google has Nest Wifi with AC2200 speeds. Both of these routers are solid upgrades but for many people, the extra power isn't needed.
Google Wifi vs. Eero 6 Get the right coverage
Both a single Eero 6 and a single Google WiFi will cover approximately 1,500 square feet in a home. Keep in mind, it's not 100% efficient and will broadcast more of a sphere around the router. In a mesh, your next point will need to be within the range of this signal and will perform better with a fairly unobstructed line of sight. Luckily both of these systems will support many additional routers to improve your mesh. It's hard to know if you actually need a mesh system but if you have inconsistent coverage around your home, a mesh can fill in the weak spots more consistently than a powerful standalone router.
You'll need the Android or iOS app to set up either of these networks. Make sure to grab the Google Wifi app on Android or iOS or the eero app on Android or iOS before disconnecting your old network,
Google Wifi vs. Eero 6 Expanding Google Wifi
Expanding your Google Wifi mesh is as simple as it could be. Simply add in more Google Wifi routers or Nest Wifi routers and set them up in the app. As long as you have a connection to the rest of the mesh you are good to go. This can also be accomplished with an Ethernet cable if your home is already wired or you can run one further strengthening your mesh.
If you want to stick with the Google Wifi ecosystem but need a bit more speed, you should check out the newer and faster Nest Wifi compared to Google Wifi. If you need to expand an existing Nest Wifi setup, Google Wifi is a solid option, especially with its dual Ethernet ports.
Google Wifi vs. Eero 6 Expanding the Eero family
The Eero family has grown a lot recently with both older Wi-Fi 5 and newer Wi-Fi 6 options available. If you're starting with an Eero 6, you should stick to the other Wi-Fi 6 Eeros to keep your speed high. The Eero 6 Extender is a great way to expand your Eero 6 mesh. It has the same wireless speed as the Eero 6 though it lacks any Ethernet ports. If you need wired connectivity, you'll need a standard Eero 6.
If you already have older Eeros, you can still use them but you shouldn't expect any speed improvements while connected to that node. If you're building out a system of mixed Eeros, do your best to keep the fastest router at the center connected directly to your modem. The remote mesh points will only ever be as fast as their source connection so chaining an eero Pro 6 to a base Eero would be a waste of resources.
Google Wifi vs. Eero 6 Eero competes on price and wins on power
It's quite possible to build a great mesh network with either Google Wifi or Eero 6. In this situation, Eero 6's added flexibility and speed are enough to make it a better fit for most people. Eero makes some of the best wireless routers you can get and the Eero 6 is no different. If you're looking to upgrade your network to Wi-Fi 6 or just need a bit more speed out of your mesh, Eero 6 is the better choice to get started.
Compact next-gen
A compact Wi-Fi 6 mesh solution
Eero 6 is a great start to a mesh system with plenty of speed for most homes thanks to Wi-Fi 6 and easy expansion with all other Eero routers.
The name you know
A simple mesh backed by Google
Google Wifi blankets your home with Wi-Fi coverage simply and securely. Set up additional points with the app to make the network as big as you need it.
Sign up for Black Friday email alerts!
Get the hottest deals available in your inbox plus news, reviews, opinion, analysis and more from the Android Central team.
When Samuel is not writing about networking or 5G at Android Central, he spends most of his time researching computer components and obsessing over what CPU goes into the ultimate Windows 98 computer. It's the Pentium 3.