Google Wallet no longer working on the Verizon Galaxy Nexus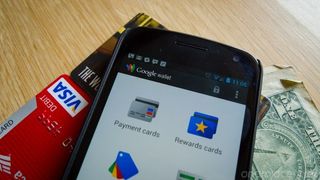 Verizon Galaxy Nexus users have had a long and shaky history with using Google Wallet on their devices. Now it seems that some entity -- be it Verizon or Google -- may have finally pulled the plug on this one. Users in our forums are reporting that the Google Wallet app is no longer working on their devices and is unable to be updated or installed in the Google Play Store. We're not sure at this point why the app is pulled or whether it will be coming back, but hopefully we'll hear something more definitive soon.
We recommend you go check out the thread in our forums where users are reporting their findings. There's a good chance some ingenious hackers will find a way around this soon enough: Verizon Galaxy Nexus Forums: Google wallet problem.
Andrew was an Executive Editor, U.S. at Android Central between 2012 and 2020.
you can sideload the update. Its available in the thread.

This is NOT Verizon's doing. It is Google's. I have a stock Nexus 7. When the update to Wallet came out last week, I never updated due to concerns with people losing access to their debit cards and not being able to re-add them. Wallet worked perfectly fine with the old version. Except for today when it gave me the same error as everyone is seeing here, including on my Verizon Galaxy Nexus. Google is, in fact, preventing the older version from working. So unless you want to believe that Verizon is blocking the older version from working on my stock Wi-Fi Nexus 7, you can't really believe that this is Verizon's doing at all.

This update message is not something that is new and is not specific to the VZW Galaxy Nexus. Google Wallet does this to make sure everyone is on the newest version. Also, it is not new that the Google Wallet app is blocked from the VZW Galaxy Nexus in the Play Store. This is at Verizon's request. The only reason you could install Google Wallet from the Play Store in the past due to a couple loop holes in the Play Store website and app. It appears that Google fixed all the know loop holes. Now you need to sideload the Google Wallet app because you can't get it through the Play Store on a VZW Galaxy Nexus because Verizon has blocked it. The Google Wallet app still appears to work fine for the VZW Galaxy Nexus if you sideload it. You should still be able to update your Nexus 7 through Google Play.

I agree. I just feel as though sometimes people see any old error message (and this is an old error message that you would get on any device when you try to use a version of Wallet that Google has disabled) and automatically go on the Verizon-hating bandwagon. Verizon has nothing to do with this error message, nor did they have anything to do with the older version of Wallet ceasing to work today. I do feel though that is it questionable as to Verizon being the one blocking the app from being downloaded via the Play Store. Remember, legally they cannot. And I doubt that they would risk even more fines from the FCC just to prevent the Nexus, which is an older phone at this point and not really pushed via sales anymore, from obtaining Wallet. If the carrier was blocking an app, it would say "This app is unavailable on your carrier". If you try loading up the T-Mobile Visual Voicemail app on a Sprint phone, that is the error you will get. The same "Device Incompatible" error shows up when you try to buy/install a Tegra-exclusive game on a non-Tegra device. That error is one that is produced by the app developer. It's possible that Verizon is asking to Google block it. But I do think Google is the one blocking Play Store installs, not Verizon directly.

I'm sorry but this is wrong...This has been covered countless times before. Google removed Wallet access from the Play store at Verizon's request because Verizon specifically questioned Wallet's access to the secure element. Though Google has changed the Wallet app placing your credit info in the cloud, there is still a virtual MasterCard in the app that is still stored on the secured element. You can still side load the app, but it will not be updated by the Play store. Making it a completely deliberate and conscious choice by the user. Wallet still works. Well the updated version does. And it is still not supported in the Playstore per Verizon's request.

I don't see how I'm wrong and you're right, considering we both just said the same thing. "It's possible that Verizon is asking to Google block it. But I do think Google is the one blocking Play Store installs" "Google removed Wallet access from the Play store at Verizon's request"

Of course Google is the one doing it technically, this is no different than them blocking other apps. All carriers do this for certain & specific things in the Play Store. Like when they had tethering apps banned/removed from their market. At the end of the day, Verizon is at fault here. I'm sure Google would love to have the millions of subscriber's on Verizon's network with Galaxy Nexi start using Google wallet in the next few months, it would be a good amount of adoption and if the app could just be downloaded and installed, they'd benefit. Google is acting how Verizon wants them to, because only they have access to the Play Store. So this IS Verizon's fault, they don't want Wallet installed on their network's devices, they want us all using ISIS in a few weeks/months/years whenever it's ready.

I would think that VZW request has more to do with VZW wanting to deploy ISIS payment system. If they can't monetize it, they really don't want you to have it

Nice of Google to sabotage their own phones in this manner. WTH are they thinking?

I couldn't update mine the other day to 1.5-R79-v5 from the Play Store. However, someone had provided the latest apk and I was able to load it fine on my VZW Nexus and have had no problems using it since. Just used it today at Burger King

Well, now there is nothing holding me back from the iPhone 5. Whats the point of having NFC if Google or Verizon tells you how or on wheat you can use it with? Thanks for making this easier on me Google. Mike

So, that's your excuse for wanting to jump ship? The newest version is available in the forums. And if you research, it is clearly Verizon that prevented Google Wallet from being in the Play Store on the Galaxy Nexus. At least with Android there are workarounds. Going to the iPhone 5 won't make it better. No NFC on the iPhone 5, and if you plan to stay with Verizon, you'll still be dealing with Verizon bs, iOS or Android. Just saying... Do what works for you I suppose =)

Just install the updated version and stop proving that Iphone is for morons who can't do anything at all.

Sorry this IS Verizons issue. They signed on with a bunch of major players to have their own nfc payment system so they are blocking the competition. This is why there was never support for it on Verizon phones.

Works for me. Side loaded, of course. Latest version too. Used it today for a purchase.

I just found this out literally 5 minutes ago when I tried to buy gum at Cumberland Farms

I just found this out literally 5 minutes ago when I tried to buy gum at Cumberland Farms

Sucks but I dont even use it as basically nothing other than gas stations in my area use it....

I don't think this is news. I havent gotten Wallet from Google Play since it was the Market. I have always downloaded the app from the Xda Developers thread. That thread always has the latest version In fact there was an app on the Play Store that specifically directed users to that thread. I think it was called "Get Google Wallet". I used that a bunch of times just to get right to the XDA threads easily. However, I can't find that now. So I'm not sure if that's related to this issue. I am rooted and running Jelly belly so I am having no problems running Wallet fortunately.

I got an e-mail from Google titled "Important: Spend your Google Prepaid Card balance -- the card will be discontinued October 17, 2012". However, you're silly if you think that Google isn't allowing you to update via the Play store. Verizon been working with AT&T and T-Mobile on a version of Wallet called ISIS (http://www.wired.com/gadgetlab/2012/09/isis-mobile-payments-launch-delay...) and have blocked their customers from downloading/upgrading Wallet via the play store. And per the aforementioned link, it won't be launching on time. Sigh. This is why they should allow their customers the choice of using what they want to instead of trying to force feed us their own crap.

Works fine for me on the newest version. I am running AOKP JB

Funny enough if you call Verizon out on it they will say its not them its Google cause it works on the Nexus. They fail to mention that the Nexus has pure Google software with no UI overlay and nothing from VZW other than their two apps.

Android Central please refrain from shock titles such as these and misleading our fellow readers! Do the research first! Google Wallet still works on the Galaxy Nexus! The old version does not. The newest updated version must be side loaded. It's updating through Play store that does not work and was not guaranteed on the Verizon Galaxy Nexus. Just find the new update all and side load it, and stop blaming Google for what is clearly Verizon's unethical businesses tactics. Why would Google try pulling the plug on something like this?

Download it and install it and stop crying:
http://forum.xda-developers.com/showthread.php?t=1881244

Wallet still works for me. I used it moments ago to pay for my groceries.

Just update to the lastest version. It still works fine on big red's Gnex.

No Jelly Bean update, now this. Google should never release another Nexus phone on Verizon. It's been a joke from day one.

For those of you who may have missed the news, about a month ago. Verizon, AT&T, Sprint join Google, PayPal to battle mobile payments fragmentation "Google, PayPal, Isis, VeriFone, Verizon Wireless, Intuit, AT&T Mobility, Sprint Nextel, and T-Mobile are joining forces. To forge the Mobile Payments Committee, an effort to create policies and business strategies to guide the fast growing Mobile commerce segment." Square & Starbucks are about the only players absent from this coalition membership committee. Venturebeat > http://venturebeat.com/2012/08/09/the-mobile-payments-committee-att-veri...

It should be my choice to use or not to use wallet. Its not verizon's choice to make for me. On another note when they launch iris or what ever it is they will have to let us have wallet or they will be breaking the competition rules set FTC. Just like the tether apps.

All fixed for me. I downloaded the .apk from XDA and side loaded it while eating lunch in McDonald's after finding the app would not work. After I got it up and running I went to the counter bought some Chicken Nuggets with my Nexus ... Total delay .. about 10 minutes. Some roadblock ... LOL .... Hey Verizon ... FU!

If you didn't have McNuggets motivating you I bet you'd still be dealing without it ;)

LOL. Opening Wallet up and being told I needed an update I wasn't allowed to download from the market was motivation enough.... To thnk I actually had to dig out my debit card! LOL

To me, this just points out an inherent weakness in NFC/Google Wallet or any payment system that uses a smartphone. It's just too complicated and too many potential things that can and will go wrong for it to ever become mainstream.

Google Wallet works just fine ...on my Evo 4G LTE. The culprit is Verizon and the motivation is ISIS.

Google wallet was great for the free $10 I got on my EVO and my Nexus. After that I deleted it. Too much of a hassle. A card is easier and I always have my wallet.

Verizon is lying when they say they aren't blocking Google Wallet.

I use Google wallet at more and more places.After I reset it, and sideloaded it worked just fine.I'm using up the funds I have on the Google prepaid card since it it being discontinued Oct 17th.But I will continue to use my pre paid debit card though Google wallet ,done tested it,, and it works just as good as the Google prepaid card. It was kinda odd for this to even make AC front page because the issue had done been resolved on xda and then posted in the AC nexus forums mid morning Friday ,,a good 4 to 5 hours before this article was posted ,lol
Android Central Newsletter
Get the best of Android Central in in your inbox, every day!
Thank you for signing up to Android Central. You will receive a verification email shortly.
There was a problem. Please refresh the page and try again.