Google Wallet launches snazzy new web app for desktop and mobile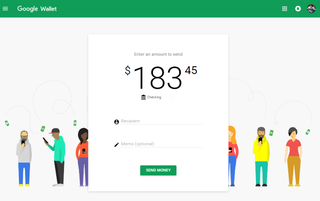 Though Android Pay has taken the spotlight as of late for in-store NFC payments and online purchases, Google Wallet lives on for person-to-person money transfers in a market filled with alternatives like Square Cash, Venmo and PayPal. Though the Google Wallet app is of course still available for Android and iOS, Google announced a fresh launch of the Google Wallet website, giving the service its own defined place as Android Pay continues to expand.
Google Wallet website on mobile
The new Google Wallet web interface actually closely mimics the experience you find in the native Android app, though you don't get the added benefits of faster performance, quick log-in via PIN code or notifications. More importantly this is a fresh experience for when you want to send or receive money via Google Wallet on the web (perhaps when you don't have your phone nearby). That function had been in limbo since the introduction of Android Pay, leaving you to only be able to send and receive money via the mobile apps and within Gmail.
The launch of the new website coincides with a smaller (and less flashy) redesign of the Google Payments web portal, where you'll still find your payment and order history for properties like the Google Play Store, Google Store, Project Fi and subscriptions like Google Play Music.
The separation of Google Wallet from Android Pay and Google Payments makes sense considering their completely different mission and use, and thankfully now Google Wallet has a definitive place to live on both your phone and the web. Wallet is of course still free to send and receive money if you use your bank account.
Android Central Newsletter
Get instant access to breaking news, the hottest reviews, great deals and helpful tips
Andrew was an Executive Editor, U.S. at Android Central between 2012 and 2020.
So does the Google wallet visa card still work? I thought they had been discontinued? Tia

yeah they killed that off a good while ago.

They need to just make this part of Android pay.

they're not going to. and i agree with the decision. they're two separate services

Well considering that didn't really work out for Google Wallet the first time I can say that's probably not going to happen. Keeping the services separated makes sense. Makes both of them easier to pick up for new users.

Agreed. Personally, I like having services consolidated into a small number of apps, but that is very clearly not what most consumers respond positively to, so this was a wise decision.

Agreed. Having two separate apps is a a little inconvenient. Incorporate person to person transfers into Android Pay and eliminate this

I stopped using Wallet when they killed off the card. That thing was the best. That service is dead to me now.

Same exact thing for me...

Best Pre-pay Card service... evah! So naturally Google kills it.

When you say computer, do you mean full Windows computer or Chromebook 'computer'?

It's a web app, so Chromebooks should be in.

Anything with a web browser. As I show in the article it works on both computers and phones.

Glad to see the newly launched web app and now i can ease myself from transferring the money manually into my bank account which was quite time-consuming and frustrating and I used to do with Paypal and Venmo before. Now my Google Wallet will automatically make my transactions into my account YAY! :)
Android Central Newsletter
Get instant access to breaking news, the hottest reviews, great deals and helpful tips
Thank you for signing up to Android Central. You will receive a verification email shortly.
There was a problem. Please refresh the page and try again.