Google is 'super committed' to its hardware program, including Pixel phones: CEO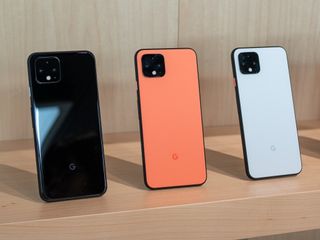 (Image credit: Android Central)
What you need to know
Alphabet CEO Sundar Pichai explains the company's reasoning for making their own hardware.
For smartphones and other hardware, the company has long-term plans which it remains fixated on.
The past few years have marked an intergation with both the HTC team and the Nest hardware team, effectively acting as a stage setter.
Google's Pixel line has been a bit of a hot topic since a report via The Information revealed that each new Pixel was selling less than the previous iteration, including the Pixel 3a which reportedly sold less than the Pixel 3. The report also carried with it pieces of palace drama, including the exit of the Pixel camera lead and the dissaifaction of Google's Rick Osterioh with the Pxel 4's battery.
Despite those reports, Alphabet's CEO Sundar Pichai says that the company will be forging ahead with its hardware pursuits.
In an interview with The Verge, Pichai explained:
On the hardware side specifically, Pichai explained the reasoning behind building their own devices. It's a question that's worth asking when the Android and Chrome OS ecosystems are dominated with tightly designed, critically acclaimed, and consumer embraced products from OEMs like OnePlus and Samsung.
Pichai narrowed it down to three main points:
Pichai's comments help contextualize the Pixel's long-term goals, but there's at the same time no denying that Google's current strategy isn't resonating as strongly with consumers as it would need to to "build a sustainable business." And that's still a problem.
Google Pixel 4 XL review, 6 months on: A love-hate relationship
Get the Android Central Newsletter
Instant access to breaking news, the hottest reviews, great deals and helpful tips.
Google needs its hardware business to push its services. Plain and simple.

When Google stop listening to phone reviewers and their nitpicky reviews and start listening to everyday consumers. Put back the damn headphone jack and expandable storage and price it around $350!! My photos don't have to be perfect, just very good!!

Google should still have their flagship phones without the headphone jack just not priced so damn high and have their mid-range "a" phones starting at $350 - $399 with the headphone.

They don't include expandible storage to get you to use their services, like drive and photo storage in the hopes you will need more, and pay for it.

How in the world did Essential and One+ manage to produce exceptional HW and Google says it's "hard"????
Google actually got the hardest part figured out - the camera. The rest of trivial relatively speaking and companies I mentioned are the proof.
Something doesn't add up her

I agree, almost every company including some of the cheap Chinese ones make great looking phones with great hardware. Google has the resources to get the best people but can't seem to get even basic things like decent battery life which then led to having to gimp one of its main features, the higher refresh screen. How can such a massive company not get such basic things right???

Get the basics right, great screen, great battery life, clean software, great cameras great reception (it is a phone after all) water resistance, wireless charging and maybe add a headphone jack as an added bonus then build from there with the 'extras'. Price it lower than Samsung and Apple and market it well (Google has the cash to do this) and stay commited to 3 OS updates.

"We absorbed the mobile division of HTC......" I can see where this is going....... Actually, they should have stuck with Samsung for the pixel hardware instead of absorbing from failed manufacturers.

"Super Committed"? Tell that to the thousands of people who have had their camera on Pixel 2 through 4 become completely unusable. Look at the Camera App on the Google Play store and sort by most recent. Literally one star reviews for months. Google has yet to address this and is losing customers left and right.