Google Stadia may soon be installed by default on Chromebooks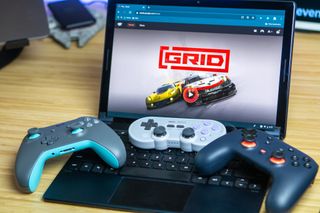 (Image credit: Andrew Myrick / Android Central)
What you need to know
The Google Stadia app could soon be installed by default on Chromebooks.
It will appear on the first page of the Chrome OS app drawer.
The change will likely be a part of the Chrome OS 87 update.
Google Stadia could soon be added to the list of apps that are installed by default on Chromebooks, according to a new Chromium code change spotted by the folks at 9to5Google.
The code change suggests the Stadia Web app will be added to the first page of the Chrome OS app drawer after Duo. However, the code change is still under review, which means it is unlikely to show up until Chrome OS 87. In case you have no interest in Stadia and do not want the app to appear on the first page of the app drawer, you will able to get rid of it by uninstalling it.
The move is certainly not surprising, though, as Google is trying to push its game streaming service and also make Chromebooks more popular. Earlier this year, Google rolled out a new perk for Chromebook users, giving them a free three-month trial of Stadia Pro.
Even though Chromebooks aren't designed for gaming, you can play some exciting AAA games on one with Stadia, even if it doesn't have the best specs.
Stadia Premiere Edition
If you're looking to get started with Stadia, the Premiere Edition bundle is definitely worth considering. The bundle gets you a Chromecast Ultra, Stadia Controller, and three months of Stadia Pro subscription.
I bought my first and last chromebook anyway. Go ahead google. It isn't going to save Stadia.

Pray, tell more. What brand and model was your Chromebook. What kind of issues did you experience. Curious minds want to know, especially since your sour remark contradicts the norm.

I also bought my last Chromebook. They were't giving the away and I don't steal. I will keep it until Google stops updating it and its unsafe for web browsing and PWAs. There's NOTHING wrong with it. I also don't care about Stadia or gaming in general, but the few few interactive shooters, driving and simulator games that I've seen others running seem to work fine with hardware that PC and Mac owners would find unacceptable, because Chrome OS doesn't consume resources the way that PCs and Mac do. Chrome OS isn't a gaming platform. Neither are Android, Linux or PCs, though they all manage quite well with apps written for them and Chromebooks will soon support apps written for all of them. How well they do will depend more in the quality if the app coding than the OS. I recall running a lot of interactive 3D games like WC3 on DOS when the typical PC was a 386-50(MHz) with 16MB ram.
Android Central Newsletter
Get the best of Android Central in in your inbox, every day!
Thank you for signing up to Android Central. You will receive a verification email shortly.
There was a problem. Please refresh the page and try again.