Google revamps Google Music with an actual store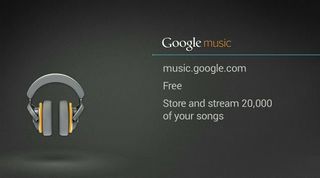 As expected, Google this afternoon revamped Google Music, taking it out of beta, making it available to everyone -- and bringing online purchasing into the fold. That is, if you're in the United States.
And outside of purchasing music, the service will remain free.
"For music fans, we believe today's technologies ... bring with them the capability to dramatically improve the digital music experience, said Google's Jaime Rosenberg, director of digital content for Android." In fact, it's what consumers have come to expect."
Just as with the beta service, you can continue to upload your own music to Google Music and stream it back to any of your Android devices.
But the big change is in the Android Market. You'll now be able to discover, browse and purchase music from the Android Market. Everything in the music store has a 90-second preview, and songs are downloaded as 320kbps mp3s. Tracks will download directly to your music locker, so they'll be immediately available on all of your devices.
Of course, Google Music's going social, and your friends will play a big part in helping you discover music. When you purchase music, you're given the option of recommending the music on Google + (and as e-mail links to your lame friends not on Google+), and they'll be able to listen to the entire track -- or the entire album -- for free. That sharing extends to Android and iOS devices as well.
Googles' sweetened the deal with a bunch of exlusive, free music. The Rolling Stones have given six exclusive live records. Coldplay's given a live EP to the cause. Busta Rhymes (who was at the event in L.A.) is debuting his new album on Google Music. Plus, live albums from Pearl Jam, Shakira and the Dave Matthews Band. And Google's going to continue to give a free song a day -- it's given away more than 100 million so far.
So who's on board? Three of the four major labels have signed on -- EMI, Universal and Sony. Google's also got a bunch of independant labels, and more than 1,000 total are a part of Google Music.
Google's also given indepentent artists a place to share andn sell their music, with the Artist Hub. They can upload, set prices and have complete control over their content.
So when will you get it? The new version of the Google Music app is available now, as is the new version of the web market. The Android Market will be updated for purchases over the next few days (though we fully expect manual downloads pretty quickly).
Get the Android Central Newsletter
Instant access to breaking news, the hottest reviews, great deals and helpful tips.
Sweet. I read that there will be a sort of matching component too. This is really a killer service.

Watching along LIVE right now, hope it comes to the UK soon!!!!!

20,000 songs in the cloud? Yes, please!

This is a real question. I am not trying to be smart. I use Spotify. Do I need this?

I don't think you need both, but I don't believe they do the same thing either. It probably boils down to whether or not you already own a lot of music.

I have spotify as well as Google Music. I can honestly say that Spotify is quicker when it comes to streaming music. Yet, Google Music is really for those of us out there who have extensive music collections already. I have about 10,000 songs uploaded to Google Music. The joy of not having to mentally think about what songs i want to search for on spotify versus songs that I know I have on G-Music is why I use gmusic over spotify. I still use spotify when i want to hear something that by chance is not in my collection, but that is rare. Spotify is great by the way. Its hard to argue with $120 a year for almost anything you want to listen to. Only thing that beats that is free...

Giving a friend a FREE full play of an album or song you just bought is totally new concept. So much for the Google Haters saying google never innovates. And going after the Indi artists in a big visible way is even more ground breaking. Indi's and Labels standing on the same stage!!!
iTunes Execs must be crapping blood about now.

App update just went live in the Android market.

When I try to update, it says "package file was not signed correctly" and it won't complete the update. Running Brainmaster's MIUI on Nexus S 4G.

If you're talking about Google Music app, it updated fine for me on Miui.us.

Got the update. Now if Sprint would allow us to update the damn market to buy music on our EVO 3D phones, that would be spiffy.

update will be pushed out by google... not sprint

I stand corrected, It would be spiffy to get the damn market update from Google on the EVO 3D.

There was a link to the .apk file in a previous AC article for the new market. I downloaded it and was able to update to the new market on my non-rooted Evo 4g. Assuming (yeah I know) that it would work for Evo 3D. Just a suggestion if you don't want to wait. BTW: Just installed the app and the "Music" section now appears in the market.

Thanks. I'll look for it.

Updated my app glad I didn't root or anything
Tried doing methods other than waiting for ics on my nexus s 4g

i don't like to "collect" music and buy/manage/listen to the same old songs over and over again. i get sick of them quickly. i like today's new music streamed to me fresh and randomly and for free - just like the radio - but with little/no commercials. it keeps me current and fresh. hence - i prefer Pandora. however - i think this is a great service for those that want it.

Remember you don't have to wait for the market to update. Www.market.android.com works just fine on your phone too.

anyone know if the music is DRM-free? i don't like big brother.

Yes. It's in MP3 format, which can't be equipped with DRM, since it's an open standard.

The Apple polishers are already moaning. Guess what you don't have if you bought iTunes Match? STREAMING. I've said my peace.

They also don't have Sharing via email or google+.

20,000 songs? Nice.
Looking at some of the albums and comparing them on iTunes... $9.99 for a full album on iTunes with 12 tracks, $9.45 for 6 of the songs from the album on Google. Not nice.
Or is that all they let you sample?

I think its what they ample, as one album had 3 of the 12 tracks, individual was 3 bucks total, but 9 for album

Very glad this has come about. Next stop...Google TV with content.

As long as they're going with 320Kbps mp3, why not support FLAC or ALAC? Bandwidth obviously isn't the issue. And no, I'm sure I can't hear the difference between 320Kbps and lossless, but at some point in the future I might want to be able to compress my music to a "newer, better, smaller" format, and recompressing a mp3 might introduce artifacts. This is why I'm still buying CDs.

Who actually knows what they stream? I don't think they said anything about that. If you buy and download that's 320kbps mp3s. But the stream? It doesn't have to be mp3 and it doesn't have to be 320. I don't think they ever explicitly said. Good luck on your CD buying.
http://www.side-line.com/news_comments.php?id=46980_0_2_0_C

Why do they need a credit card to get the "Free" music?

Like mentioned above, I got it to update from the newest market I installed on my MT4G... it also updated to include the free tmobile songs. Google music here I come!

Is it just me or is market.android.com down?

They have Drake's Take Care under "Pop", thats strike one Google.

They the first one to get it right... It def ain't hip-hop.

And what exactly do you consider Hip-Hop?

I'm pretty hooked on Amazons cloud player. Unlimited mp3 uploads and streaming. Plus I can sign in on up to 6 devices. Love to see a comparison of the two...

We Europeans are left out in the cold again... :-( I must say that Google is slowly starting to dissapoint me. So many cool tools, but none of them I can use (e.g. books, music, movies, voice). I am just hoping that Google smartens up and starts providing service worldwide.

Can someone post the apk for the new market??? I please lol no matter what I do it won't update.