Google releases second developer preview of Android Wear 2.0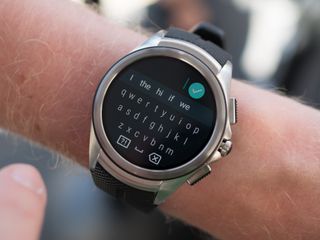 Google has released the second preview update for Android Wear 2.0, featuring new capabilities and bug fixes. This release sees the introduction of Platform API 24 to Android Wear, matching Android Nougat. This release also opens Android Wear's wrist gestures feature to third-party developers.
Here's what's new in Preview 2, according to Google:
Platform API 24 - We have incremented the Android Platform API version number to 24 to match Nougat. You can now update your Android Wear 2.0 Preview project's compileSdkVersion to API 24, and we recommend that you also update targetSdkVersion to API 24.
Wearable Drawers Enhancements - We launched the wearable drawers as part of the Android Wear 2.0 Preview 1, along with UX guidelines on how to best integrate the navigation drawer and action drawer in your Android Wear app. In Preview 2, we have added additional support for wearable drawer peeking, to make it easier for users to access these drawers as they scroll. Other UI improvements include automatic peek view and navigation drawer closure and showing the first action in WearableActionDrawer's peek view. For developers that want to make custom wearable drawers, we've added peek_view and drawer_content attributes to WearableDrawerView. And finally, navigation drawer contents can now be updated by calling notifyDataSetChanged.
Wrist Gestures: Since last year, users have been able to scroll through the notification stream via wrist gestures. We have now opened this system to developers to use within their applications. This helps improve single hand usage, for when your users need their other hand to hold onto their shopping or their kids.
Developers looking to start development for Android Wear 2.0 can head over to Google's Developer Preview site to download the preview, along with the documentation. Android Wear 2.0 is expected to launch for customers later this year, bringing enhancements like custom complications, new text input methods, and more.
I'm done with Android Wear for now. Until they fix the delay notifications... I hate having a phone call vibrate and notify my watch after the call has ended.

I've had Android Wear since the first LG G Watch (Since upgraded to the Urbane) and I've used both watches on a totally of 3 different phones now and never once experienced the delayed notifications you're talking about. Perhaps its a phone issue and not an Android Wear issue?

I have a nexus 6p and nexus 6. They both have the same issue. I had a Samsung Gear Live with no issues. I have the Urbane and that has the delayed response. It started after the AW was upgraded to 6.0. I now have a Samsung S2 Classic and i hate it because it is limited but it notifies me as soon as my phone rings.

I have the opposite problem! If I get a call and use my phone to answer it, my watch will keep buzzing and buzzing.

Same here, doesn't happen all the time but quite often. Really annoying!

Same here. ..Gave up on AW for different reasons. ...Google voice didn't work most of the time. ..it works so well on the phone. Got tired of having to charge yet another device on a daily basis. ..don't miss it anymore. .. Posted via the Android Central App

I never had this problem on my Huawei watch, either on M or the N preview. It vibrates and lights up within a second of my phone going off.

Not even a thanks for the tip :( Lol

Whats the need Android wear won't run Pokemon Go. Posted via the Android Central App

Ingress had/has an Android Wear App, so there is hope. but since Nintendo wants to make their own 30$ accessoire, i dont know what means for Wear integration.

Anyone know if it's possible to get this OTA if you have the first beta already on your watch (Urbane LTE)? Posted via the Android Central App

No NFC payment...no interest Posted via the Android Central App

Are you actually some place where NFC payments are more than just a quaint occurrence? Posted via the Android Central App

A few nice touches. Unfortunately, the update still ruins more than it fixes Posted via the Android Central App
Android Central Newsletter
Get the best of Android Central in in your inbox, every day!
Thank you for signing up to Android Central. You will receive a verification email shortly.
There was a problem. Please refresh the page and try again.