Google pulls 600 apps from the Play Store for serving 'disruptive' ads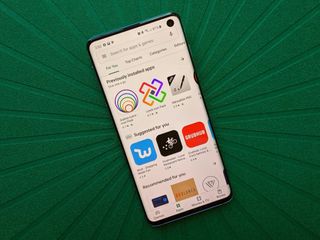 (Image credit: Android Central)
What you need to know
Google has removed 600 apps from the Play Store for showing out-of-context ads to users.
Cheetah Mobile is among the big developers that have been banned from the Play Store.
The removed apps had been installed over 4.5 billion times and mainly targeted English-speaking users.
Google has announced that it has removed nearly 600 apps from the Play Store for showing disruptive ads, with the help of its newly developed machine-learning based approach to detect such apps.
In addition to removing the apps from the Play Store, Google has also banned the app developers from its AdMob and Ad Manager monetization platforms. The removed apps were found to violate the search giant's ad policies by serving disruptive ads to users. Google defines "disruptive ads" as ads shown to users in unexpected ways, impairing the usability of device functions.
One form of disruptive ads that has been on the rise recently is what Google calls "out-of-context ads." These ads are served when users aren't actually using the app and result in unintentional ad clicks. Examples of such "out-of-context ads" include full-screen ads when attempting to make a phone call or unlocking the phone.
According to BuzzFeed News, one of the most prominent developers to have been banned from the Play Store is Cheetah Mobile, which was accused of committing ad fraud in November 2018. All 45 of the company's suite of apps have been pulled from the Play Store.
In a statement sent to BuzzFeed News, Per Bjorke, senior product manager at Google for ad traffic quality, said that the removed apps were installed more than 4.5 billion times. The apps were mainly from developers based in China, India, Hong Kong, and Singapore. While he did not name any specific apps or developers, he did say that most of the banned apps were utilities or games and primarily targeted English-speaking users.
Get the Android Central Newsletter
Instant access to breaking news, the hottest reviews, great deals and helpful tips.
Good job Google! Installed a Cheetah mobile app years ago and the ads were so annoying! Uninstalled immediately.

Hope this app will be next. So many disruptive ads, often interrupting my music.

Hey Google, this is app here! I'm just kidding but thought I'd say again how much I hate hate hate the pop-up ads in this app especially now that I use gesture navigation.

Finally, the world has been saved from Cheetah Mobile!

Are they going to pull the AC app for all their annoying ads too?

+1 million billion gazillion.

I kinda hope so. Those full screen animated ads are terrible. And the want me to but some dodgy USB dongle instead of a new pc.

I find it interesting that AC gives not a hoot about what their readers think. The ads on this app are ridiculous. The pop ups are horrible, random and loud. Designed to accidentally select the ads. Something has to be done. The only way, sadly, may be to boycott the app...

I agree with all of the above. I got a loud, annoying ad when I clicked to read this story. Has anyone at AC noticed that fewer and fewer comments are attached to everything on the site? Could this be because users are increasingly reluctant to risk their ads?

Yea if only the Android authority app weren't broken.

I certainly avoid reading articles because of pop-ups unless it is an article interesting enough. Then I brace myself for the need to quick swipe when I open the page.

Ouch...talk about decoupling...

Now are they going to do something about misleading ads? Looking at you Gardenscapes.

If pop up ads annoy people so much why not pay the yearly fee then no pop up ads. It's not that costly and well worth every penny.

I did earlier, but stopped when the core feed still was flooded with blatant product placement articles. (Adverts)

Yeah can't escape those. At least we can choose whether to read those or not. Some of them are pretty interesting. They let me keep up with all the new gadgets and services in the ecosystem. But pop ups are the worst.

The quality of most of stuff on here isn't worth paying for. Same for the rest of mobile nations. Didn't used to be like that. A browser with an ad blocker. No way I am installing an app.

Literally the only app that has desruptive ads on my phone. If i ever see one again, google's gettin' a call.

Android Central is the only app I use that contains those terrible disruptive ads... I wonder why Google ignored them... I see those adds like blackmail... Company degrade the experience on purpose to force you to pay to remove the annoyances... It's not that you're paying for more or better content... You're paying to stop being annoyed...

Waiting for this app to be next. Everytime I click on an article to read I get a loud and annoying app. Even more annoying when you're viewing this app at night. Please Google pull this all as well!

I always turn the media volume down to zero before I open anything on AC now. I still get the annoying ad for 5 seconds but without the noise which is the most disturbing aspect. But I always think twice, and ask myself if I really want to read this before clicking on anything.

The ads are really annoying. Due to intrusiveness of the ads I won't even consider buying them.

The play store has a report button.

Sister site Windows Central (for those who care about Microsoft/Xbox) doesn't bludgeon users with the obscene popup ads here. Android Authority is heads and shoulders better than this app.