Google Play turns one year old, kicks off a week of special deals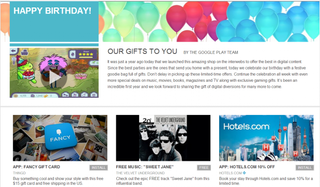 The rebranding of Android Market to Google Play happened just one year ago today, and to celebrate Google is offering discounts, gift cards and exclusive in-game content. The deals range from free books and music to discounted movies and TV rentals, as well as new Android-themed additions to some games. Deals seem to differ depending on the country and region, but this is what we're looking at for the U.S. Three different games -- Gnome Village, Royal Revolt and Yumby Smash -- all have new free levels, discounts on in-app purchases or exclusive characters available for a limited time. Fancy, Hotels.com and Gyft are all offering discounts on purchases made from the app or giving away free gift cards to be redeemed in-app as well.
There are 11 deals in total for today, but the page also says that this is kicking off an entire week of deals on different content, so be sure to check back and see what they offer in the coming days.
Source: Google Play
Andrew was an Executive Editor, U.S. at Android Central between 2012 and 2020.
Wow. Has it been a year already?

They grow up so quickly these days

To bad my app doesn't show the deals but web sight does.

Weird it's not on the app. Guess they don't want to give anything away. How many people go to the website?

FINAL FANTASY DIMENSIONS is half price for this sale. (Sorry, don't mean to yell but too lazy to do more than copy and paste.)

LOL, too lazy to type 22 letters that you take over 40 letters to justify it?

so i am not seeing tat page on my phone, tablet, or pc

I don't see it on my Nexus 7 in the app or the web page. I don't see it going to the website on my laptop either.

AWESOME! I hope this week will be like that week in september of last year. I got a bunch of cheap, kickass apps that I still use to this day!

Where is everyone seeing this sale? Please provide a path if on the web. I don't see it on phone, tablet or pc.

Click the Source link, worked fine for me. Firefox even let me open the link in the Play Store app which made the currently hidden page appear. Guess they're still working on rolling it out.

Aye. It be buried treasure. Arrrr!

I still think Google Play is a stupid name.

The half-baked ecosystem. No music for the rest of the world, outside of 5 countries. Magazines available in 5 countries only. TV episodes not available outside the USA. Heck, developers can't sell apps in most countries. http://en.wikipedia.org/wiki/Google_Play#Availability I love Android but Google's management of the ecosystem is utterly atrocious. Say what you will about Apple but when they offer a product for sale it's on the shelf or at your door within a few weeks (not months like N4). And when Apple offers a service, they do their best to ensure as much global availability as possible. Google is amateur hour compared to this.

http://en.wikipedia.org/wiki/ITunes_store#Internationalization Compare Google Play to the iTunes Store.
Android Central Newsletter
Get the best of Android Central in in your inbox, every day!
Thank you for signing up to Android Central. You will receive a verification email shortly.
There was a problem. Please refresh the page and try again.