Google Play movies, TV shows now streaming in YouTube app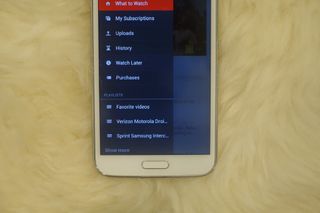 Google has updated its back end so that movies and TV shows purchased through the Google Play store will now stream through the Android YouTube app (and on the desktop) under the Purchases section. As the change happens on the Google side, no app update is required on the user's part to enable this feature on Android smartphone and tablets.
If you've purchased any video content from the Play store, they will appear in the Purchases section of YouTube in chronological order based on the date of purchase. Unfortunately, you cannot sort this list or re-arrange the order.
Additionally, if you are more familiar with the Play Movies & TV app, you can also watch your purchased video content there as well, but this definitely adds more flexibility for users.
Get the Android Central Newsletter
Instant access to breaking news, the hottest reviews, great deals and helpful tips.
Purchases have been streaming through YouTube on the desktop for quite a while now.

But not in the YouTube app

For some reason the few movies I have show up but say unsupported format in the youtube app. They play fine on Play Movies

I only own transformers dark of the moon, but it appears to play and also casts to chromecast. Who knows, maybe I'll get round to watching it. Posted via Android Central App

2012 nexus 7 by any chance? I haven't seen it either. To be honest I'm annoyed there is no 'disown' option. n5

Yup! Yeah I know what you mean, still getting recommendation based on that bloody Jeffrey Archer book! >:( The £15 store credit was nice though. Posted via Android Central App

I bought the N 7 2012 and was given free Ice Age, I thought I was supposed to be given transformers. FML

This is Google's last step. Bringing app and web features together. The location tracking (where you can see where other users are on a map) in Google + is only on the app :( YouTube filters are limited in the app as well. Cmon guys, finish the job! Posted from my Nexus 5

Has anybody tried this in the YouTube channel on the Roku yet? I'll take a look when I get home tonight, but it sure would be nice if this would open up those Google Play purchases/rentals to the YouTube channel.

..oh well, no-go for Roku's YouTube channel yet.

Does this apply to iOS devices too? This would be huge if it does. Posted via Android Central App

This feature has been on the YouTube app for a long while now. Posted via Android Central App

I wonder if this indicates a plan to kill off the other app. Might make more sense than maintaining two separate video platforms.

Might simplify casting. We'll see. Posted via Android Central App

Trying to get it to cast to my Samsung YouTube app. But seems to be constantly loading.. Anyone else tried to see if it works for them with purchases from the store? Posted via Android Central App

The same thing is happening to me. Came here for an answer with no luck.

Unfortunately there is also no integration between your own YouTube accounts... Even though they are the same email. Think I'll just stick with Play Movies, as it's not constantly breaking either. Posted via Android Central App

Unfortunately for me, my Play account is tied to one email and my YouTube is on another email.

Great article Chuong. For those who live outside US like me, you can access Netflix, Hulu and similar media stations on your Google TV by using UnoTelly or similar tools.