Google Play Game Services gets officially official at Google I/O and it's going cross-platform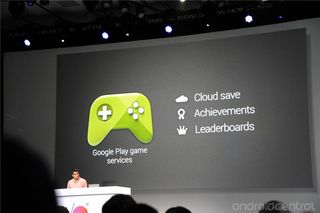 The worst kept secret from Google just became officially official. Google Play Game Services has just been formally announced by Hugo Barra in San Francisco. We'll be taking a more detailed look at this later on, but the service centers around a few key elements:
Cloud Save - progression and game states saved to the cloud and synchronized across devices.
Achievements
Leaderboards
Google+ Circles to make connections
Perhaps more impressive still, though, is that Google is making the Google Play Game Services cross-platform. There is an API for the web and for iOS. So, Google will be taking on Game Center on Apple's own turf. Interesting stuff!
Follow our live coverage of the Google I/O keynote for the rest of the day's news!
As I predicted, an Open API for the Play Games service. Always good to see Google doing the right thing...

Hope this is open, not just for the Google bought games. I have Eufloria via Humble Bundle and this would be good if the developer could use the API independently the software came from Google Play or was sideloaded

that all going to depend on the developer and how google allows users to use the API's. As long as the game can hook into them it shouldnt be a problem but i have no idea what googles requirements are to use "google play services"

Maybe now we can start to see more true multi-player games and not just leaderboard gaming

Anybody want to play? if I knew how. Androidcentral should start gaming area where we can meet people to play against

Its working on Osmos HD and its pretty slick. the multiplayer has been flawless for me

An API for the web too? Wow...this could lead to games synced between Android and Chrome! Very, VERY interesting development there!

Google is doing best in Android. We can get these app easily from Google Play.
Android Central Newsletter
Get the best of Android Central in in your inbox, every day!
Thank you for signing up to Android Central. You will receive a verification email shortly.
There was a problem. Please refresh the page and try again.