Google Pixel 2 XL vs. LG V30: The perfect pair for right now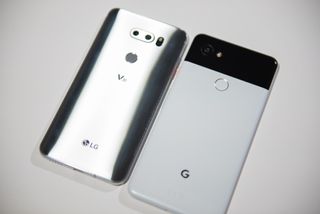 I was the last person to leave Google's Pixel hardware event in Toronto this week, the cleaning staff already entering the converted movie studio to remove the painstakingly crafted demo spaces for Google Lens, augmented reality, and the Pixel 2 camera's Portrait Mode. I just didn't want to give the damn phones back, them feeling so good and comfortable and right in my paw.
And gave them back I did, but not before I snapped some photos of the Pixel 2 XL next to the LG V30. I'm saying this both to hedge against the poor quality of the photos themselves (Lightroom's Clarity can't fix what isn't in focus) but to emphasize that, Samsung flagships aside, I think this is the most interesting comparison to come out of the entire event.
See, the LG V30 goes on sale pretty much now — it's already available at Verizon and AT&T, and will be next week at T-Mobile and Sprint — despite being announced in August and seeded to reviewers shortly thereafter. LG has a knack of announcing its phones well before they actually go on sale, which means that despite a great product, they tend to lose the momentum of public discourse in the weeks following.
Anyway, what that means is that the October 5 release date of the V30 is only two weeks before the LG-made Pixel 2 XL, which is astonishing if you think about it.
So which should you buy? Honestly, that's a difficult question to answer. But let's try to get you closer to that truth.
What's the same
Both the LG V30 and the Google Pixel 2 XL share a number of hardware similarities, and while they don't look the same, they are built on similar bones.
LG brought its Plastic OLED technology to the V30 first, but it appears that the Pixel 2 XL has either the same panel, or one very similar — they're both six inches at 2880x1440 pixel resolution, with the increasingly-common 18:9 / 2:1 aspect ratio. I like this compromise between width and height; unlike the Galaxy S8+ and Note 8, neither the V30 nor Pixel 2 XL feels top-heavy or onerous to use in one hand. That's not to say they're one hand-friendly the way the smaller 5-inch 16:9 Pixel 2 is, but they're easier to maneuver without risking a drop.
The panels themselves are excellent. These are OLED displays with vivid colors, perfect blacks, and awesome calibration; both LG and Google boast of full DCI-P3 color gamut support.
Those screens, curved at each corner, fit into chassis only slightly larger, making them practically bezel-less. But LG does a better job on the V30, mainly because it eschews front-facing stereo speakers for a single bottom firing port. The Pixel 2 XL is slightly taller, and a bit wider, as a result, but to me it's not a dealbreaker — I haven't heard them just yet, but I love the idea of phone speakers with actual impact.
Both phones are powered by the same underlying hardware, too: Snapdragon 835 SoC, 4GB of RAM, between 64GB and 128GB of storage (though only on the V30+, which is limited to Sprint and US Cellular), and a sizable battery — 3300mAh for the V30 and 3520mAh for the Pixel — along with IP67 water resistance. Thankfully, the rear fingerprint sensors are in the same (gratifying) place — though only the Pixel's lets you swipe down to reveal the notification shade. Come on, LG!
On a high level, that's where the similarities end. And that's what makes this comparison so interesting.
What's different
The LG V30 focuses on so many different things than the LG-made Pixel 2 XL, and that's why I love Android. The V30 is a shiny slab of glass on the front and back, which supports wireless charging. The Pixel 2 XL is ... not. It has a unibody metal chassis, but a portion of the back is covered in glass, which is both a design and signal benefit, since Google doesn't have to break up the look with plastic antenna lines. The metal back is rendered slightly more tactile, and less slippery, thanks to a finish that can only be described as plasticky. When I first picked it up I had to be reassured the phone was indeed aluminum — it feels more like the Nexus 5X than the original Pixel XL.
Of course, the V30 has two cameras, one 16MP sensor with a wide-angle lens, and a 13MP sensor with an extra wide-angle lens. The two form the basis of one of the more interesting and fun camera experiences on the market, and as we've said before, no one does landscape photography better than LG. At the same time, many of LG's new video modes are substantially more robust than anything you'll find on a Samsung or even Sony device, and far surpasses that of Google's simple camera app, which even lacks a dedicated manual mode.
At the same time, Google's focus (pun intended) on a single camera, which is lower-resolution with larger individual pixels than the V30's main sensor, allows for some incredible low-light shots. Google also boasts of a computational portrait mode, while its HDR+ capabilities bring out color and detail in situations that many other phones would fall flat.
We've spent a lot of time with pre-production versions of the V30's hardware and came away impressed, but I'm fairly confident that, when put head to head with the Pixel 2 XL, it won't square up in most situations. The Pixel also has Google Lens, which further reinforces the company's lead in using the camera for contextual gain; point it at a sign and get information about the words, or its location. Point it at a dog and (hopefully) find out the breed (it's a Great Dane). That's all very cool, but it remains to be seen if people will actually use the feature.
LG also puts a tremendous amount of effort into shoring up its audio game; not only does the V30 have a headphone jack, but its Quad DAC and powerful amplifier ensures that all headphones, even high-impedance ones, sound excellent. It's also possible to tune the phone's sound to suit one's individual ear, with additional filters and settings that even 2016's V20 lacked. This is as robust an audio-visual experience as you can get on any phone today — but it requires a tremendous amount of tweaking to get there.
The original Pixel was reknowned for its awful Bluetooth performance, so it's a bit concerning that its successor lacks a headphone jack. Sure, there's a dongle in the box, but it's one sure to be quickly lost or discarded. At the same time, Google is patterning with companies like Libratone to deliver "Made for Google" Bluetooth accessories, which consist of easy pairing and (we assume) consistently good performance. It really would be nice if Google were to deliver a phone that didn't experience base-level problems for once.
LG also delivers some very decent headphones in the box, whereas Google delivers... well, that dongle.
The last two differences are obvious, but worth pointing out. Google's software is worlds ahead of LG's in many respects; not only does the Pixel 2 XL ship with Android 8.0 Oreo, but its interface and general aesthetic feels substantially more mature; LG, which has made strides in recent years, ships the V30 with Android 7.1.2, and though many of the more hard edges have been softened, it's still easy to find nits to pick. For example, LG still insists on shipping its own keyboard, which is terrible, and its default launcher lacks an app drawer and hits icons with an ugly stick.
At the same time, Android 7.1.2 is a known quantity, both mature and easy to understand, and LG benefits from this extended lead time; the V20 was one of the first devices to ship with Android 7.0 Nougat and experienced some awful bugs that took months to resolve. I've yet to experience a single show-stopping issue with the V30. The original Pixel on Oreo, on the other hand, has developed a cottage country of complaints since the update became available.
But updates are going to come to the Pixel must more quickly, and for longer, than the V30 can hope to see. For starters, Google updates the Pixels directly, and is promising three years of both security updates and, for the first time, platform updates. The V30 is being sold primarily through carrier channels, so it will have to go through approval processes that often take longer. We can hope that the V30 receives Oreo sooner than later, but it's the next update, Android P, where that lead will lengthen on Google's behalf.
Which should you buy?
The LG V30 costs between $800 and $840 at U.S. carriers, which works out to around $32 to $34 per month for 24 months. The V30+, which is available only at Sprint and US Cellular, runs closer to $920, or $38 per month. The Pixel 2 XL starts at $849, but can be had at Verizon or the Google Store for around $35 per month for the 64GB model and $39 for the 128GB version.
So the cost is a wash.
That leaves the features, and to my eyes the V30 has a more robust collection of experiences for the advanced user, especially when it comes to audio and photography. Not only does the Quad DAC provide better sound, but there's a headphone jack with a powerful amplifier and plenty of adjustability. The dual camera setup is tons of fun, and the manual mode is just wonderful. The V30 has wireless charging, too, and the all-glass design keeps it lighter than the Pixel 2. The overall body is smaller, too, though you forgo front-facing speakers.
The Pixel 2 XL is a simple phone. It's meant to be easy to understand and use, and accessible to any and all who buy it. It hides much of the complexity that Android is famous for. Its design is also sure to be divisive; it's both whimsical and utilitarian, and while the larger Pixel doesn't have the substantial bezels of its smaller counterpart, it probably won't win any design awards.
So, yeah, I'm torn. They're both great phones, and knowing me I'll probably end up using the Pixel 2 XL more because it will get the latest updates sooner, but I doubt you'll be upset by going with the V30. Just remember to wipe down the glass back every once in a while.
See LG V30 at T-Mobile
Daniel Bader was a former Android Central Editor-in-Chief and Executive Editor for iMore and Windows Central.
If Google updates Pixel directly, how well does LG update their unlocked phones? I understand the carrier backlog, but what about unlocked devices straight from LG?

LG doesn't do a good job updating unlocked, from what I've read in the Forums. But flagships on carriers gets two thumbs up. Quick updates.

"But flagships on carriers gets two thumbs up. Quick updates." My T-Mobile V20 is still on Android 7.0, so...

T-Mobile (or any carrier) won't update phones if they didn't sell well. Even if it's a flagship phone. For example my girlfriend got a Sony Z3 from T-Mobile 3 years ago and it was a fantastic phone. T-Mobile never updated it to 6.0. When I spoke with customer support they explained it wasn't worth the company's time and money to roll out software updates to a phone that sold in low numbers. So in other words as long as the V30 sells a lot, then T-Mobile should be very good with updates. My S7 edge on T-Mobile has gotten tons of updates over the past year. It's security patch is only 1-2 months old. So T-Mobile can and does updates fast if it's a high volume sales phone.

From my experience, LG tends to ignore point updates and only focuses on major OS updates and security updates.

Years ago the Google updates were important. And in those days i was a nexus user. But now, I find a lot of the updates are introducing features already on other phones, most notably the Samsung phones... And yes I'm a Samsung fan now....

Unlocked devices seemed to fair worse this year, but that could be a one off. Unlocked G6's and S7's etc are actually behind certain carrier variants. The only true guarantee of time updates is via a Pixel from what I can tell these days.

Can't blame it on the carriers. Every manufacturer -- Samsung, LG, Moto, all of them -- takes just as long to update their unlocked phones as they to update their carrier phones. Likewise, though Google and Apple claim to update their phones directly (and they do), both of them work extensively before issuing updates. So, carriers are still in the loop either way.

for reference, I bought an US unlocked LG G6 at the end of July. It came with the same rom/updates that it did from the factory when it was released in March. No updates out of the box or anything. It was even running the March security update (in late July!). I hammered that "software update" section of settings but no updates ever came in the 12 days of owning it. It was kind of frustrating. I think the carrier versions at that time at least had the April or May security update, but even those were woefully lacking in updates. The V30 looks like a great device but I'm not sure how committed LG are in updating the software.

The LG V30 is my phone of the year if the camera lives up to what I've been seeing from pre production output. But LG sure did a great job torching this launch. T-Mobile doesn't even have units in stores and only gave me a maybe we'll have them soon even though they're supposed to be available this Friday. There are zero advertisements for it all. LG needs to pick a new time to launch their products and actually put the effort behind it. But from what I've seen, everything looks good to me.

Yeah, the V30 is definitely the best hardware out there as far as I'm concerned, but Samsung will easily outsell them 10:1. That being said, I am definitely looking forward to picking up a V30 for like $300 in 6 months. LG resale prices are abysmal, which is great for people looking for an awesome deal.

Might keep my eyes open for one in the next few months.

Ha! Don't count on that. Maybe $500 in 6 months, but definitely not $300. Keep in mind this is a $840 phone not a $600 phone like the G6.

Yeah, I might have overstated slightly, but the V20 has been selling for $300 for a while now, so I expect the V30 to be around the same within a year.

YES! I said this same exact thing on a YouTube comment a few weeks ago. I purchased my V20 last year for 799 and now you can buy one for as low as 250. I'm praying that by next year the v30 will also do the same lol.

It clearly stated on the launch day that the stores would not start carrying the v30 until October 13th so if you are looking to pick one up in a TMobile store your best bet is 13th and beyond I asked my local TMobile and that is the plan.

Yeah but they should have production units for people to get actual hands on time with. Is that not a normal thing?

Confirmed. AT&T shows none in stock at any store. I called the closest store and the salesperson seemed surprised, checked, and said "we have 2 silver ones". I thought I'd go in and take a look first (see how bad the bloatware is). I went into the store and they didn't even have one on display (3 days after "launch day") and zero advertisements. Best Buy doesn't have them in store and the shipping times are pretty bad all around. I'm not sure what LG is doing here. I really wanted this device, preferably the unlocked version, which isn't coming out until the end of the month. But even the carrier versions are scarce. No one will even know this phone exists until it drops to half price.

Agreed w comment above. I'm on Sprint and will be picking up the V30+ but this rollout has been terrible. Why not market the phone more mainstream and have a launch closer to the reveal.

One thing to note here is that you can get a big credit back if you're on TMo and are ok with adding a new line and removing your old one, a process that's well worth the $325. If you factor in the free google home mini, and the $325 for TMO customers, the Pixel 2 XL is way better for the net price when compared. That said the V30 still looks good to me, my main reasoning for going with the Pixel are two this year: Portraits: I take way more photos of friends and my daughter than I do sweeping landscapes. If I were single and able to go on holiday a ton I'd probably feel differently. Security updates: I've been a huge proponent of Huawei for a while now, since the 6P. I love the Mate 9 that I have right now because it's sleek, it's big, and it has amazing cameras with an unbeatable monochrome sensor dedicated to some epic shots, as well as a good portrait mode. But I'm on something like April or March's security patch. I use Bluetooth every day on my commute and Blueborne has really drilled it home for me:
Security updates are key in this day and age. My G6 is still on august, so they're not brilliant at this either. That leaves me with one real option: Pixels. Now that I can have my cake and eat it too with the Pixels getting robust portrait support I'm going to be a happy camper I think.

Lg does security updates typically every 90 days although I did recently receive 2 within 60 days. Right now I'm on September 1st security patch.

I'm currently on August. I've only ever gotten a one other update since I got the phone at launch.

Honestly of LG and T-Mobile stays with in 2 months of security updates for at least 18 months of phone release date, that's really good.

Not good enough, imo, 60 days of blueborne vulnerability as a person that lives in a metro area and uses BT headphones every day is just not acceptable. I have to think that's not a unique use case given the nature of metro areas to be densely populated and full of commuters that I see with similar headphones in use daily.

I'm really struggling whether to get the V30 or the Pixel 2 XL. I have the Pixel XL right now and I really like it except for no water resistance and the headphone jack output being very terrible. I was in the Verizon store two days ago and the V30 was really nice. Not too sure about their software and whether LG/VZW update the LG flagships like they do with the Samsung devices.

Not sure about VZW but if the G6 on TMO is any indicator, I've received a grand total of two updates since launch (got it day one) and it is still on the August patch. That said the DAC on the V30 is legend haha, something I know I'll wish I had on my panda pixel 2 xl.

yeah, that doesn't sound very promising. I do use the headphone jack everyday in the car so I know I'd like the V30 for dat DAC!

I was making this decision for myself right after the Pixel announcement. I think that the P XL 2 vs. V30 debate really comes down to whether you care about hardware or software more. If you want (arguably) the nicest hardware of any Android smartphone you can buy, with a wide angle camera lens and the understanding that you have a good but not great software experience, then buy the V30. If you want some very pedestrian hardware with unparalleled software that fully leverages Google's ever growing closed portion of their ecosystem, than buy a Pixel. I decided that this year, software was more important to me. I realized that 95% of my life is spent doing very basic things on my phone, and so the hardware kind of just fades into the background for most of my tasks. I also do not dive into the manual mode on my camera, so having the best camera possible that just works amazingly all the time in auto mode was a selling point. I'm sure that you can probably get much better photos out of the V30 is you took the time to manually tweak the settings every time, but I'm honestly just too lazy to deal with it. I am also completely fed up with bloat and redundant apps of the non Pixel phones. These are just my personal preferences, though. I understand that the pixel isn't for everyone, and there's nothing wrong with that.

On the V30 Change the keyboard to Google or Swift key, and then change the launcher, then you don't have the weird software from LG as much anymore. Plus you can theme the settings not in LG theme store which makes it look better too. I don't know why so many reviewers complain of the LG software when it mostly can be changed now.

Also, I'm pumped for front facing stereo speakers again, no more tinny audio and muffling the damn bottom firing speaker when playing games!

Funny, the V30 with pure Android and updates from Google would be the perfect phone for me. Wouldn't mind taking the Pixels camera. I ordered the Pixel 2 XL but the V30 has a lot going for it that the Pixel is missing

V30 looks better. The dac, and camera features also makes getting the V30 a no brainer. I use to be all about nexus and getting updates day one but the truth is that most of these updates aren't worth the sacrifice of having features. Nexus/pixel became boring to me. Updates are over rated.

Security vulnerabilities are nothing to balk at, and the patches are definitely not overrated. I will absolutely agree though, the V30 is more aesthetically pleasing (though I learned that glass back doesn't last long from my G6) and has way more features. Camera wise though it will fall short. Basically unless you see yourself constantly taking sweeping landscape pictures I don't think it will be of much use personally.

It's not just "sweeping landscape pictures". My G6 let me get pictures at angles that would be impossible on a standard smartphone. I'm talking about everyone in a restaurant booth while I'm sitting there, rather than getting up and standing awkwardly in the aisle. It's much more useful than people realize and one of my favorite camera features to date.

Interesting, I guess I just never really take pictures at restaurants? Ha, I don't do many group people photos if at all, and I suppose if i were to do so my years of using a DSLR with prime lenses only has kind of trained me to be unafraid of moving around to get my shot. With good glass you HAVE to move to the shot you want if it's not where you're standing lol.

Realistically though for people wanting to take a quick picture on their phones I bet many would like the wide angle more than you or they think.

No Micro-Sd card slot and no headphone jack is a big no for me. It is really annoying since I would love to have the pixel software experience, but google hates headphone jacks AND apparently expandable memory....and wireless charging!

I hear ya on the headphone jack. It was nice to have as a back up. I guess I'll just have to have the dongle in my backpack at all times. That said I use bluetooth WAY more and here's my take: I use BT 90% of the time. Blueborne is a thing, and there will be others after it of course. Rather have a dongle and use it 10% of the time than be vulnerable to a security gap 90% of the time. Expandable memory to me is whatever due to the unlimited storage for pics and video. Wireless charging is just too slow on LG devices. Until they use what Samsung does and get fast wireless charging it's pointless to me.

Bluetooth audio is trash. Its absolutely not a replacement for anyone with HiFi wired headphones. Secondly the v30 target audience is for photo/video pros and hobbyists. The pixel may beat the v30 on auto focus shots, but wont come close in manual mode. 64GB with no local expandable option was a big deal breaker for me.

Gonna call bull on your BT comment. Anyone who has actually paid their bills with their ears will tell you that if you're using a service other than Tidal and have decent BT headphones (Senheisser ,B&O etc ), you will hear little to no different in a modern device from BT to plugged. Sorry, but to say that is not the case is just posturing, it's physically impossible to hear the "loss" of frequency range and the dynamic range difference is minuscule at best. People said the same excuse about the V20 last year, that manual mode would beat any other phone, but no, it didn't. The Pixel was better in auto than the V20 was in manual (had em both).
The Pixel two will be better in auto than V30 is in manual in all likelihood. Software is just THAT important at this point in mobile photography, that's the clutch issue here. Outside of that the fact that most people lose their storage to photo and video and that it's unlimited in G-photos for free kinda puts a damper on the need of the many for an SD slot.

Maybe it's because my ears are trained, but I hear a tangible difference between wired and BT, even with the same headphones when switching between BT and the cable. My favorite Bluetooth headphones are fifth place in audio quality in my collection. They are pretty good, but still not "there".

Lastly the v30 does support fast wireless charging

Good, because the G6 did not.

I think it all comes down to personal preference. I'm kind of like you. I have a Nexus 6P & I don't think I have ever used the 3.5 headphone jack once. I also don't listen to music that much on my phone really. When I did, it as when I was mowing, & bluetooth headphones get in the way a whole lot less than wired. When I do use the phone for music, it's for when the kids are taking a bath or something & I just set it down & play music. Enjoy the front speakers. Memory is the same for me. The 6P is a 64GB & it's doing just fine. I store nothing but apps on the phone & maybe a few books. An SD card is not important & hasn't been for a very long time. Wireless charging... Would be nice, but not important. Especially considered how fast the Pixel is supposed to charge. And with better SoCs & what not since the 6P, I expect better battery life anyway. I do have 8.0 & Oct security patch right now & really like the timely updates I have been getting. Some have argued above that so what that people are on 8.0 vs 7.1.2 or whatever & that it doesn't make a difference, but it's not all just "feature" related. I like the pure Android non bloated experience, so while the V30 is tempting, I just have to go with the Pixel. Plus the Google Drive storage is a sweet addition & the mini.

The Pixel looks like GARBAGE compared to the V30. I know Android purists will still prefer the Pixel, and the camera in the Pixel will probably be fantastic, but it's such a shame that Google decided to put out a phone that looks like a weird Fisher Price children's toy when they could have just said, "make it look exactly like the V30, because it's basically perfect."

Lol the V30 is what looks like burning garbage, not the Pixel XL

I'm no Android purist, never owned a Pixel or Nexus device, I'm an LG fan and loved my G5 & G6 but the Pixel 2 XL in Black and White is stunning. I'd prefer dual cameras but the Pixel has portrait mode and I use that far more than the Wide Angle camera, plus the Pixel main camera is far better than the V30. Pixel has stereo front firing speakers which are far more useful to me than the V30's DAC so the Pixel 2 XL is by far the best choice for me personally

All the money I save on Project Fi + being able to always get the latest OS are reasons for me going from my 6P to the Pixel 2 XL.

Very surprised to see the lack of SD card support on the Pixel not covered under "What's different," particularly when the V30's getting pushed at photographers/videographers. There's a world of difference between pulling up a gallery off your card vs waiting to download it from the cloud-- even with a relatively good connection, the conversation has typically moved on by the time you've pulled down your photos. And I could be wrong, but I'm pretty sure that the Pixel's the only flagship NOT to support SD at this point- a rather big departure from the S4 Google Play Edition where they had better card support than anyone else.

Don't think One Plus have SD card either. Agree about the cloud storage though, my Nexus 5 took ages to display my photos today, might be an Oreo issue though as it doesn't feel quite as snappy since the update.

It's interesting to talk about the LG V30 being superior from an audio standpoint. How would this even be a comparison? The LG V30 has a quad DAC and 3.5mm, while the Pixel 2 XL has *NO* DAC and *NO* 3.5mm port. That having been said, if you were to plug in a USB-C adapter with its awesome DAC, wouldn't the results be just as good or better than that on the V30? Not because the Pixel 2 XL did anything great, but because you bought a great offboard DAC. ? If I'm not mistaken, this means that the results of an audio test are more about whether you want it built in or want to go out and get it.

Until pixel phones include SD support they will never hold a candle to the Galaxy and V series devices. No headphone jack just put the pixel on my **** list.

You must not be paying attention. Google is more and more going to be a cloud based experience moving forward. That's how they gather information on you to sell to make their money. You will most likely never see an SD card on a Google branded phone or tablet ever again

You must not realize google does not sell your data.

In my own experience LG is pretty awful about updating their phones after about 6-8 months into their product life cycle before they moved on to the next model in the line. The V20 (at least on AT&T) had only had a couple of updates with the latest being an August update which hit most carriers in Sept and Oct (in the case of AT&T). Frankly, from what I've seen the cameras are pretty much a wash so given my experience with LG I'll be moving to Pixel. Plus the unlimited Full resolution storage of photos and videos for 3 years makes it a no brainer for me.

Not concerned about the dongle for the USB Type C to 3.5 mm. It will be plugged into the end of my headphones, so it won't get lost.

I currently have the Pixel but I'm going for the LG V30. + I love Wireless Charging and it's a shame Google dropped it from their Nexus and Pixel phones.
+ Smaller and nicer form factor for a similarly sized screen.
+ Dual Cameras with a real beneficial use case ie Wide Angle not merely a better optical quality zoom vs digital zoom like other phones with dual Cameras.
+ Much Nicer camera software.
+ Headphone jack and better quality sound.
+ Bundled quality headphones
+ Better waterproofing IP68 vs IP67 for the Pixel
+ $50-$100 cheaper depending on carrier deals. - Will miss Google's faster updates, though I use Nova Launcher anyway and updates don't impact Apps.
- Will miss 4K video cloud storage, though it's only available for a couple of years with the Pixel and a cheap cloud storage package can easily cover it for a decade.

Indeed. The article incorrectly lumps both phones with an IP67 rating, but the LG V30 has IP68 (5 ft of water for 30 mins).
Also, the article ignores the 2 year warranty with the V30 vs 1 year with the Pixel 2, and the SD card slot for expansion that you don't get on the Pixel. These two should definitely be factored into a decision.

I haven't gotten my V30 yet, but I'm really looking forward to the wide angle lens. I know it is more for landscape shots, but I have a small house, where it will help me take better pictures of my kids without having to stand on the other side of the room. :-)

If the Pixel 2 XL came in the V30's shell with that Quad DAC and the front-facing stereo speakers, coupled with the 2 XL's camera and a 4,000+ mAh battery, sign me up.

I'm a fan of LG but for me the Pixel 2 XL is the pick of the two. Front firing stereo speakers, better main rear camera. I'm a huge advocate for dual cameras on a phone but Pixel has portrait mode so that's good enough for me as the wide angle camera in the V30 would seldom get used. The Panda XL looks gorgeous. I couldn't care less about having no DAC, the lack of headphones jack is a non issue and 64gb built on storage is plenty for me as I use cloud storage and stream a lot of music and movies. The fast updates are just a bonus

same. I mean the way I see it is that P2XL is the V30 (minus some features...so i guess it really isn't the V30...) with google's smarts.

What garbage has Mobile Nations become? You won't let me post my comment because of some imagined security problem with my post, but provide no guidance at all on what might be triggering it. I'm supposed to just rewrite my entire post because your security software is hair-trigger sensitive? For the record, there's nothing in my post even remotely a violation of your standards or any security norms.

Blame the recent rash of spammers on the Mobile Nations site. It's them ruining it for everyone. It's not Mobile Nation's fault. I'd much rather have a strict comments sections than the see people telling me about how I can make money on the internet every third comment.

The Pixel 2 XL is a perfectly fine phone. It's not a great phone by any means. If your priority is "pure" Android, and you're willing to give up both hardware and software features in exchange, then make that choice. But you're paying a little more for a phone that has inferior water resistance, and lacks a headphone jack, high quality audio, wireless charging, and included headphones.

I have to disagree with you on the software front. I think software is the reason that you buy a Pixel. Google completely fleshed out its ecosystem this year. That Apple-esque software experience is really what you're paying a premium on the Pixel for. As for the IP rating, IP67 is a darn good protection rating and will be more than sufficient for most anyone. It's essentially completely waterproof unless you are trying to go swimming with your phone submerged for extended periods of time or use it to record your cross-country mountain bike trek. Additionally, 1 meter for 30 minutes is just the minimum testing for the phone. It may actually be good for much longer, but it's just not guaranteed for it. Regardless, still more than sufficient for if you get caught with your phone in the rain, fall in a pool, or drop your phone in the toilet.

I never cared for the V10 or V20 much. When the V30 came out I was instantly interested, and ever since was set on getting one. It literally has every feature possible except dual stereo speakers. When I saw how much bigger the Pixel XL 2 was, I purchased the V30 next morning from T-Mobile on preorder. I got the phone last week Friday. I love this phone! It's amazing! Only crutch is the front facing camera sucks in low light, but I can't find any other flaw on the phone after changing the keyboard and launcher. Anyone thinking about this phone.... Go for it! As long as you're okay with selfie camera not good in low light, you're gonna absolutely love this phone! Note: but hopefully with software updates front camera can improve some. So that only crutch has potential to be improved some.

I'm definitely intrigued by it. How's the battery life treating you? How's the visibility of the screen in sunlight?

Battery life is good!! Better than I expected. I am getting usually around 5 hours of screen on time. Lowest so far is about 4.5 hours SOT. So I give it a B+ for Battery. Brightness is really good when above 70%. I've not had it in super bright sun yet. Only had it for a few days. Max on YouTube did a video comparing V30 and Note 8 brightness. The V30 was brighter than the Note 8 indoors with 659 nits at 100% brightness, and the Note 8 was brighter in sunlight, but V30 was still 882 nits in sunlight at 100% brightness. Anything above 750 nits should be good for sunlight. Video is here https://youtu.be/o63xJQhhqQo

Great to hear, you've given me something to think about. Thanks for the link!

Battery life seems really good for me so far and I came from a S7 Edge. Don't have much feedback on the screen in sunlight yet but overall love this phone.

It seems like the V30 might be a sort of "compromise" phone, in the sense that even though it doesn't have stock Android keeping it zippy, it does have certain things that the 2 XL lacks, and the software still isn't as heavy as TouchWiz. It really is giving me something to think about.

So far the software is VERY fast and battery life has been amazing. Sure the latest OS would be nice but in this day and age 7.1 is a very good OS. Hardware advantages over the Pixel XL are thinner bezels, wireless charging, MicroSD, head phone jack, double tape to wake. Very happy with this phone!

Reasons I choose the V30 over Pixel XL 2 + Significantly Smaller with same display
+ HDR support
+ Headphone jack
+ Quad DAC
+ Wide Angle Camera
+ Manual Camera an Video
+ SD Card slot
+ Wireless Charging
+ Theme Support Stock
+ Design looks way better (subjective)
+ All those extra features for $50 less (on T-Mobile)

All those features for 50 less on TMO before you count the value of the free google home mini AND the $325 dollar gift card....

Yeah you got a point there. However credit is for new lines only unfortunately. Plus no matter how much the credit is, that doesn't add those features. If the Pixel XL 2 had same smaller form factor, and a headphone jack, and no stupid 2 tone back again, then I probably would have gotten it. But being huge with no headphone jack, plus ugly 2 tone back, all combined together into deal breakers for me personally.

Not to mention no support for 600Mhz band on T-Mobile. Which is a major deciding factor for me since I'm in a rural area that will hopefully get 600Mhz in the relatively near future. I wasn't even planning on getting a V30, but my wife just paid off her iPhone, so I can get it on JOD without changing my monthly bill. The free Daydream Viewer is just icing on the cake. I can't wait to get ahold of it! It will be a significant upgrade over my current Android, which is my first Android, the LG Stylo 3 Plus.

While I prefer the Note 8, choosing the V30 over the Pixel 2 XL is a no-brainer, unless you value FFS over all the other features you get with the V30. Personally, I don't care about FFS, but if I did, I'd just get a cheap bluetooth speaker to compensate for the lack of FFS.

Don't forget the reasons to chose the Pixel 2 XL. + Unlimited cloud storage.
+ Stock Android.
+ First for updates.
+ Highest rated camera ever.
+ 7 hours charge from 15 minutes.
+ Free Home Hub Mini.
+ Squeeze to activate Google Assistant (I really think this will be more useful than people give it credit for).
+ Bezels add strength to a screen.
+ Dual flash
+ Google Lens.

Sssshhh. He's Canadian. Cut him some slack. ; )

I wish both these phones had Samsung Pay! My decision would be easier!

Samsung Pay is like iMessage in the iPhone world. Once they include a great feature that others don't have you don't want to give it up!

Unless every single merchant in the USA installs NFC capable terminals! I havent used cash in weeks!!!!

This was a no brainer for me! Although I would like to have stock Android for the fast updates in this day and age it's just not that important anymore as new Android versions are somewhat boring. The V30 has 2 key hardware advantages (wireless charging and MicroSD) that ultimately made up my mind. I also think the side bezels on the PXL are horrible! Even the V30 has larger bezels in this day and age but something I could live with, no so on the PXL. The headphone jack and advanced audio hardware is nice but not a decision maker for me. LG's version of Android feels fast and efficient so no complaints there. Double tap to turn on is very nice and have greatly missed in since i owned the G3 many years ago. Adding GBoard and Nova launcher addressed complaints with the LG launcher and keyboard. VERY HAPPY WITH THIS PHONE!

V30 for me. Can't wait till Friday to get mine. I like wireless charging and have missed it on my V20. I also want a headphone jack!

Or you could wait several months for the price to drop on the V30. It seems that LG phones get quite a bit cheaper as time goes by.

This. My G6 is worth half what it was at launch, only 6 months later lol.

That's the only problem. Do you think the V30 will go the same route?

So far the track record that I've seen is that the following LG flagships value halved in 6 months: G4
G5
V20
G6 I will be very surprised if the same doesn't happen to the V30, especially considering that they've screwed up launch already and they aren't advertising or getting behind the phone at all. Which is sad, it's their best effort yet easily, and imo, the only real competitor to the Pixel 2. That said, I'm more than happy to grab one next year for 400 dollars ;)

This is accurate from my perspective as well. The whole boot-loop thing ruined much of their reputation I think. But in all honesty, if i wanted a fast phone and a great camera without breaking the bank, I'd buy LG 6 months after release lol.

The v30 supposedly does not come with headphones in the US (except v30+ on Sprint). I don't know why that is but all the unboxing videos I've watched show no headphones in the box.

Neither. Wait for mate 10. :)

If the Mate series ever received support or updates I'd have gotten it. Instead my Mate 9 will soon be a back up device. Damn shame, I love their cameras and design and I actually like EMUI 5.

I've made my choice. Ordered a v30 yesterday. In the end, wireless charging, SD card won out. Verizon's $200 back, plus a daydream headset were better for me than a Google home pre-order bonus.

Totally feel ya, if I wasn't going to get $325 back from TMO from their own promoI would have probably waited on this and not pulled the trigger so quickly.

Got my AT&T V30, immediately put Nova Launcher, Android Messages, Google Calendar and gBoard on it. Boom done. Ergonomically the best phone I have ever used and it performs very well in all aspects. Great device!

Google phone updates are more reliable so in that sense the Pixel 2 XL is a great choice! However, LG updates are not as often but overall LG phones are build to work and last so due to that more people will prefer the LG V30: https://lgv30.yolasite.com/

My V20 has September's security patch, and it's a year old. I'm not concerned about the V30's security update schedule. As far as regular software updates, if your phone is working fine, whats the obsession about having the latest software version on a skinned phone? You wont notice much of a difference anyway. Also, most skins already had the functionality that Google is just now implementing in "stock" Android. In all, update schedules would be the LAST thing i'd consider when buying a phone.

It's not necessarily about software, though that is good and it's more than just skins, but it's about security. My G6 is on August.
My buddies is on September. That's 30-60 days of Blueborne vulnerability. It's stuff like that which makes it abundantly clear to me, if you're remotely concerned with the security of your phone and everything it connects to (which is pretty much everything these days let's be real) you get phone that has guaranteed timely security updates on a month to month basis.

So what about all the millions and millions of Galaxy series owners? Lets look at the numbers- how many people outside of us tech folks actually purchased Pixels or Nexus models before them? Clearly, security paranoia is not as large of a concern for the majority of consumers as it is with blogger sites. Everyone is exposed and unless you can have a security patch immediately after a vulnerability is discovered, you'll still at risk during that period.

I don't think I ever equated my requirements for a smart phone to the masses but ok.... Regardless, sure, there are millions of galaxy owners that don't even know their phones have security patches, much less that they're vulnerable, that's primarily what the exploiters are banking on, which I thought was assumed here and didn't need to be spelled out. You're also conflating paranoia with vigilance. Just like you wouldn't consider someone who locks their car doors or home door paranoid, I wouldn't consider someone who takes the security of a device that they do so much with, and connect to so much, paranoid either. What you're expressing here is out of touch. Of course people are exposed until the patch comes out, what we can do as consumers is choose to go with the OEM that makes us safe the quickest, which is Google or Apple specifically, with various other OEM's falling in behind them to widely varying degrees.

No perfect pair here. A combination of the best features of these phones would come close to the Note 8. But with out an S-pen, 6.4" display, Bixby, you don't have a competitor that touches the Note 8.

Bixby? Bixby? Yeah, I really feel that loss.

In regards to the "c'mon LG" comment in the article - LG has a button you can put in the nav bar to pull down and return the notification shade, which in my use has been more convenient than swiping down on the fingerprint sensor.

This has been an LG "feature" since at least G4 and no one talks about it. Between that and one button screenshot, I struggle to use another device.

I agree with you that having a button for the notification shade is better than using the fingerprint reader. I like and I'm used to having my navigation keys being right aligned after adding the notification pull down to the first position. Also, tried an app that let me use the fingerprint scanner to pull down notifications, and that action just felt awkward. Must prefer the dedicated button.

I would think that anyone would once they have gotten used to it

I didn't know about this, that's huge! I'm still on an HTC one m8 and even tho it's 3 years old, it has the option for a 4th navigation button that I use for notifications. I honestly can't imagine not having this now - especially as screens keep getting bigger & taller. Can't believe this isn't a standard feature of Android at this point

I run Nova Launcher, as do millions of other android users, and it gives you screen swipe options...namely swipe down anywhere on the screen to pull down the notifications shade. I never reach all the way to the top.

Thankfully, the rear fingerprint sensors are in the same (gratifying) place — though only the Pixel's lets you swipe down to reveal the notification shade. Come on, LG! Stop with the lies and misleading. If you actually used an LG phone, you would know what they have is better for notifications. LG let's you add a drop down button at the bottom with the home, back, and multi buttons. Oh yeah do you want one press screenshots? You can add a button for that as well. Google not Samsung has this. Do your research

The point is that LG doesn't allow you to swipe down notification shade via finger print scanner. Those other methods are work arounds sure, but they're not the same.

The point is that they are insinuating that LG didn't have an option at all. It's not a work around. It was in place before Pixel existed.

To someone like me who thinks the better way is via the fingerprint scanner these other ways are work arounds. YMMV Regardless, I think you're more so projecting on their statement than expanding on what was said. You're implication is contingent on the idea that the fact that the Pixel has the notification gesture built into the FP and LG has other options to do so is mutually exclusive, which we all know isn't the case.

A work around had to mean that something existed before that method was created. The Google Pixel method was created afterwards. So how is it a work around? LG doesn't need a work around because you can hold the phone naturally and still take a screenshot and drop the notification bar with the press of a button. LG could have added that to their phone but why bother when they already had a way that works 100% of the time.

Which phone will be easier to root? Gotta have root!

I imagine the unlocked version of the Pixel will be just as easy as the unlocked version of the V30. From my understanding a lot of cons to rooting these days though, like Netflix not working etc. Curious, in the day and age of andromeda, launchers like nova, theming on most devices, what do you find valuable in root now vs like 5 years ago?

Adblock is the only reason I need to root. The VPN adblockers work well in a pinch, but nothing beats Adaway and it's mandatory for me on any phone.

Have you tried DNS66? What didn't you like about it? I have been running it for a few weeks instead of AdAway and it seems to be the same with all their host files built in. The only issue I have right now is it dies when i connect to my home network via OpenVPN when I am remote. I don't need it for that (home network has its own "AdAway" setup via BIND and some lists)but is worth mentioning. I am gonna "try" my 2XL without rooting and using DNS66. I don't need root for anything but AdAway at this point in my life.

No it is not a hard decision. Pixel 2XL is the easy choice.

Do both support T-Mobile's 600MHz band 71?

Pixel 2 does not support it. Though the 835 in it does, for some reason it doesn't come able to connect to that. This is from Google Support directly after I asked them and the specs page for the device under Network: https://www.androidcentral.com/e?link=https%3A%2F%2Fwww.anrdoezrs.net%2F...

"The Pixel 2 XL is a simple phone." Simple is an understatement. And you pay the same price for simple that you would for a feature-rich V30. Pretty obvious which one you should buy.

I prefer stock Android with support from Google with monthly security updates over any other companies skinned sometimes bloated version of Android. Sure a headphone jack and wireless charging is good to have when you need it but honestly as much as I love music and love high quality sound... The ONLY reason I even considered the V30 was for audio, lol! At the end of the day I value the user experience the Pixel provides over knowing I have the best sounding headphone jack. Too many little things about LG's UI irk my nerves, lol! It seems like it's an awesome device but I've never been more satisfied with an Android phone before as I have been the last year with my Pixel. That's not to say it's perfect... Cuz the audio SUCKS so bad I don't even like to plug up anything to that headphone jack... So I'll end up plugging into my iPad Pro instead lol!

One error in the article. The LG V30 is actually ip68 rated vs. Ip67 for the Pixel. I purchased my v30 last week and have been using it for the past few days. The UI doesn't bother me at all and if it did I could quickly change that with a different keyboard or launcher. Like the article stated, the sound of the v30 is amazing and the camera is very nice. Updates are nice and I'm envious of Pixel users, but the v30 has so much more to offer.

What's audio quality gonna be like through the Pixel 2 via Bluetooth?

All great points. What good are flashy features when you can't get timely updates or decent support when something goes wrong? At least the Pixel is guaranteed to get two years of security and system updates. The V30... probably not

Daniel, dont you feel bad when you post this kind of bullshit stories?
You didnt do this kind of crap when you were at MobileSyrup.
When you came to AC last year, I was hoping you'd up their game a bit.
Looks like the opposite happened. It's sad.

I absolutely need an SD card slot. I have many comics, music, and media that I watch without the need of a data connection and saves much needed battery life. I store my personal pics and vids in my internal storage since I've always gotten better functionality out of the camera that way.

Coming from a Pixel and before that a Nexus 6P, I pulled the trigger on the V30 the other day (am in the UK) - was close, ordered and cancelled a Pixel 2 XL a couple of times, for me, came down to camera (baby due February) options - that point zoom on the video and wide angle lens will come in handy, followed by aesthetics. Subjectively, I love the look of the V30 and while not a massive audiophile, my phone is my primary music device, I do have some decent speakers which the quad DAC should make sound even better with high quality files. I imagine that a few of the features that are exclusive to the Pixel 2 now will filter out to other handsets and like someone above, like to skin with Nova, use Google Messages and Calendar and I am looking forward to getting back to LG after my last stint with a G3 a few years ago, still miss knock to wake and looking forward to a few software extras that you don't get with stock! I also want to support the underdog a little, it feels like the V30 is the culmination of a few years of trying things out and am excited about getting it on the 1st of November. Happy to read that battery seems up to the task, I found my old wireless charging pad the other day - need to tape over the bloody blue light on it again but we are back in the game!

I'm rocking the LG V30. Excellent phone. All it needs is Oreo. #neversatisfied

Post sale support is King, therefore Google's Pixel line winds hands down not only for timely updates but also for direct customer support.

I'd be happy with either of these or the UTC11 with 128GB. Pixels largest advantage is the updates. I'm more worried about updates for security than the functionality. I'd love to hold all 3 side by side.

« The two form the basis of one of the more interesting and fun camera experiences on the market » How is it funny? It is just a landscape picture. Make for beautiful shots for landscapes. Bit how is it a fun experience ? You can have more possibilities with the bokeh or zoom allowed by other dual cameras imo

Is that v30 running pixel launcher? How'd you do that?

I'm done with my phones taking forever to get the next Android update, and only two security patches a gear. Google it is.

Good for you! You'll be first to alpha test all the bugs.

"the V30 isn't just better than the Pixel — it's the best out there" I'll have to correct you on that Daniel. The V30 is the loudest. The external DAC for the U11 has higher quality.
Device / Noise / Dyn R / THD / IMD+ / Crosstalk
HTC U11 / -94.1 / 94.1 / 0.0017 / 0.0067 / -94.5
LG V30 / -93.2 / 93.1 / 0.0008 / 0.0069 / -94.2

You're comparing an external DAC to one built into a phone, and a freaking dongle at that. And you're measurement differences are literally INFINITESIMAL, and no mention or probably even knowledge of how each DAC is tuned, or which one actually sounds better. But a dongle? Hell no!

Hi Heathaze. The comparison is valid, as a DAC has the same job regardless of it being built-in or external: converting the digital audio stream to an analog output usable by the input stage of the amplifier section. Regarding quality, the dB scale used to measure audio is logrithmic, and not linear.
It takes twice as much electrical power to drive an output level 3 dB higher. And, it takes a 10 dB change to double or halve volume.
What all this means is that when comparing audio measurements expressed in dB, the difference between -94.1 and -93 is 9%. That's a little bit more than infantesimal, but your if your point was that most people would not be able to hear it, you are right. I would also agree wholly that the differences in harmonic distortion and intermodulation distorion actually ARE infantesimal, since they are rendered as a percentage of a whole in a linear fashion. But, there is a measurable difference, and even if the difference is small, it still means the V30 cannot claim to be the best from a technical perspective. I'm more than familiar with listening tests and human sound perception, having performed hundreds of them in my profession, and the U11 adapter lives up to its measured specifications and is almost impossible to tell musically from devices which are better than the V30. Once in a while I'll hear a difference, like the saxaphone mouthpiece reed resonance in "Open Road" by the Yellowjackets at 29 seconds into the song. But most of the time they sound just as enjoyable as each other. Regardless, it's a moot point because there is nothing that you can plug into the V30's one hundred year old electrical connector that will give it the technical capabilities, or sound, of USonic.

I got my V30 pre-ordered and can't wait for it to come in tomorrow (according to UPS)!

I got a Pixel2XL and I got my wife a V30 :-)

V30 is my baby. On ATT, andcan upgrade on the 20th. It just has everything.

V30 for me. I toyed with the idea of the Pixel 2 XL but can't spend that much for a lack of features when I've levelled those complaints at Apple over the years. V30 just has everything. If it had the Pixel software and updates then it would literally be the perfect phone but I can work with what it has and will get.

V30 looks like a better phone, but you are forced to give up dual front speakers. Would love to see camera comparison between the two

Great article Daniel! I'm not sure which of these two devices to choose from. Decisions, decisions.. lol

Short answer: 95% chance I'd choose the Pixel over the V30. But that Quad DAC business!!! Also, the dual cameras and shiny metal back. All these add up to at least still make it a [technically] open question.

Long answer: Though each day it seems, I'm leaning more and more in favor of going back to Android this fall, rather than going another round staying with Apple, it's definitely still not settled! There are still very significant odds that I'll end up with an iPhone X in my hand when this is all over. But assuming I do go back to Android, which as I said, is the direction I'm beginning to tip towards, I am being drawn VERY strongly towards the Pixel. Obviously, the number one reason is software. The cleanness and purity of it, and how fast and smooth it will (or at least "should") run. Not only that, but also the speed and reliability of updates, plus the promise of new updates, even including OS updates for [hopefully] a full year -AFTER- I intend to be done with the phone and onto the next one anyway. In the ways that I prefer Android, this phone is still "very Android". And in the ways that i prefer Apple, this phone is "as close to Apple as Android can ever be." I also just ideologically prefer being on as "Vanilla" as Android can be. Like, -THIS- is really Android, not someone else's idea of it. And if I get bored with vanilla, I can still customize it to make it -MY- Android - like I could do on any other Android Phone. Unlike with iOS, should I get bored with "all that purity", I am not stuck there. Yet, unlike with all of the rest of the Android universe, should I want that purity, and cleanness and simplicity and fastness and smoothness and reliabilty, I can have it without voiding my warranty in a root, or without having to "fake it" by clogging it up with software layer upon software layer upon software layer. That "best of both worlds" thing is simply UNPARALLELLED in its compellingness factor to me! I also love the idea of existing right in the center, right in the very heart of the Android ecosystem, and not on some satellite out there in it. I also like being first in line to get software and OS updates! Oh, and also: dual front firing stereo speakers! YUSSSS!!! :-) But there are some pretty compelling things about the V30 that prevent me from being able to just completely write it off! Specifically, there are three things. Going from least significant to most significant (to me): 1) The GORGEOUS aesthetic of the shiny chromelike glass back! Probably slippery as hell, and one wrong drop could leave me heartbroken, but MAAAAN is that not one sexy slab! Now, I deeply enjoy the look of the Pixel as well, as it is both incredibly simple, and yet, amazingly hallmark - plus grippier, and less shatter/crack-prone. But my less practical side definitely craves that shiny glass back! Oh, the wireless charging is cool too, though that's a perk for me, rather than a necessity, and wouldn't even be something I'd call "a passion". 2) The camera(s)! I know PIxel has some serious advantages here as well, and there are even reports out there of the Pixel even being the BETTER overall camera. But the freedom and flexibility of what the LG offers makes it very tempting indeed! Plus, just as the original Pixel was behind the times in not being waterproof, so this one is behind the times in not having the dual lense. Something that literally EVERY OTHER PHONE in the running for my new Fall 2017 Phone has (iPhone X, iPhone 8 plus, LG V30, and Galaxy Note 8). Only the Pixel is without it! And that's gonna hurt! 1) The Quad DACs - and headphone jack! I'm not the kind to get bent out of shape over not having a headphone jack, although neither do I exactly celebrate its absence. Having to use a dongle is no big deal to me. Though not being able to listen and charge at the same time -IS- a problem. So yay headphone jack on the V30. But the biggest deal of all for me is the QDAC, and the potential it holds for amazing sound quality. Not only do I listen a lot in the car, and often times use headphone in even though we have Bluetooth, which could REALLY sound good, but most important of all, I run a video game music pocast called "Nerd Noise Radio", and my current iPhone 6 Plus is a major player in the creation of the music block portions of those episodes. Imagine what kind of impacts the V30 could have on the final sound quality of my show! That, above LITERALLY everything else, is the biggest reason I'd want the V30, and is why that I feel like I'm favoring it for sure now over the otherwise probably a little bit better Note 8, and even feel a slight pull towards it even against the near certainty of a Pixel 2 XL given that I don't just end up staying with Apple this round. So, as I said, 95% chance I'll be going with the Pixel. But that 5% chance for the LG is not just empty sentiment, but a genuine declaration of an actual desire to have the thing, and an actual chance of my surprising everybody in my orbit by going for it! It is still technically an open question! You know, I both love and hate this about Android: that there are so many amazing phones that we have to pick our way through, getting perks and making sacrifices throughout! It is both the best - and worst......and best thing about the platform! :-) Cheers!

Yes, the Pixel is an ugly phone. Hope the features can compensate for that, somehow.
Android Central Newsletter
Get the best of Android Central in in your inbox, every day!
Thank you for signing up to Android Central. You will receive a verification email shortly.
There was a problem. Please refresh the page and try again.