Google Pixel 2 XL vs. LG V30: The perfect pair for right now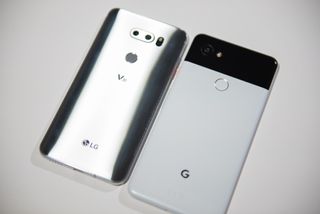 I was the last person to leave Google's Pixel hardware event in Toronto this week, the cleaning staff already entering the converted movie studio to remove the painstakingly crafted demo spaces for Google Lens, augmented reality, and the Pixel 2 camera's Portrait Mode. I just didn't want to give the damn phones back, them feeling so good and comfortable and right in my paw.
And gave them back I did, but not before I snapped some photos of the Pixel 2 XL next to the LG V30. I'm saying this both to hedge against the poor quality of the photos themselves (Lightroom's Clarity can't fix what isn't in focus) but to emphasize that, Samsung flagships aside, I think this is the most interesting comparison to come out of the entire event.
See, the LG V30 goes on sale pretty much now — it's already available at Verizon and AT&T, and will be next week at T-Mobile and Sprint — despite being announced in August and seeded to reviewers shortly thereafter. LG has a knack of announcing its phones well before they actually go on sale, which means that despite a great product, they tend to lose the momentum of public discourse in the weeks following.
Anyway, what that means is that the October 5 release date of the V30 is only two weeks before the LG-made Pixel 2 XL, which is astonishing if you think about it.
So which should you buy? Honestly, that's a difficult question to answer. But let's try to get you closer to that truth.
What's the same
Both the LG V30 and the Google Pixel 2 XL share a number of hardware similarities, and while they don't look the same, they are built on similar bones.
LG brought its Plastic OLED technology to the V30 first, but it appears that the Pixel 2 XL has either the same panel, or one very similar — they're both six inches at 2880x1440 pixel resolution, with the increasingly-common 18:9 / 2:1 aspect ratio. I like this compromise between width and height; unlike the Galaxy S8+ and Note 8, neither the V30 nor Pixel 2 XL feels top-heavy or onerous to use in one hand. That's not to say they're one hand-friendly the way the smaller 5-inch 16:9 Pixel 2 is, but they're easier to maneuver without risking a drop.
The panels themselves are excellent. These are OLED displays with vivid colors, perfect blacks, and awesome calibration; both LG and Google boast of full DCI-P3 color gamut support.
Those screens, curved at each corner, fit into chassis only slightly larger, making them practically bezel-less. But LG does a better job on the V30, mainly because it eschews front-facing stereo speakers for a single bottom firing port. The Pixel 2 XL is slightly taller, and a bit wider, as a result, but to me it's not a dealbreaker — I haven't heard them just yet, but I love the idea of phone speakers with actual impact.
Both phones are powered by the same underlying hardware, too: Snapdragon 835 SoC, 4GB of RAM, between 64GB and 128GB of storage (though only on the V30+, which is limited to Sprint and US Cellular), and a sizable battery — 3300mAh for the V30 and 3520mAh for the Pixel — along with IP67 water resistance. Thankfully, the rear fingerprint sensors are in the same (gratifying) place — though only the Pixel's lets you swipe down to reveal the notification shade. Come on, LG!
On a high level, that's where the similarities end. And that's what makes this comparison so interesting.
What's different
The LG V30 focuses on so many different things than the LG-made Pixel 2 XL, and that's why I love Android. The V30 is a shiny slab of glass on the front and back, which supports wireless charging. The Pixel 2 XL is ... not. It has a unibody metal chassis, but a portion of the back is covered in glass, which is both a design and signal benefit, since Google doesn't have to break up the look with plastic antenna lines. The metal back is rendered slightly more tactile, and less slippery, thanks to a finish that can only be described as plasticky. When I first picked it up I had to be reassured the phone was indeed aluminum — it feels more like the Nexus 5X than the original Pixel XL.
Of course, the V30 has two cameras, one 16MP sensor with a wide-angle lens, and a 13MP sensor with an extra wide-angle lens. The two form the basis of one of the more interesting and fun camera experiences on the market, and as we've said before, no one does landscape photography better than LG. At the same time, many of LG's new video modes are substantially more robust than anything you'll find on a Samsung or even Sony device, and far surpasses that of Google's simple camera app, which even lacks a dedicated manual mode.
At the same time, Google's focus (pun intended) on a single camera, which is lower-resolution with larger individual pixels than the V30's main sensor, allows for some incredible low-light shots. Google also boasts of a computational portrait mode, while its HDR+ capabilities bring out color and detail in situations that many other phones would fall flat.
We've spent a lot of time with pre-production versions of the V30's hardware and came away impressed, but I'm fairly confident that, when put head to head with the Pixel 2 XL, it won't square up in most situations. The Pixel also has Google Lens, which further reinforces the company's lead in using the camera for contextual gain; point it at a sign and get information about the words, or its location. Point it at a dog and (hopefully) find out the breed (it's a Great Dane). That's all very cool, but it remains to be seen if people will actually use the feature.
LG also puts a tremendous amount of effort into shoring up its audio game; not only does the V30 have a headphone jack, but its Quad DAC and powerful amplifier ensures that all headphones, even high-impedance ones, sound excellent. It's also possible to tune the phone's sound to suit one's individual ear, with additional filters and settings that even 2016's V20 lacked. This is as robust an audio-visual experience as you can get on any phone today — but it requires a tremendous amount of tweaking to get there.
The original Pixel was reknowned for its awful Bluetooth performance, so it's a bit concerning that its successor lacks a headphone jack. Sure, there's a dongle in the box, but it's one sure to be quickly lost or discarded. At the same time, Google is patterning with companies like Libratone to deliver "Made for Google" Bluetooth accessories, which consist of easy pairing and (we assume) consistently good performance. It really would be nice if Google were to deliver a phone that didn't experience base-level problems for once.
LG also delivers some very decent headphones in the box, whereas Google delivers... well, that dongle.
The last two differences are obvious, but worth pointing out. Google's software is worlds ahead of LG's in many respects; not only does the Pixel 2 XL ship with Android 8.0 Oreo, but its interface and general aesthetic feels substantially more mature; LG, which has made strides in recent years, ships the V30 with Android 7.1.2, and though many of the more hard edges have been softened, it's still easy to find nits to pick. For example, LG still insists on shipping its own keyboard, which is terrible, and its default launcher lacks an app drawer and hits icons with an ugly stick.
At the same time, Android 7.1.2 is a known quantity, both mature and easy to understand, and LG benefits from this extended lead time; the V20 was one of the first devices to ship with Android 7.0 Nougat and experienced some awful bugs that took months to resolve. I've yet to experience a single show-stopping issue with the V30. The original Pixel on Oreo, on the other hand, has developed a cottage country of complaints since the update became available.
But updates are going to come to the Pixel must more quickly, and for longer, than the V30 can hope to see. For starters, Google updates the Pixels directly, and is promising three years of both security updates and, for the first time, platform updates. The V30 is being sold primarily through carrier channels, so it will have to go through approval processes that often take longer. We can hope that the V30 receives Oreo sooner than later, but it's the next update, Android P, where that lead will lengthen on Google's behalf.
Which should you buy?
The LG V30 costs between $800 and $840 at U.S. carriers, which works out to around $32 to $34 per month for 24 months. The V30+, which is available only at Sprint and US Cellular, runs closer to $920, or $38 per month. The Pixel 2 XL starts at $849, but can be had at Verizon or the Google Store for around $35 per month for the 64GB model and $39 for the 128GB version.
So the cost is a wash.
That leaves the features, and to my eyes the V30 has a more robust collection of experiences for the advanced user, especially when it comes to audio and photography. Not only does the Quad DAC provide better sound, but there's a headphone jack with a powerful amplifier and plenty of adjustability. The dual camera setup is tons of fun, and the manual mode is just wonderful. The V30 has wireless charging, too, and the all-glass design keeps it lighter than the Pixel 2. The overall body is smaller, too, though you forgo front-facing speakers.
The Pixel 2 XL is a simple phone. It's meant to be easy to understand and use, and accessible to any and all who buy it. It hides much of the complexity that Android is famous for. Its design is also sure to be divisive; it's both whimsical and utilitarian, and while the larger Pixel doesn't have the substantial bezels of its smaller counterpart, it probably won't win any design awards.
So, yeah, I'm torn. They're both great phones, and knowing me I'll probably end up using the Pixel 2 XL more because it will get the latest updates sooner, but I doubt you'll be upset by going with the V30. Just remember to wipe down the glass back every once in a while.
See LG V30 at T-Mobile
Sign up for Black Friday email alerts!
Get the hottest deals available in your inbox plus news, reviews, opinion, analysis and more from the Android Central team.
Daniel Bader was a former Android Central Editor-in-Chief and Executive Editor for iMore and Windows Central.