Google Photos could soon be integrated into the Files app on Chromebooks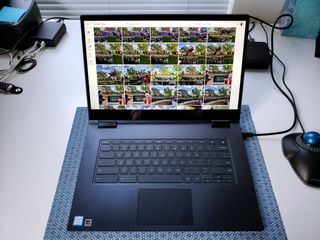 (Image credit: Android Central)
What you need to know
Managing your photos on Chrome OS could soon get a lot easier.
Recent work-in-progress commits suggest Google has started working on integrating Photos into the file manager in Chrome OS.
There's no word yet on exactly when Google Photos will be integrated into the Files app.
One of the most annoying things about Chrome OS right now is the lack of sync between Google Photos and the Files app. Fortunately, a pair of work-in-progress Chromium commits spotted by the folks at Android Police suggest Google is working on integrating Google Photos into the Chrome OS file manager. Once the Google Photos integration rolls out, you'll be able to view all your Google Photos uploads when selecting files in the file picker.
The commits confirm that users will be able to easily browse and choose their recent photos from within the Files app. However, you will need to have the Google Photos Android app installed on your Chromebook to be able to access your uploads.
Before Google decided to split its Drive and Photos services to "simplify how things work between the two services" in July 2019, it was extremely easy to keep the photo gallery and photo files in sync on Chromebooks. While the commits suggest the changes are on the way, it is unclear exactly when they will be merged into the Chromium source code.
I had a Samsung Chromebook. Loved the hardware, but the file system was a mess. The learning curve for me as a business person that uses PC and Android was too much. The apps were not there yet. That was 2 years ago. Maybe now Chromebooks are mature enough, and have app support, so people like me can try them again. We need an Apple like experience, where everything is intuitive and the adaptation process is not a pain. Can anyone attest to this?
Android Central Newsletter
Thank you for signing up to Android Central. You will receive a verification email shortly.
There was a problem. Please refresh the page and try again.