Google Photos' 200 million users have freed up 13.7 petabytes of storage to date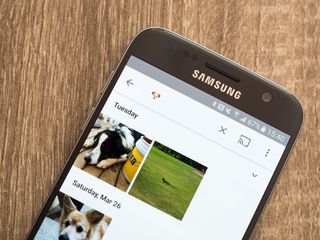 Google Photos is now officially one year old, and Google has celebrated the occasion by providing some hard numbers on just how big the service has become in the past year.
As Google previously mentioned at Google I/O, Google Photos now sports a staggering 200 million monthly active users. And with that many users comes some pretty impressive factoids:
The service, which hit the scene as a replacement for the photos feature in Google+, has certainly enjoyed a successful first year, and it will be interesting to see where Google takes it in its next year.
If you're interested in learning more about how you can leverage some of Google Photos' features for yourself, Google has also listed some of the team's favorite tips that are worth checking out in the full blog post.
Half of those are of my dog, probably.

You should stop letting your dog take selfies, lol Posted via the Android Central App

That doesn't seem like too much, honestly. If they have 200M users, that's only 68MB/person, or less than 100 photos. Posted via the Android Central App

Good perspective, 14 petabytes seems like a lot, but when you think about the scale it really isn't. It's best to assume I'm being sarcastic. if I'm ever serious I'll type "/s" to make it clear.

Your signature is funny. From my Note 4

Well it says we've collectively freed up 13.7 petabytes of storage on our devices. Is that just how Google worded how many photos are being stored in the cloud, or is that the amount of pictures we deleted off of our phones after uploading to Google Photos?

I wish there was that context in the article. Makes me think.... Posted from my Nexus 6/Nexus 7 2013/Surface Pro 3

if you click through the links provided, you can do what the blogger was too lazy to do in his copy/paste article. On Nov 17, 2015, Google introduced a 'free up space' button in settings ( i guess it's in photos). That is where the 13.7 petabytes comes from. Once again... Spigen Central is only worried about the search result.

i explained below.
edit: or would that be above.

Impressive. But considering that millions like me have only recently committed to the platform, this number is going to grow quickly. Switching to a Chromebook did it for me. I still take photos with a dedicated camera. But once photos are uploaded and cropped, they are have a place to live as long as I'm alive.

That's alot of adult pictures Posted via the Android Central App

I bet it's a more commonly a lot of pictures of children, dogs and cats. And selfies. Lots and lots of selfies.

You know. I have yet to see anyone in my circles use the Photos app instead of the stock OEM app. Where are all these 200 million active users? Posted via the Android Central App

Your circles suck. This is a truism because, by definition, they contain you.

That is the stock photo app on a Nexus. Posted via the Android Central App

I now have the HTC 10 and the stock photo app is the Google one now instead of the old HTC photo app which I quite liked, but hey ho it works. Posted via the Android Central App

Imho by far the most useful app Google has produced for Android to date. Mine you, I'm not saying most impressive or ground breaking. I love the indexing and quick uploads. It's so easy to find pictures from the past now.. Only downside.. It only encourages even more unnecessary pic taking. Posted via the Android Central App

I find myself at ridiculous angles, trying to get the best picture of random objects Posted via the Android Central App

Hasn't freed up any of my storage, and I use photos. I keep a copy on my desktop as well. Google has lost all my info once already, not going to happen again.

Umm, that's a good thing.

Good point! This is why I use Sunshine to backup my photos on my laptop. https://www.androidcentral.com/e?link=https2F2F...

Pretty good app. I really disliked the option of using Dropbox for camera uploads. I use Google Photos on my Android and iOS phones. This app has developed nicely; the first versions were frustrating.

I use it. I like it. It works well.

That's not much data for 200M users, is this good for us Alphabet Shareholders? Posted via the Android Central App

It is the best photo locker anywhere. Congratulations Google. Posted via the Android Central App

Definitely Google's best app, especially with the recent updates. Posted via Nexus 6P

i wish Google Photo gets a feature : Allows easily to delete duplicate, fuzzy pictures. This is for lazy folks (like me!) who do not spend enough time to clean unwanted pictures.

I've saved 128 gbs using this app. Posted via the Android Central App
Android Central Newsletter
Get the best of Android Central in in your inbox, every day!
Thank you for signing up to Android Central. You will receive a verification email shortly.
There was a problem. Please refresh the page and try again.