Google Pay in the UK is losing its send/receive money feature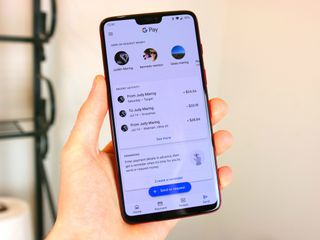 (Image credit: Joe Maring / Android Central)
What you need to know
Google Pay in the UK is losing its P2P feature on September 6.
P2P allows users to send and receive money from one another.
The feature is only available in the UK and the U.S.
Last year, Google Pay received a major overhaul. Not only did it get a new name and UI upgrade, but the functions of Android Pay and Google Wallet were merged under the single Google Pay app — giving users one place to pay for things at stores using their phones and to send/receive money from one another.
Now, at least for folks in the United Kingdom, the latter of those two functions is going away.
Google sent out an email on June 14 titled "End of the Google Pay P2P service and important changes to your Google Payments service." In the email, it states:
If you have money in your Google Pay balance, Google recommends transferring it to your bank account. If you don't have a balance, you aren't required to do anything.
What makes this move even more interesting is that Google Pay's P2P feature was only ever available in the UK and the U.S. Google's yet to make a similar announcement for people in the States, but it does have us wondering if that'll happen with the UK one now making its way out the door.
The P2P feature on Google Pay works quite well and is something I use from time to time myself. Google hasn't provided a reason for why it's getting rid of the functionality, but it's entirely possible it just never caught on.
Should we learn more, we'll update this article.
Android Central Newsletter
Get instant access to breaking news, the hottest reviews, great deals and helpful tips
Joe Maring was a Senior Editor for Android Central between 2017 and 2021. You can reach him on Twitter at @JoeMaring1.
I had no idea it had one. Perhaps that's why it's being removed... EDIT: got an email about this about 2 minutes after commenting, good timing.

I didn't get any email about it in the states, but I use it regularly.

It's probably not required. In Australia we already have payID and beemit. These work fine for Interbank instant transfers. Noone needs google to do it. Probably the same in the UK.

We have something called Paym in the UK, by all accounts you can pay other people via the bank app. i know it is available as i get emails from my bank now and again about it, but I have never registered or used it.
i normally use paypal to send money to someone or give them cash.
I never knew google offered the service, not that I would use it.
15 banks in the UK use this Paym, but i don't know homw many people in the UK use it to be honest, their website says more than 4 million people have registered their mobile number to receive payments, but that don't mean 4 million are using it.

Yeah I use PayM through Nationwide. It makes it really easy to pay friends and family etc just using their phone number instead of getting all their bank details. Takes seconds to register

Never heard of it...which I guess goes for a lot of Google users... hence maybe the reason it's going away?

I think it's a least in part to do with Brexit. The email mentions Google Payments moving to Google Ireland Limited, which seems interesting given the timing. And I didn't know there was a peer to peer feature in Google pay either so it is possibly underused.

P2P payments have never been available in the Google Pay app in the UK. The only option has always been to either send it through the Google Pay website, or Gmail, neither of which anyone is going to do seeing as at that point you'd might as well just use your bank app. What a big middle finger to people in the UK. Never give feature parity with the US, then cancel what little functionality there is. Unless they're making way for proper support in the app. This is nothing to do with lack of interest in the service, because the service was never properly available.

Didnt even know about that feature until I half-read that email I received. For my friends and I here it's all about PayM/banking apps, and to a lesser degree, Paypal.
Android Central Newsletter
Get instant access to breaking news, the hottest reviews, great deals and helpful tips
Thank you for signing up to Android Central. You will receive a verification email shortly.
There was a problem. Please refresh the page and try again.