Google awarded patent for crazy 2-in-1 laptop design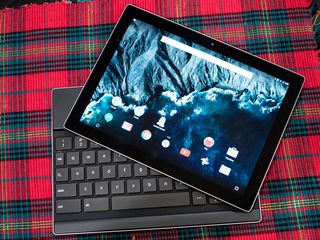 Back before it became a line of phones, the Chromebook Pixel line was known for setting an example of what a high end Chromebook would look like. The first model had a unique 3:2 aspect ratio, a high-resolution screen and an optional LTE model. That line culminated in the Pixel C, an Android convertible tablet. Since then, ASUS and Samsung seriously stepped up in the design department, with the Samsung Chromebook Plus using a 3:2 aspect ratio screen, Android applications out of the box, and a stylus for note-taking.
Even with those third party options, it appears Google will be releasing its own convertible sometime in the future. Slashgear shared a patent awarded to Google for a laptop with a unique keyboard area. Rather than just opening the screen and seeing the keyboard and trackpad, the user would be greeted by a smooth cover.
Said cover has a hinge that can be opened to reveal the keyboard and trackpad. I'm not sure what Google's intentions are, but one advantage of this may be to provide a smooth surface for users to grip while using the device in tablet mode. I use my Chromebook C302 in tablet mode regularly, and it's always a bit awkward to feel the keys when holding the device. It may seem trivial, but providing a smooth surface for users to hold would greatly benefit the tablet experience for the device. The cover is shown to be held in place by magnets, so it should be easy to open when the user needs to get to the keyboard and touchpad. Another possible use for this surface would be pen input, similar to the Lenovo Yoga Book.
The touchpad itself may be related to another patent Google was awarded for a "highly configurable controller is described that includes a number of different types of control mechanisms that emulate a wide variety of conventional control mechanisms using pressure and location sensitive sensors that generate high-density control information which may be mapped to the controls of a wide variety of devices and software."
ChromeUnboxed has been tracking a new Chrome device from Google with a detachable keyboard. While nothing in this patent suggests the unique keyboard will come to that rumored device, that device is also said to have a fingerprint sensor, a new keyboard layout, and other "firsts" for the Chromebook world. It would make sense for Google to build as many unique features as it can for one "halo" device to serve as an example to third party partners.
Google is likely to hold a hardware event in October to announce the Pixel 2, so that would make for a great venue to announce this new device. We have yet to see any leaks of the device itself, but we will make a post if something does become available.
Would you be interested in a new Google Chromebook Pixel? Let us know down below!
Android Central Newsletter
Get instant access to breaking news, the hottest reviews, great deals and helpful tips
The next Pixel Chrome Book? Yes please.

HEY USPTO
How the F#*% is this "novel"?
You should not be granting patents for S#*% like this...

Care to share why you feel this way? Has another company created a laptop like this?

This sort of patent are used a lot for patent trolling, not actual products.

I think he wanted to say that , it should only be allowed for that fruit company and no one else. USPTO should have waited until then.

Or just have a removable keyboard like the Pixel C 🤔

Yeah, I say removable, or have it so you can spin it around. Also, a way to have the screen be slanted a bit when it tablet mode. I set my tablet on conference tables, and it's a pain to draw flat, but my cover allows it to prop up on a slight incline (think drafting table). An attached keyboard won't work with that, and the front edge would then be up too high. It's why I haven't popped on a Samsung Chromebook Pro to replace my Note 10.1

So instead of feeling the keyboard when in tablet mode, we get to feel a bump in the middle of the tablet where hinge mechanism is?

Android apps on Chromebooks is a HUGE plus. Google should be advertising this functionality. We were flying home on United not too long ago. Their entertainment system did NOT have a web option and only supported iOS and Android. My Chromebook kids could watch videos and all the Windows and Macs could not. Kind of crazy. This is a big plus for Google and they should be pushing it. I believe there are more Android developers than any other platform. Native Windows is happening less and less.

Not every Chromebook supports it, and some that do, don't do it well. It would likely backfire if Google made a big deal out of it before that was corrected. It's sort of a bonus right now for a select subset, not a ubiquitous feature.

True. Hopefully they will in the future.

Innovation at its best. Love the idea of hiding the keyboard.

pencil case built into the keyboard? That is a ridiculous design.

I bet Apple's gonna make a jewelry box instead and it will still be a hit!

So instead of working hard to make the flat surface have better haptics to mimic realistic keyboard experience, tech today will choose mechanical hinges and just hide the keyboard to make a flat surface... Great.
Android Central Newsletter
Get instant access to breaking news, the hottest reviews, great deals and helpful tips
Thank you for signing up to Android Central. You will receive a verification email shortly.
There was a problem. Please refresh the page and try again.