Google Now widget possibly leaks out on Google support page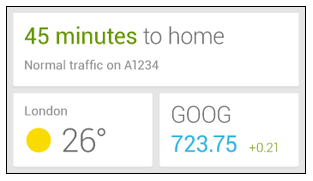 There's not a lot to look at, but the minimalism is part of what makes is great. We're talking about Google Now, and the fact that reference to a widget has appeared on a Google support page answers the prayers of many an Android fan. There isn't a lot of documentation, but very little is needed. Place the widget on your homescreen just like you would any other, and a click on one of the sections will open the relevant parts in Google Now. We assume that the widget will be populated based on your Google Now card preferences.
There's no word on when we'll see this, or if it will be part of an OS update or an update available via Google Play. We're guessing the latter, which makes it readily available for carrier phones that might be, shall we say, an OS version or two behind. We'll just have to wait to get the full details.
Update: Looks like Google's pulled that support page.
Source: Google. Thanks, @mattatwar1!
Senior Editor — Google Ecosystem
Jerry is an amateur woodworker and struggling shade tree mechanic. There's nothing he can't take apart, but many things he can't reassemble. You'll find him writing and speaking his loud opinion on Android Central and occasionally on Twitter.
This is a great idea. I would prefer to get traffic info first thing in the morning. Most morning I don't even look at it since it's in the notification menu. I know it's just a simple swipe and tap, but that can be too much to bother with some mornings lol. Make my mornings a little easier to have a widget on my home screen.

make the lock screen widget full screen please not like google play sound search widget.

Then flash AOKP and you can

I hope it's customizable like the google play widget so you can have seperate widgets for the various card categories as well as having one widget that grabs from all categories.

I think we all agree Google needs to implement lock screen widgets better.

I think we all agree Google needs to implement lock screen widgets better.

Don't need since I can swipe up from the home button but as we all know most OEMs haven't followed Google lead of having on screen navigation buttons.

What Google Now REALLY needs is an API for implementing third-party cards

Does anyone know - is google going to open the API for third party developers or not? What I think will happen Google will only allow some basic Google Now API access to others, while keeping the full user data to themselves. Make sense, as some of the data cannot be simply given away someone else, as it would pose security risks.

yes! time to ditch one more widget I have to install! :D

yes! time to ditch one more widget I have to install! :D

This is basically what i had imagined SF Launcher would do, all we need now is instant search á la action launcher.

What they need to sort is being able to have it enabled and disabled on different devices. Because it drains so much battery on my phone I have it turned off but I want to on my nexus 7 but it can't be because the account is linked to the Google account.. Annoying

I'd gladly welcome a Now widget. Maybe even a few new voice command actions to sweeten the pot!

Like someone else said... I'll care when third parties have access to the api a LA Twitter.

There's already about 300 customizeable ways to access and display twitter feeds. But you wont care about Google Now until they make it #301? You're missing out.

I posted this over on G+ last night and grabbed the screenshots of the full write-up. You can see them on my post. https://plus.google.com/109683790354060063509/posts/Hwg48GZToiy

It might actually become useful. Amazing.

Its useful now, very useful and better than anything any other mobile OS has ever done.

It's not all that useful. It shows a way to work that I have only traveled twice in the four years I've lived in the current city I live in; and I can't change the route even after using all the tips and tricks I found in the forum. It shows weather results from Accuweather or Weather.com which I find to be horribly inaccurate in the Tampa Bay area. I don't have a clue how it figures how to show the extra search results. Only once in the year or so I've been using it did it show search suggestions, and those showed up for about an hour and went away. It has only showed me extra news stories even though I'm on Google News about a dozen times a day and click on at least 10 different stories while on it. The calendar reminder is okay or would be if I didn't have to go into Google Now and scroll to the bottom. I suppose it has potential but aside from being a nifty way to search for stuff, I don't really see how it's all that useful.
Android Central Newsletter
Thank you for signing up to Android Central. You will receive a verification email shortly.
There was a problem. Please refresh the page and try again.