Google Now updated in the Google Play Store - Expands support for movies, sports and more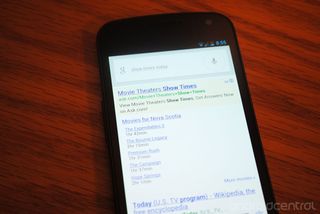 For those of you making use of an Android 4.1 Jelly Bean device and wondering when Google Now might be updated with some new features, we now know. The latest update has gone live in the Google Play Store and is ready for download. The changelog is more so an expansion of features that already existed, though there is a few new things as well:
For Android 4.1+ (Jelly Bean) devices, this update to Google Now includes:
Movies - see movie showtimes and more
Public alerts - receive emergency messages such as storm warnings and earthquake alerts
Add favorite sports teams to follow in real time (from Settings)
Support for Korea
As some may have noticed, sports team access was there previously but it was never active, so now it is. Also, Public Alerts used to come through Google Maps, they'll now also come through Google Now. it's a nice update, so be sure to grab it.
Source: Android
I'm definitely interested if I can only find it in the Google Play.. for some reason I can't and the link isn't working.. does this work for SGSIII?

"For those of you making use of an Android 4.1 Jelly Bean device" You haz no Jelly Bean yet officially good sir. So alas, you just get the regular Google Search unless you flashed the leaked Jelly Bean build.

LMAO "You haz no Jelly Bean".

in my best Einstein voice .."ahh ahhh!" lol... thanks I overlooked that

SGSIII running Jelly Bean?

Here's the URL from Google's post, for some reason the Google Play button in the article doesn't work: https://www.androidcentral.com/e?link=https2F2F...

The link brings me to the Google Search app. I can't seem to find it on the Play store either (Nexus 7). Strange.

The update is actually for Google search through the Play Store not Google Now. Its just that the features can be accessed through Google Now. Google Now isn't an app its a platform

What exciting news for the what? .08% of android users running Jelly Bean.

This should be open to all platforms. It's a BS move that it's 4.1 only

Agreed. I saw they were rolling Google Now out to iOS. Why not Ice Cream Sandwich?

Now if I could just get college games....and maybe a way to arrange events in my calendar....I'd be extremely happy with Google Now... Until then....I'm just pleasantly impressed.

Thank God for CM10 on my HTC one x.

Love that you can add sports teams now, I hope it gets expanded to include college sports teams.

They need to include it to Google Search, Google Now is just a voice extetion of what Google Search have and sport there was for long time there

Aokp on my AT&T GS3 took the update perfectly. Can't wait to see how it handles some sports reporting tomorrow...

The sports setup I see, but movies seem nothing more than a webpage not a now card.
Android Central Newsletter
Get the best of Android Central in in your inbox, every day!
Thank you for signing up to Android Central. You will receive a verification email shortly.
There was a problem. Please refresh the page and try again.