The Google Now Launcher, revisited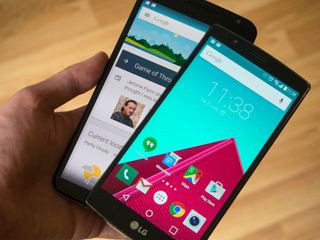 On June 28, 2012, we asked when Google Now would eventually become your home screen. On November 1 the following year, we got our answer. One of the big new features on Android 4.4 KitKat on the Nexus 5 was a re-vamped launcher that incorporated Google's predictive search and assistant app in its own panel off. The Google Now Launcher, as it was later named, followed HTC BlinkFeed as one of the first Android home screen setups to offer additional information as well as an assortment of icons and widgets.
The Google Now Launcher comes pre-loaded on recent Nexus phones and tablets, but it's also available as a free download on the Play Store for most modern Android devices. So what's the Google Now Launcher got going for it in 2015? Read on to find out.
Google Now on your home screen
First things first, though — let's get back to why you might want Google Now at the heart of your phone's launcher? The main reason is quick access to all the timely, context-sensitive information offered by Google Now. The predictive search feature ties into your Google account, in the process getting access to your search history, calendar, Gmail, location and a bunch of other stuff, as is explained when you enable Google Now. If you're OK with that, Google will go ahead and work its magic, showing you a list of relevant cards.
Google Now started out with a comparatively limited set of cards — the basics for weather, calendar appointments and transit information in a handful of countries. In the three years since the feature first arrived, however, Now's card loadout has grown enormously, to the point where Google now has an entire website and search feature to keep track of them all.
Here's a very small selection:
Most cards will fire depending on information from your Google account — for example, a flight booking in Gmail, or a calendar appointment — and your current time and location. For example, if you've got a flight coming up in the next day, Google Now will show you departure and gate information, and even boarding pass QR codes for some airlines. Similarly, if you have a meeting across town and traffic is heavy, Google Now might advise you to leave early or take an alternative route. All this stuff can be configured from within the "Customize" menu item in the slide-out panel.
The recent addition of cards from third-party apps has the potential to make Google Now even more powerful — again, assuming you trust the apps and services that want to show you stuff. Like ay data-driven service, the more information you have tied to your Google account, the more useful it'll be — just so long as you're comfortable with Google having access to vast swathes of your digital life.
And Google Now really comes into its own when you're traveling, with backdrops based on local landmarks, and useful cards for currency conversion, translation, nearby points of interest, and the time back home.
While many Android phones let you access Google Now with a swipe-up gesture, there are some fairly obvious benefits to having this information available o your home screen at any time. You're more likely to notice useful, timely cards if they're just there as part of your home screen setup.
The Google Now Launcher also gives you an easy way to use Google's voice search feature from any one of your home screen panels, with "OK Google" hotword detection. This feature is available for some other phones through the Google search widget and other built-in features like Motorola's Moto Voice. With the Google Now Launcher, however, it's always ready to go.
Google Now Launcher as a launcher
Aside from Google Now itself, the Google Now Launcher lets you bring a more Googley look and feel to your home screens. For those not using a Nexus device, it's a good first step at paring back some of the unwanted software that might've been included on your phone by the manufacturer or carrier. Generally speaking, the Google Now Launcher is smooth, responsive, and on Android 5.0 and above devices you'll get pleasing Material Design-style animations when opening the app drawer or one of your folders.
Beyond that, things are pretty simple: Drag apps into place from the app drawer to create shortcuts. Drop one app on top of another to create a folder. Long-press on a blank area of home screen to add widgets or change wallpapers and Google Now settings. And drag and flick unwanted app shortcuts away to remove them.
Much of this stuff will be the same as your built-in launcher, or any popular custom launcher. What you'll miss out on, however, us the fine control over icon sizes, borders, rotation and some other features offered by leading third-party launchers.
The future — Google Now Launcher in Android M
In the upcoming Android M release — available now as a developer preview, and launching later in the year — the Google Now Launcher has grown a few extra features. The app drawer has been rearranged into a vertical scrolling list, with four "predictive" app listings up top — applications which Google thinks you might want to us next. Landscape mode, previously only available on tablets, is accessible on phones via a settings option. And in M it's easier to uninstall apps, with an uninstall shortcut available at the top of the screen when picking up app shortcuts on your home screen, not just from the app drawer.
That's in addition to Android M's Now on Tap feature — not part of the Google Now Launcher per se, but a new Google Now feature designed to bring Google's predictive search features to every app.
None of this stuff should be considered set in stone until Android M's official launch later in 2015, but it shows Google's continuing to pay close attention to its launcher with this new Android version.
Reasons to avoid the Google Now Launcher
The main attraction of the Google Now Launcher is Google Now itself. So if you're just not comfortable with Google tracking all the information needed to make this service work, it might be worth looking elsewhere.
By the same token, the quality of the cards you'll will depend on how you use your Google account, and the apps and services connected to it. Now cards aren't perfect, and at times they can be hit and miss. Recent examples of Google Now wonk on our own accounts has included a weather card that's stuck displaying "Current Location" instead of the actual name of that location, regardless of where in the world we are.
What's more, Google Now still doesn't handle multiple accounts elegantly — you may need to forward certain things to your main Google account for the best results.
MORE: How to forward items to your main account so Google Now sees it
The bottom line
If you've fully bought into the Google ecosystem and want a Material Design-style launcher with useful predictive capabilities, the Google Now Launcher is a no-brainer. Beyond its advanced voice controls and context-sensitive cards, the Google Now Launcher is a fast, simple Android launcher without a whole bunch of extraneous features or confusing settings. On the vast majority of supported Android devices, it just works.
While there are some great third-party Android launchers out there, it's this that's kept me coming back to the Google Now Launcher over the past year, regardless of the device I'm using. If you've been doing the same, hit the comments and let us know how you've been getting on.
DOWNLOAD: Google Now Launcher (Free) (opens in new tab)
Alex was with Android Central for over a decade, producing written and video content for the site, and served as global Executive Editor from 2016 to 2022.
The problem i have with GNL is landscape mode on home screen and endless scrolling on Widgets and app screen but that's going to get fixed soon

Yeah, there's a few niggles I have with the now launcher, but the lack of infinite scrolling is one of the big ones. Wubba lubba dub dub!

And the dropping out of memory Posted via the Android Central App

Nexus 6 on 5.1.1 doesn't have any ram problems. Delivered by my Shamu

Exactly Posted via the Android Central App

Yeah, apparently landscape mode will finally be allowed by GNL, in Android M -- http://www.androidpolice.com/2015/07/09/android-m-feature-spotlight-dev-... (You can also force the current launcher into landscape with an orientation app.)

If only you could set up grid sizes and the icons were slightly smaller.

YES!!!!!!!! That is the ONLY reason i use Nova. The icons are meant for blind people on that GS6.

Google launcher is the d*mbest launcher Ive ever seen. Fire Matias Duarte finally!!!!

Yeeesssss. The large icons are the only thing keeping me from using the launcher. It makes my Note 4 look like a kids toy. I don't care if I have the ability for icon packs (although it would be nice) just make the icons smaller, more geared to my phones resolution. Posted via the Android Central App

Yup...... They need to shrink the oversized icons Posted via the Android Central App

>dlongb13: Yeah to grid size, allow icon packs, ability to resize the icons, and the ability to hide icons. If it just had those 4 things it'd be my main launcher because I really like Google Now off to the left of the screen. Can't give up my Balx icons.

I love the large icons Posted via the Android Central App

I used to have a dense grid, but I switched from Nova to GNL over a year ago to try out some minimalism, and don't really miss it. I just use folders. What I miss most about Nova, though, is that I could separate my Apps and Games in tabs in the app drawer, instead of having everything combined in one group.

Bah. Icons are huge and Nova is my preference. Have Google Now set to a double tap on the screen and voice launch to a swipe up. Better than a swipe in from the left, IMO. GNL is good but really doesn't offer that much in the way of customization. Posted via the Android Central App

I've used Google Now launcher since it's initial release but a few months ago I found Apex Launcher, and now I managed to get my perfect Home Screen with a mix of material design icons/sizes and dark theme drawer. Plus, with the custom shortcuts. If you want a quick/easy/simple/fast Google android experience go for the Now launcher but if u wanna customize the way you want just go for a 3rd party ;)

If Sense Home (Blinkfeed Launcher) wasn't themeable and didn't lock HTC's widgets to just that launcher alone, I'd probably be using GNL as my launcher. As for OK Google voice searches, you can already enable that within the Google app's settings to work on any screen. Cynicism Evolved

Can I change my default home screen yet? Posted via the Android Central App

It's nice except not customizable at all. I can't stand the White background on the app drawer, and i think the icons are too big. I'm finally a convert to Nova Launcher, and it's much better than what Google has done. It seems like the Google Now Launcher was just a weekend project for a group and hasn't really changed with no other features except for Google Now on the left page. What else does it do?

The blindingly white app drawer background is what keeps me from swapping Trebuchet for GN

Using it on my Nexus 5, but stopped using Google Now when I bought my first smart watch - it was driving me crazy!
As just a launcher, it's minimalist and fast.

Check out LightFlow to customize what's sent to your smartwatch. I use it with my Pebble, and it works like a charm! I couldn't take the traffic updates and such, so only certain GNow notifications go to my Pebble.

There is zero reason for me to use this. Google Now is a simple swipe up. What's the point of it on its own home screen? Or even a search bar? Third party launcher wins every time. Posted from my Nexus 5 via Android Central App

Where Google Now Launcher wins out in the Launcher game is it's stability and reliability. Posted via the Android Central App

Thanks for including the "Reasons to avoid" section. It explains why I don't use Google Now (it's actually disabled) or the launcher (not a fan of Material Design either). I find it much easier and more efficient to actively pull up needed information via certain apps or just via a web browser. :)

I feel the search bar on the home screen and taking up the entire left screen for Google Now is redundant. If they gave the ability to remove those two things I would use it. I use Nova. I actually have Google Now disabled as I find the service overall fairly useless.

Yes, it is redundant. I can disable the search bar on Smart Launcher Pro and still say "Ok Google" without losing screen real estate.

Allow me to hide applications, change icons and their labels, and I am in. Until then I'm on Action Launcher.

I have no problems using GNL on my Moto X 2013. Works well and I can get a lot of benefit from it. One thing I wish they would have incorporated into it was the Smart Dialer that was part of the N5 exclusively. It is so nice to be able to punch in a number and when the calls goes through it finds who it's attached to with a picture if it's a business. I have True Dialer now and it does some of that but not exactly.

My biggest issue with the launcher is the ability to hide/sort apps. Posted.

Not necessarily. People need to know that there is a super stable productivity oriented Launcher available for them. This information is absolutely vital. Posted via the Android Central App

This is Android Central. The topic seems pretty relevant to me. Maybe you are confused and think this is CNN?

i like the look of Nova Launcher on the GS6. The Google Now Launcher icons in the app draw take up way too much space resulting in too much scrolling. I go back and forth between using Google Now though. The battery capacity on the S6 is infamously low, so when I get frustrated with battery life, I will usually shut down all Location Services and Location History. So that usually makes Google Now pointless. I have gotten some great article suggestions from Google Now and the shipping confirmation can be nice, but Delivery notifications are usually non-existent.

I don't like GNL due it's lack of customization. It seems weird that an Android launcher would be so limited. But I guess that is Google's idea of Android somehow, like sealed battery and no SD card. Posted via the AC App on Note 4 N910F

That's not the point. Google Now Launcher is all about simplicity and productivity. Posted via the Android Central App

I like everything other than icon size and can't lock desktop to prevent accidental deletes/moving of icons. Posted via the Android Central App

Wow. I'm shocked to see how many people actually don't use it. I use it on every phone and tablet I own. I can't stand TouchWiz and their flip board addition. And all the customizable launchers, I found myself setting them up exactly like gnl, minus the giant icons. The news, updates on deliveries, appointments, weather and scores all in one place saves me from having to open multiple apps to get the same info. Posted via the Android Central App

Google Now Launcher IS Touchwiz minus maybe one feature (the ability to change the color of folders). I don't see how anyone can hate Touchwiz but like GNL, since they're almost exactly the same. I hate them both. Oh, and you can disable the Flipboard page and add a Google Now widget in its place, although I don't see the point. It's just trading one brain-dead launcher for another.

Google Now Launcher is the opposite of touchwiz. Google Now Launcher represents power and no gimmicky organization. Posted via the Android Central App

It isn't really, you might remember the TouchWiz Home from the GALAXY S III and Note II, but the TouchWiz Home in my Note 3 with official Lollipop works almost the same as Google Now Launcher, notice I said almost, and why almost? They share:
- Grid size is exactly the same: 4x4.
- Dock has the same amount of icons with the "Apps" icon being the fixed one, difference is that Google's is always located in the center whereas Samsung's in the right side.
- The menu is almost the same, the screens pull away and shows you three options: Wallpapers, Widgets and Settings, difference is that Google's takes you to Google Settings and Samsung's takes you to the Launcher settings where you can select 1 of 2 transition effects and activate or deactivate "My Magazine".
- Both are butter smooth.
- Widgets menus are pretty much the same, though Samsung's groups them by app.
- Google's has Now at the leftmost screen and can be disabled, Samsung's has its own app which is "My Magazine" (ewww!) and it's launched by swiping up from the dock.
- Both have the "OK Google" command. However, they differentiate each other in: - Folders in Samsung's are color customizable and show 6 app icons instead of 3 in Google's, they work the same though.
- Samsung's icons are the same size as in Jelly Bean, whereas Google's icons are bigger.
- Samsung's can uninstall and hide apps right from app drawer without having to drag anything and creating another unnecessary step, Google's can't.
- Samsung's allows to create and manage folders INSIDE the app drawer, Google's doesn't.
- Samsung's gives you two viewing options: Alphabetical and Custom; the latter allows you to arrange them to your liking, folders included; Google's doesn't.
- Samsung's gives you the option to view Downloaded apps only, Google's doesn't.
- Samsung's gives you the option to show which apps are hidden and which are disabled, Google's doesn't.
- Google's allows your wallpaper to move as you scroll, Samsung's doesn't. TouchWiz Home gives you some limited options to customize its look and feel, as well as vast options to organize your apps, not just in the screens but in the app drawer too. Google Now Launcher, as it is at the time of writing this, is far behind in organization, but it certainly has the edge in terms of looks thanks to the Material Design and performance (though TouchWiz has come a long way to be stable and smooth, Google Now Launcher is certainly a winner in performance and resources). So, in a nutshell, the TouchWiz Home in Lollipop Samsung ROMs is just like Google Now Launcher, but it adds very useful functions and refines pre-existing ones (obviously taking cues from third party launchers and other OEMs). I'm amazed that Google Now Launcher doesn't have at this point.

I will sleep better tonight....... Thanks! But yeah touchwiz is an abomination to Android. Posted via the Android Central App

Exactly. Google Now Launcher's nickname should be old faithful. Posted via the Android Central App

I think the best launcher at play store right now is "dodol Launcher". Its fast, light weight, lots of gorgeous themes, you can import layouts from other launcher, its matches Nova launcher features like gestures and various customizations but nova launcher doesn't have theme store and its not free. There are no ads no catch, everything is free. I love it
https://www.androidcentral.com/e?link=https2F2F...

Can you get rid of that horrible white background of the app drawer?

Only if you've got a ROM that allows themes/rro layers. There may be other ways... Wubba lubba dub dub!

Google Now is for people who hate customization and features. Contrary to what people say, it's not for people who want the lightest, fastest launcher, though. Zen Launcher holds that title. It is less than 1 MB, amazingly fast, and STILL has more usability features than Google Now Launcher. Smart Launcher Pro 3 is light and fast and is my favorite launcher, but if all I cared about was speed, I'd go with Zen and still have a better launcher than Google Now Launcher. I really don't get the fascination with GNL. It's about as crappy as one can get.

Google Now Launcher is for people who are busy and don't have time for endless customization. Google Now Launcher is about stability and organization. Posted via the Android Central App

Still has giant icons designed like the phones for seniors at Walgreens?
No thanks Posted via the Android Central App

If it had ability to open top app in a folder by swiping up I'd use it.I use nova but could make it without some things in nova but not that. Posted via the Android Central App

The most overrated launcher ever. Does nothing special, lacks fundamental features shared by practically every other launcher. Worthless IMO. Posted via the Android Central App

The most stable and reliable launcher ever. It integrates organization with simplicity. If your a busy on the go jet-set person who relies heavily on your device to keep you organized then Google Now Launcher is the only way to go. Nobody does it better. Posted via the Android Central App

Damn... Are you on the payroll? Posted via the Android Central App

I'm just telling it like it is Posted via the Android Central App

Maybe it's just me but I find it slows down so much over time. I have to reinstall it every few weeks to speed it up again. Maybe they have fixed that because I haven't used it months because Nova is just too good for me to go back. Posted via the Android Central App

I still prefer Nova. The customizability and normally sized icons are unparalleled. Posted via the Android Central App

I just can't part with having Google Now one swipe away.. I use i everyday.. I love the customization of Nova, I even have the prime version.. But there is no way to get Google Now on the left homescreen, so I don't use it.. If there was a way, (without using that shitty Google Now widget) I'd switch in an instant.

Isn't it one swipe away on all launchers now, albeit upwards rather than sideways.

The weather bug is actually not specific to the Google Now Launcher because I get the same whackiness on the Now Widget on a device without the GNL and my iPad in the Google App. Probably a back end issue. I just wished they allowed turning off the search bar since I pretty much use the OK Google to invoke a search.

I want this launcher without Google Now to the left.

I would be so much happier with it if they gave you that option, on my G3 I have a screen of apps either side of the main one so everything is quick to access, but on my moto g I end up having to use more folders or swipe a lot more.

I still wish I could get Blinkfeed on my Note 4. I think it would be rad if Google figured out a way to integrate Play Newsstand into Now. Give me an integrated predictive screen that I have a little more control over.

I fell in love with it on my old Nexus 5. Running it now on my G4 and loving it! I had an iPhone years ago and I love Android, but I didn't fall in love with it until my Nexus with GNL. My first Android phone was the LG Optimus G and it was great, but in my opinion the Nexus 5 is the best phone of all time (so far) and I can't see doing anything else right now. I've tried other launchers, but nothing really takes. Posted via the Android Central App

I love GNL but the one thing I really miss is GPE devices. I have this on my G4 and I love the G4 overall but I wish it was just running stock android. I love material UI so much. I just really like G4 screen and camera.

Google Now Launcher is my super reliable, always there and ready to go launcher just in case Action Launcher 3 or Nova breakdown. My complaints about the GNL are the bright white search bar, inability to remove icon lables and the inability to adjust icon size. Other than that it's the most stable and reliable Launcher on the market. Google nailed it with the GNL. Posted via the Android Central App

I've tried the others and keep going back to this one time and time again. It just works and keeps it simple and clean.

GNL is on all three of my devices. Two of them are Nexus phones. But I have cut down so much time searching for info because GNL finds it for me. Lately, it's not been as good with fetching stories I'd be interested in, but I figure it's because of my recent searches. Over all, I like the "stock" feel of the Now Launcher. Posted via the Android Central App

Xgels is the only reason I use Google launcher. Posted via the Android Central App

No icon notification count.. No Google now launcher I'm sorry..

My only complaint about GNL but it is still the only launcher I use. Posted via the Android Central App

9 Posted via the Android Central App

I'm happy with Nova, and Google Now is a no go for me anyway.
Google can't have access to everything. Posted from the redheaded stepchild of the Nexii

Half of the articles I read on the web are a result of Google Now's suggestions. I love how it knows what I like and suggests it to me. My entire life is a swipe away :) Posted via the Android Central App

At present, I have two Android devices: my Galaxy Note 3 smartphone running Lollipop, and a circa 2011 HP Touchpad rooted to also run Lollipop (Cyanogenmod12) - I am using GNL on both of them. While saying "I hate Touchwiz" may be a bit of an overstatement, I certainly don't love it either, and I opted for GNL in order to achieve a more "vanilla" experience (or at least as close as I can get to one on a Samsung without rooting). Trebuchet, the default launcher on cm12 is virtually identical to GNL already, only without the signature cards page. I switched anyway, basically just to have a more consistent experience between the two devices. As far as the cards go, I realize that using GNL and not using the cards is like getting a Corvette and only using the four cylinders. And I love the concept (and potential) of the cards. But I really just haven't made much use of them, at least not yet (nor have I really made much use of "Okay Google"). Its not that I'm worried about the potential privacy issues they create. It's just the bug hasn't bit yet. The urge to get in and learn the insides and outs hasn't compelled me to do the work yet. In the [now almost exactly] one year since I got my Note, I've maybe used the stylus like five times. I love special features in theory, but I almost never actually use them. Also, in what little use I have given the cards, there's been wonk. I very seldom see cards that are really useful to me. Example: I downloaded a language learning app called "busuu"that I have maybe used ONCE, and I get a card from it daily. And yet, I use "DuoLingo" daily for my German and Spanish, and "Human Japanese" for...well, you'll never guess which language...and I never see cards from them. So, to conclude: I have gotten virtually no use of the GNL's hallmark feature, and may or may not ever take the time to optimize it for my life (there just hasn't been much to draw me yet). But I'm still quite happy to have and use GNL in place of trebuchet, and ESPECIALLY Touchwiz if for no other reason than for its majestic Android "vanilla-ness" as I go about my daily activities playing with my games and apps, and checking news sites - including Android Central and the other Mobile Nations offerings. Maybe some day. Cheers! Posted via the Android Central App

I love Google Now, but don't like the launcher. Nova. Posted via the Android Central App

Sometimes "material design" drives me batty, especially when it interferes with the display of developer icons. But otherwise, when you couple it with "Ok Google",I just love it. Posted via the Android Central App

It's simple. Like ios. I got bored of customizing every aspect of my phone/tablet and just wanted a hassle free experience. I would have bought an iPhone but that would be stupid. Posted via the Android Central App

The Nova Launcher is the lightest, costumisable, reliable launcher I've ever had. Posted via the Android Central App

I am fine with using a basic launcher, but the thing that makes me dislike GNL is the needlessly duplicated functionality, I can swipe up to get google now whenever I need it, so forcing me to also have it as a swipe from the left at the expense of a screen that could be used for something else just seems so pointless.

oN THE GOOGLE LAUNCHER HAVE THEY COME OUT WITH ANYTHING YET FOR ICON NOTIFICATIONS? MISSED CALLS OR TEXT?

Nova Launcher on my N5. Gives me things like dark theme, infinite scrolling, tabs in app drawer so list isn't as long, and sideways app drawer (didn't know that was a restriction on GNL) I still use the swipe up for easy access to GN cards and search. I can't see myself going away from Nova unless I got something that needed the default launcher to access certain device specific features. I'm not sure if that's true for a Note or not which I would love to have.

I was expecting comments on battery usage. Huh.... Posted via the Android Central App

I've used the Google Now launcher for about 3 years now and for me it works fine. I haven't tried anything else I guess because I haven't found anything wrong with Google Now.

Yeah... I use Now exclusively. I had Nova Prime for a while on a previous phone, but I ended up slowly migrating back. Why? Well, I found that I spend far too much time fussing with any number of the zillions of settings something like Nova makes available. The micromanaging started to get tiresome and I ended up going with the whole "simplify" mantra. What is a launcher? A program to launch apps..... so why overcomplicate? As for the size of the icons? The 5x5 grid size on my Nexus 6... You know, the icon size might be large, but I think the scale kind of works to be honest. I have a couple of widgets and a few rows of icons, but increasing the number of rows/cols and decreasing the icon size.... it would just start to look crowded and 'off'. By the way, the Now Launcher in the M Preview solves a couple of complaints.... the app drawer is now vertically scrolled (MUCH nicer)... as is the widget browser... little things that make usage much easier. Expect a greater level of customization when M finally gets released (until the OEMs get ahold of it and mess it up)

Hmm... let me see, where do I start. Way huge icons, blinding in your face persistent search bar, wasted home screen when I can just swipe up for Google, lack of customization, no icon packs, no hide icons. I'm sure I could think of a few more if I tried. Just the fact that the Google Now Launcher has been around since 2012 and still has these type of missing features shows me that Google hasn't been receptive to user's needs. Don't get me wrong, I use Google's OS and services but quite a few of their apps leave something to be desired. I'm almost afraid to get too heavily involved with using Google's apps due to their record of killing off apps and replacing them with new ones that have less functionality. I know there are users that love the Google Now Launcher, but it just doesn't work for me. Nova FTW!

Its a good launcher but the lack of customization is a deal breaker for me which is why I still stick with Nova. Android's key feature is customization and GN is too damn simplistic. Nova FTW

I love the launcher except that my icons, shortcuts, folders and widgets disappear from the screen for no reason. Restoring data for the launcher from Titanium Backup did not restore them. This has happened multiple times, so while I really like this launcher, I am not going to keep rebuilding my screens. Trying ADW now and may look at others.

I've been using nova launcher for well over a year.. I love the launcher it's smooth and very customizable.. However I've really wanted to try GNL as I'm really into GOOGLE overall. So I've always had samsung but recently bought a nexus 6 AND I LOVE IT... So I tried Google now launcher Agian and it's definetly good.. Fast.. Smooth.. I love the google now pull out from the left on the home screen (main reason for wanting GNL), only thing I would like to change.. Switch up icon packs /and scroll animation.. Posted via the Android Central App

I really like the google now launcher, that being said I wise I could change the search bar and app drawer without having to root my device, as this isn't an option for me because I don't have access to a pc so it would be Uber convenient to be able to change these features. I have a Nexus device so it comes as the default launcher, but I'm concerned about "burn in" and to mitigate that changing the search bar and app drawer(which are white) would help mitigate burn in, because static white objects are big culprits of causing burn in. It's almost a deal breaker, but on the other hand, google now launcher has many pros I prefer and keep the stock Android experience alive and thriving, with the exception of those two issues. I wish they would take these concerned into account and offer a solution, like allowing for changing these two aspects/features of google now launcher!
Android Central Newsletter
Get the best of Android Central in in your inbox, every day!
Thank you for signing up to Android Central. You will receive a verification email shortly.
There was a problem. Please refresh the page and try again.