How to: Forward email to your main Gmail account so Google Now sees it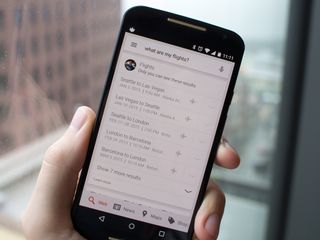 Take time to set up a few filters, and you'll enable a much better Google Now experience
As much as we'd love to condense all of our digital lives into just one email address, it just isn't feasible. And now with services like Google Now scanning our email inbox to surface relevant information — like shipped packages, upcoming flights, event reminders and the like — in other places, it's even more troublesome when you have data strewn about across several addresses. Google Now gets more powerful every week with additional features, but only if you have everything landing in one inbox.
With a little work on your part and some filters, you can give Google Now the information it needs so that you can use it to the fullest — and you won't have to shut down all of your other email addresses to do it. Cut out a block of time, open up all of your email accounts, and let us show you how to make this work.
A difficult situation
I regularly use two different email addresses — a personal one that's used for most everything, and a Google Apps account for here at AC. Though most important information that I'd want Google Now to see lands in my personal account, work-related items don't. That means if I have a work trip planned with flight and hotel information landing in my work account, when I open up Google Now on my phone or browser it doesn't know anything about that upcoming information.
Google Now doesn't currently have a system for monitoring multiple accounts simultaneously, so your only option is to forward mail from your secondary account to the main Gmail account that Google Now is set up to use.
Now of course the simplest way to do this is to manually forward confirmation emails for flights, hotels, packages and meetings over to your main Gmail account. Once they land there they're fair game for Google to parse and pull out relevant information, even though they weren't originally sent to that address. But chances are you don't want to forward each email manually, then have to see it sitting in your inbox and have to deal with it a second time. This is where filters come in.
Filtering forwarded messages in your main account
In Gmail, you can filter messages by sender, keyword, subject and more, making it easy to act on messages as soon as they arrive. For our uses, we'll want to create a filter on our main Gmail inbox to handle messages forwarded from our other accounts and put them in a separate folder. For example:
You can create filters either by first forwarding an email to yourself and selecting "filter messages like these" from the "More" menu in Gmail on the web, or you can start from the settings menu and the "filters" tab (I recommend the latter). For my uses, I have two filters set up to take any email coming from my work email address and process it properly. I've created both a filter that looks for anything coming from that work address, but also for any mail to that address — because messages generated from systems and sent to my work email will have that address in the "to:" field. In either case, the rest of the filter is the same — when email arrives, the filter instantly archives it, marks it as read, puts it in a folder (so I can see everything forwarded in one place) and never sends it to spam.
Now any time that I choose to send something over for Google Now to see, my main Gmail account will receive it and file it away nicely. The best part about this system is that although you never see it, Google Now does because it's somewhere in your email. I can still view the email in my work account and act on it, of course, but now Google Now is grabbing that info too.
Even better: Auto-forward email from your other accounts
Now you have a filter (or set of filters) on your main Gmail account to handle forwarded messages, but this still requires that you forward them manually from your other accounts to start things. To automate this process completely, you can also set up filters on your other accounts that handle the forwarding. Now of course the system of automatically forwarding email is different on Outlook, Yahoo, Gmail and every other email provider out there, but I'll explain the process generally, using Gmail as an example.
The email that you want to send over to your main Gmail account for Google Now usually falls into just a handful of categories — package shipment notices, flight and hotel confirmations (and changes), and things like that. What you'll want to do on each secondary account is set up a filter to forward each of these email types to your main Gmail account when they arrive.
For example, I created filters so that when an email arrives in my work inbox from "Alaska.IT@alaskaair.com" — the email address for Alaska Air bookings — it instantly gets forwarded to my main Gmail account. That's it, the filter doesn't have to touch anything else, and the email will show up unread in the inbox it was sent to just as before. (While you're at it, you can make that same filter do things like never send that email to spam or automatically star it when it arrives.) Do the same for email confirmations from Amazon, or any other provider that's sending you email that Google Now could potentially parse once you forward it.
If the second portion of the how-to seems a bit confusing, it's because it is confusing. Getting a filter right and setting up automatic forwarding addresses isn't simple stuff, and you may have to tinker for a bit to get it working — particularly if you have multiple email addresses to deal with.
Coming full circle
With both of these filter types in place, this is what happens:
Hypothetical flight booking email arrives into your secondary email account.
Filter automatically grabs it and forwards it to your main Gmail account.
Filter on main Gmail takes email, removes it from inbox, files it away neatly in folder.
Google Now can now show you the flight booking, even though it wasn't sent to your main Gmail account originally.
It's a whole lot of work to do just to have Google Now pull in information from multiple email accounts, but until Google adds the ability to natively follow multiple accounts this is the only real solution. But once you do have this lined up, you'll be in a world of email and Google Now bliss, where everything forwards, is received, and shows up right where you want it at all times.
Andrew was an Executive Editor, U.S. at Android Central between 2012 and 2020.
Thanks for the post! If only they just supported google apps though. So frustrating that they keep the most useful features in google now, google wallet and even Inbox away from Apps users. I have so many things tied to my apps account, there is just no easy way back. My Apps is my personal email, so i fell into the custom domain trap like so many others did when they launched it.

+1 Posted via the Android Central App

Same here. it's painful. -Posted via Samsung Galaxy Note® 4

I use wallet and google now with all the features with my personal google apps account?? What is the problem?

I'd been wondering if the updates to gmail, to use it to handle other accounts (yahoo, comcast, etc), might also alleviate that issue and surface content to Google Now. It sounds like maybe that's not the case. It's not really an issue for me; gmail gets my key info anyway - and I don't sync corporate email (we're still flushing out details due to security and the nature of business and content), but largely it's just not worth it to me to be reachable for work any time of day ;-)

Yeah sadly it's not based on what app you're using, but what lands in the actual Gmail account itself. If you think about it this makes the most sense, because you don't want the Google Now scanning to be tied to using a specific app, you want it handled on Google's servers for efficiency and portability.

I agree; it also makes sense for alternate providers to NOT provide access to Google for scans like this.
I like how Now continues to expand; it becomes more and more useful to me (too).

I would hope this is something they are looking at in the future. Otherwise popping my VZ acct into gmail just to have to turn around and forward already segregated mail traffic right back into gmail is sorta pointless...js

How about a Nice Hawaiian Punch? (For those of you who don't know: Google it - it was an old Commercial for *gasp* Hawaiian Punch)

I want a shasta! Posted via Android Central App

Said no one Posted via Android Central App

As far as I know there is no build in solution to automatically forward some filtered mails in yahoo mail...unless you want to forward any mail which gets send to your yahoo account.

Encouraging people to forward work e-mail to a gmail account is great! On a serious note, be careful if doing this from a work account. This is against the policy of many companies for good reason. I wish Google Now could use info stored on the phone to get you the info. This is how MSFT is using Cortana. It does not matter the service, if it sees a flight on your phone...it goes to internet and gets status for that flight etc.

The issue there would be that Google now is cross platform ( it's on tablets, chrome browser etc etc) and it would then need to upload everything to Google in the background which would freak all the privacy people out Posted via the Android Central App

Right....but on their platforms like Android it should work from any account. Then say if you want it on iOS/Gmail users only. Makes one of the bigger features of Android moot for many who use work accounts for travel etc.

If your work is worried about email forwarding, that's your own problem. Can't tell people how to manage that — i can just say what to do if you can forward.

Actually prefer the outlook app so I forward all my gmail to that

So your outlook on email setup is not the same as the article. :) that's awesome Posted via some candy

Great article thank you. Posted via some candy

So you like the article :) that's awesome

I've given up on Google Now for travel related pushes. TripCase / TripIT do the same thing, no forwarding requires Posted via the Android Central App

Yup that's definitely the case, but for folks who don't travel that often and like the integrated experience of Now, this can definitely be a worthwhile thing to do.

Talk about Jet Lag. How do you deal?

Hi Andrew, you lost me at "You can create filters either by first forwarding an email to yourself and selecting "filter messages like these" from the "More" menu in Gmail on the web, or you can start from the settings menu and the "filters" tab (I recommend the latter)." Would love to do some of this if I could actually understand what you said!

Is anyone concerned about Privacy? Although this may sound and feel convenient, it's scary giving Google access to all of your private communications. One example I could use is my original YouTube account. Somehow Google linked that account to my Gmail Account and won't release it. So every time I go to YouTube Google automatically defaults to my Google account on YouTube, which I don't use and I have to manually change it back... and the settings will not stay... so annoying... I'm not certain about this... but when you link other email accounts to your Android phone... does Google reserve the right to scan through those accounts as well (meaning read through your emails) ? Does anyone know?

How long should this take to activate after forwarding? I've tried sending an Amazon shipping notification, and after 10 minutes, I still have no package tracking in Google Now.

Another option Andrew previously wrote about is this, which will let Google Now see important emails without setting up individual filters: http://www.androidcentral.com/how-use-gmail-send-and-receive-email-your-...

Hey google now says .my account is not eligible , can u help with that ..... :
Android Central Newsletter
Get the best of Android Central in in your inbox, every day!
Thank you for signing up to Android Central. You will receive a verification email shortly.
There was a problem. Please refresh the page and try again.