How to: Forward email to your main Gmail account so Google Now sees it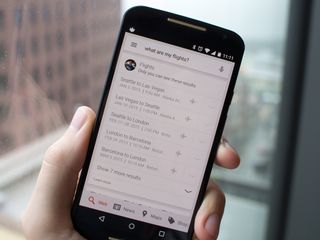 Take time to set up a few filters, and you'll enable a much better Google Now experience
As much as we'd love to condense all of our digital lives into just one email address, it just isn't feasible. And now with services like Google Now scanning our email inbox to surface relevant information — like shipped packages, upcoming flights, event reminders and the like — in other places, it's even more troublesome when you have data strewn about across several addresses. Google Now gets more powerful every week with additional features, but only if you have everything landing in one inbox.
With a little work on your part and some filters, you can give Google Now the information it needs so that you can use it to the fullest — and you won't have to shut down all of your other email addresses to do it. Cut out a block of time, open up all of your email accounts, and let us show you how to make this work.
A difficult situation
I regularly use two different email addresses — a personal one that's used for most everything, and a Google Apps account for here at AC. Though most important information that I'd want Google Now to see lands in my personal account, work-related items don't. That means if I have a work trip planned with flight and hotel information landing in my work account, when I open up Google Now on my phone or browser it doesn't know anything about that upcoming information.
Google Now doesn't currently have a system for monitoring multiple accounts simultaneously, so your only option is to forward mail from your secondary account to the main Gmail account that Google Now is set up to use.
Now of course the simplest way to do this is to manually forward confirmation emails for flights, hotels, packages and meetings over to your main Gmail account. Once they land there they're fair game for Google to parse and pull out relevant information, even though they weren't originally sent to that address. But chances are you don't want to forward each email manually, then have to see it sitting in your inbox and have to deal with it a second time. This is where filters come in.
Filtering forwarded messages in your main account
In Gmail, you can filter messages by sender, keyword, subject and more, making it easy to act on messages as soon as they arrive. For our uses, we'll want to create a filter on our main Gmail inbox to handle messages forwarded from our other accounts and put them in a separate folder. For example:
You can create filters either by first forwarding an email to yourself and selecting "filter messages like these" from the "More" menu in Gmail on the web, or you can start from the settings menu and the "filters" tab (I recommend the latter). For my uses, I have two filters set up to take any email coming from my work email address and process it properly. I've created both a filter that looks for anything coming from that work address, but also for any mail to that address — because messages generated from systems and sent to my work email will have that address in the "to:" field. In either case, the rest of the filter is the same — when email arrives, the filter instantly archives it, marks it as read, puts it in a folder (so I can see everything forwarded in one place) and never sends it to spam.
Now any time that I choose to send something over for Google Now to see, my main Gmail account will receive it and file it away nicely. The best part about this system is that although you never see it, Google Now does because it's somewhere in your email. I can still view the email in my work account and act on it, of course, but now Google Now is grabbing that info too.
Even better: Auto-forward email from your other accounts
Now you have a filter (or set of filters) on your main Gmail account to handle forwarded messages, but this still requires that you forward them manually from your other accounts to start things. To automate this process completely, you can also set up filters on your other accounts that handle the forwarding. Now of course the system of automatically forwarding email is different on Outlook, Yahoo, Gmail and every other email provider out there, but I'll explain the process generally, using Gmail as an example.
The email that you want to send over to your main Gmail account for Google Now usually falls into just a handful of categories — package shipment notices, flight and hotel confirmations (and changes), and things like that. What you'll want to do on each secondary account is set up a filter to forward each of these email types to your main Gmail account when they arrive.
For example, I created filters so that when an email arrives in my work inbox from "Alaska.IT@alaskaair.com" — the email address for Alaska Air bookings — it instantly gets forwarded to my main Gmail account. That's it, the filter doesn't have to touch anything else, and the email will show up unread in the inbox it was sent to just as before. (While you're at it, you can make that same filter do things like never send that email to spam or automatically star it when it arrives.) Do the same for email confirmations from Amazon, or any other provider that's sending you email that Google Now could potentially parse once you forward it.
If the second portion of the how-to seems a bit confusing, it's because it is confusing. Getting a filter right and setting up automatic forwarding addresses isn't simple stuff, and you may have to tinker for a bit to get it working — particularly if you have multiple email addresses to deal with.
Coming full circle
With both of these filter types in place, this is what happens:
Hypothetical flight booking email arrives into your secondary email account.
Filter automatically grabs it and forwards it to your main Gmail account.
Filter on main Gmail takes email, removes it from inbox, files it away neatly in folder.
Google Now can now show you the flight booking, even though it wasn't sent to your main Gmail account originally.
It's a whole lot of work to do just to have Google Now pull in information from multiple email accounts, but until Google adds the ability to natively follow multiple accounts this is the only real solution. But once you do have this lined up, you'll be in a world of email and Google Now bliss, where everything forwards, is received, and shows up right where you want it at all times.
Sign up for Black Friday email alerts!
Get the hottest deals available in your inbox plus news, reviews, opinion, analysis and more from the Android Central team.
Andrew was an Executive Editor, U.S. at Android Central between 2012 and 2020.