Google+ now implementing Play Store direct download links for apps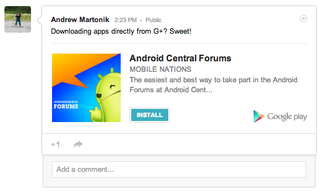 It's just been brought to our attention that Google+ has rolled out a new feature that integrates Google Play links directly into stream posts. Now when you link to an app in the Play Store, other users viewing the post can directly install it on their devices without having to be redirected to the Play Store listing first.
This is a pretty sweet feature considering how expansive the Android Google+ community is. Anything that helps users share apps between each other is good for everyone. Not to mention that this shows off the great potential and versatility that Google is trying to implement with all of its products and services.
Thanks, @DSaifAndroid!
Andrew was an Executive Editor, U.S. at Android Central between 2012 and 2020.
Sounds good for all developers business and marketing models.

I have to say it: Google+ kills Facebook on a straightforward feature comparison. It's easier to use as well. They just need to keep pushing features that will lead people to use it! Give developers, evangelists (not the religious kind lol!) & companies a reason to use it. I for one am finding myself drawn back to it. S/N: now if they would only create a system that would sync game saves on your Android devices to your Google account, so you could access the same saves and hi scores across multiple devices. THAT would be a killer feature.

You're spot on about the advantages of G+ over Facebook!

Actually, there is something called Backup API in Android that is available to us, the developers, and it's intended to be used exactly for that purpose - saving user's settings, highscores and other small chunks of data on the cloud and retrieving them from another device or after re-installation. I haven't used it so far but I'm planning to.

I see. So, the feature isn't borked. It just relies on developers taking advantage of the API. Thanks for sharing.

That's the reason why I love Google & Android™. Amazing, very easy to use tools with a look and feel that is always up to date to the latest usability, tools that can be used on any kind of device, and they link all their great tools together.
G+ is the best social network tool available. But in my opinion, I think it would be better if Google communicates a little bit more about it's amazing tools and devices to all it's (potential) users. Because Google Search is the most used Search Engine in the world, so I believe Google is missing a free and easy way to communicate their big releases to the world: for example if they change their Google-logo on their homepage (like they do it with birthdays) to a logo according the news they want to push out, they will reach almost everyone in the world who can be interested in it (average users, IT-peoples, and even totally-not technically literate persons).

Now, if they would include the download counts and 5-point review stars within this, it would serve to be even more convenient.

I am shafiq.i belong to pakistan.i am thirty five years old.i am a muslim boy
Android Central Newsletter
Get the best of Android Central in in your inbox, every day!
Thank you for signing up to Android Central. You will receive a verification email shortly.
There was a problem. Please refresh the page and try again.