Google now serves up song lyrics in search results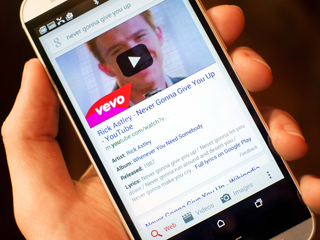 If you're tired of having to make that extra click just to find out what Miley was talking about in her latest hit, Google has your back. The search giant recently started showing song lyrics sourced from Google Play Music in its search results, replacing the need to click through to dedicated lyric websites.
In a statement to Search Engine Land, which appears to be the first publication to stumble upon the feature, Google said it has licensed the lyrics, which are linked back to specific pages on Google Play Music. Speaking further, Google gave Search Engine Land this rather coy statement:
While the lyric search appears to work for quite a few popular tracks, it also seems to leave out quite a few others. You'll have to give it a whirl to see how useful it is for you.
Source: Search Engine Land
Led Zepplin Posted via the Android Central App

"Ooh, it makes you wonder…"
Is that a hint to go search for Stairway to Heaven? :P

That's what I thought also! Haha Posted via Android Central App

Sing the whole message to StoH tune...it works, sort of! Lol I wonder what happens if we play it backwards?? Posted via the Android Central App

Have they fixed the badge situation with the Google Now Launcher? Posted via Android Central App

If there's an Android in your cell phone, don't be alarmed now.
It's just the system for the Google King. Posted via the Android Central App

+1 Posted via Android Central App

Nothing like being Rick-rolled in an android article. ;-) Posted via the Android Central App

Wow that made serach of songs easy. Great

Didn't work for me in the uk, and how do you view lyrics in google music, is it an all access option? Posted via Android Central App (Nexus 7)

I just tried a search and the lyrics didn't show up for me neither. Maybe it's just a US thing at the moment. Posted via Android Central App

Uh oh. The lyrics website owners will be pissed about this move. Google just basically killed their traffic. Posted via the Android Central App

Well this very help full for music lovers

Interesting... it's like they're rolling it out. I've found one song so far (not a ton of looking) that has turned up direct lyrics (without having to click on a link). "O Holy Night" will show lyrics as a search result, but other common Christmas songs, for example, don't... yet.
Android Central Newsletter
Get the best of Android Central in in your inbox, every day!
Thank you for signing up to Android Central. You will receive a verification email shortly.
There was a problem. Please refresh the page and try again.