Android Wear needs way more than just a Wear OS rebrand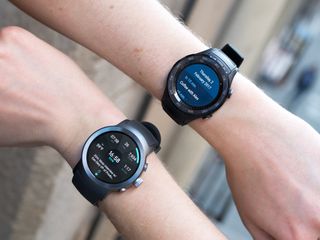 Google first launched Android Wear in 2014, and since then, the platform hasn't changed all that much. Android Wear 2.0 introduced a slightly updated UI and a few new features in 2017, and on March 15, 2018, Google announced that it was re-branding Android Wear as "Wear OS by Google."
The purpose of the new name and logo is to shine some light on Android Wear being open to Android and iOS users alike, and it follows in Google's recent pattern of axing the Android name from its other products and services (RIP Android Pay). The name is catchy and the logo looks good, but Google's going to need to a lot more if it wants Android Wear/Wear OS to succeed and put a dent in recent activity from Apple, Fitbit, and Samsung.
Completely overhaul Google Fit
Fitness has become a massive focus for smartwatches, so much so that Apple markets the health-focused features of the Apple Watch almost more than anything else. Even after wearing an AW myself for just a few short months, I almost instantly became addicted to closing those blue, yellow, and red rings.
Unfortunately, Wear OS doesn't currently have anything that can compete with Apple, Fitbit, or even Samsung for that matter.
Google Fit is the out-of-the-box fitness suite that comes with every Wear OS device, but it's pretty clear that Google's all but taken it behind a shed to be shot. There's no way to log your food intake, water consumption, or sleep. You can't create fitness challenges between you and other users, there aren't any badges/trophies to collect for your hard work, and the companion app offers very little insight into previous workouts.
A health/fitness platform that's designed by Google and links right to your Google account should be an easy sell, but in its current form, Google Fit pales in comparison to Fitbit, Apple Health, and Samsung Health.
Fitness/health tracking is becoming a bigger and bigger reason people buy smartwatches with every passing day, and with Google Fit in its current form, it's an immediate turn-off from Wear OS for anyone that's serious about trying to live a healthier life.
Seriously, where is the Pixel Watch?
Plenty of people before me have pleaded with Google to create a Pixel Watch, but that's not going to stop me from doing so for the 1839th time.
Before Google launched the Pixel line, Nexus phones were seen as nothing more than devices that Android die-hards geeked out over because of their top-of-the-line specs and new software goodies with the latest version of Android. The Pixel and Pixel 2 offer a lot of what made the Nexus line so great, but now they're being sold on carriers, Google's marketing them to general consumers, and people are now choosing between Pixel and Galaxy phones when it's time to upgrade.
Google is one of the most well-known companies on the planet, and that's why you see its logo on the Pixel 2's box, the back of the phone, and on the home screen. It's teaching people that "Pixel" is synonymous with "Google", and now that that brand awareness is starting to form, people will easily pick up on the fact that a Pixel Watch is made by Google and will pair nicely with their Pixel 2,3, or whatever.
I'll get into what I'd like to see from the hardware in just a second, but Google's main battle lies in marketing and branding. Consumers know that the Apple Watch perfectly compliments the iPhone and that Fitbit wearables are meant for people who want to be healthier. When it (inevitably) releases the Pixel Watch, Google needs to lay out an extensive promotional campaign and ensure people know exactly why they should buy it over an Apple Watch, Fitbit Versa, or Samsung Gear Sport.
Pixel Watch Pt. 2
Alright, so Google's got its work cut out for itself when it comes to branding the Pixel Watch, but what kind of hardware will appeal and connect with buyers?
There are plenty of third-party OEMs still making Wear OS watches, but the vast majority of companies keeping it alive are fashion brands like Skagen, Fossil, and Kate Spade.
Similar to the Pixel phones and Pixelbook, the Pixel Watch should have a simple yet attractive design that looks good on both male and female wrist. I know I've already made a lot of compassion to the Apple Watch, but this is something it excels at.
A heart-rate sensor needs to be on board, as does NFC for mobile payments and a built-in GPS for easily mapping your runs without having to carry your phone. If Google wants to have a watch with LTE connectivity, do what Apple does and have a separate model specifically for that.
As for pricing, I think something around $250 or $299 would be the sweet spot.
Will any of this happen?
Alongside the Wear OS announcement, Google did say that one of its main focus points for future software updates lies with new fitness features. In addition to this, a Google Fit companion app is finally coming to iOS in the coming weeks. We still aren't sure what kind of new fitness features Google's working on, but it's encouraging nonetheless to see it investing time and money into Google Fit.
Will we see a Pixel Watch this year? I'd bet that we do. I'm guessing Google will take more about new software updates/features for Wear OS at I/O this May, and we'll get a hardware announcement later in the year with the Pixel 3.
The timing would be perfect to go along with Android Wear's name change, and I can't imagine Google would pass up on an opportunity like this to really make something out of Wear OS.
Now that my rambling is done, I'd like to hear from you. What do you think Google needs to work on in order to make Wear OS a success? Sound off in the comments below!
Android Central Newsletter
Get instant access to breaking news, the hottest reviews, great deals and helpful tips
Joe Maring was a Senior Editor for Android Central between 2017 and 2021. You can reach him on Twitter at @JoeMaring1.
Google, its very simple. Buy Fitbit.

While I agree that buying Fitbit would make a lot of sense, not sure what the proper amount would be though. If they could take a portion of that money that purchasing Fitbit would take then I believe they could make Wear OS a true contender with some amazing features.
I would like to see combiing Google Fit with the Wear OS app for starters. Then maybe partner closer with Under Armours My Fitness Pal for better calorie adjustment and recommendation; although it does a pretty good job so far since Google Fit and MFP data syncs with each other.
Hardware wise, this will be a tricky one because everyone's "wants" seem to vary. I personally like my Tag Heuer Connected 41, coming from the Huawei Watch 2 but i switch to the Xiaomi Mi Fit for workouts because of the size and added heart rate monitor. Google did a pretty good job of allowing users to have multiple devices but the sync time are not as quick as I would like and the Xiaomi app support sometimes leave a lot to be desired.

Stop removing features with each version. Many of the super useful wrist gestures from AW 1.5 were removed in 2.0 removing a lot of functionality and hands free navigation with it. Forget Fitbit, Google should buy MyFitnessPal and incorporate it into Google Fit to fill the void as that app/service is leaps and bounds ahead of everything else out there already. Pixel Watch is a must to showcase the OS and to show faith in it themselves and to give confidence to other OEM's to invest in it again too. AndroidWear has been left to wither for a while but it's still better than Tizen because of Google's integration and IMO Apple's Watch OS thanks to it being so feature closed like iOS. It just needs a good kick-start again starting with this rebrand and hopefully soon the Pixel Watch Lastly they really need to stop so much fragmentation of the OS. With AndroidWear, software updates were few and far between with many watches being left behind on 1.5 or abandoned shortly after 2.0 by manufacturers pulling the plug (Asus)

If they buy fitbit, they immidiately get two huge benifits that would make them a serious competitor to Apple: -An entrenched, sizable user base
-A software platform that is the best in the business Fitbit lacks the scale or the hardware design chops to compete. If Google got behind them, it would be a huge win.

I just can't see it personally. Fitbit are doing too well just now to hand over their business and because they're doing so well they'll also come at way too high a price.

Just because they are doing well now doesn't mean that they will always be doing well. As GoPro is finding out, it is really hard to scale into a long term business when you only make a few select niche products. GoPro are slowly getting eaten alive by other larger companies making essentially the same product for much less because they are able to manufacture at economies of scale. I think that both Google and FitBit would have a lot to benefit from coming together.

Fitbit is doing well? News to me....

Exactly. They are struggling mightily. Stock is trading at 5 and change.

Less than $15B market cap as well. Would be a cheap way for Google to leap ahead. My spider sense tells me Apple is sniffing around.

Agreed. While Tizen may be tighter and more polished, the Android/Google integration with Android Wear is what keeps me using it.

What dov1978 said! Stop removing features!

I just want the original Huawei Watch updated.

I do not have this will happen. The original Huawei Watch was not on the list to get the update to Wear OS last week unfortunately. I like the look of it though

Or for Huawei to at least make a decent successor to the first... there's no good reason to upgrade as it stands.

I'm still holding on to Android Wear though there is work to be done. I've owned an LG Watch Urbane, Ticwatch E and finally settling on a Huawei Watch 2 Classic. I've enjoyed the baby steps in the improvements that Android Wear is making but it has to speed up. I agree with your comments, especially on Google Fit, which is agonizingly frustrating because it has some good stuff and also lacks on the very basics too. Wear OS and Google Fit need to make a prominent appearance at Google I/O.

Stop letting LG be the brand to showcase the OS. Since the first round of watches everything released has been hideous.

I'd have to disagree with that. Watch-R, Urbane 2 and LG Watch Sport were all really nice looking in my opinion. Just wish the latter 2 were available here in the UK

Well, I agree that LG Android Wear Smartwatches are great but I wish that they change the design on what they did to Watch Urbane LTE & Watch Sport: the plastic-rubber band with WiFi, LTE & Bluetooth antennas. The band is irreplaceable and breakable unlike the Huawei Watch 2 that can replace the band anytime you like.

Biggest problem with android wear for me has been the TERRIBLE software updates. Any watch other than Tag Heuer or Huawei was an awful experience when they deployed the 2.0 update in March 2017. The 2.0 roll out was a disaster for moto, sony, older LG, ASUS, older fossil...etc. They need to figure out how to release updates that don't brick older devices. For the prices they want, this is unacceptable. A ~$100-500 device should last MUCH longer than the first major software update. Give consumers the choice to decline updates too, don't FORCE them onto people who do not want the headache... at least not until you thoroughly test and debug. Android Wear 1.5 WAS AWESOME !! It was lean, efficient, reliable well thought-out. There was NO REASON to force everyone onto 2.0 at all.... especially since it crashed devices and would not fully install. Multi-100s of unhappy customers reached out to Google on the support forums with notification issues. A couple employees (if that) tried... with no real success. They closed thread before any real solution was found. For most, text, call and email notification is the primary reason to wear the watch.
https://productforums.google.com/forum/#!category-topic/android-wear/LeQ... My views here:
https://youtu.be/4xb6ZtJgk0I

And please, OEMs, stop with the circular screens. They don't fool anyone into thinking that you're wearing a fancy traditional watch, and a circular screen isn't a better UX than a rectangular screen for any application at all.

I'm all for variety here, but I really LIKE the round faces. I have an Apple Watch currently, but I'm just hanging onto Apple right now as I wait for my phone to age out and then I'm moving to Android (likely Pixel 2/3 depending on when it's time to switch). While the function of my Apple Watch is pretty cool, I dislike the rectangular display - I think it's ugly and uninspired - especially when all their damn watch faces are round (exaggeration - not all of them are, but all the analog inspired faces are round). Others feel different than I do regarding this and that's fine - that's why I think we need to have some variety in the shapes of the watches.

No, I dramatically prefer them. They look far nicer, and they work fine. I don't intend to buy any more square watches.

Sorry but I prefer my Gear S3 and Moto 360 because they're round. Apple watches almost always look out of place outside of the gym because they're square and black.

I'm tired of square watches personally. I still want there to be a good choice of square and round but after 5 or 6 of my last smart watches all being square I'm in dire need of a change

The issue isn't hardware though, and the Pixel name is still unknown to the vast majority of people. There is plenty of hardware at tons of different price points right now, the main issue is that AW just kind of sucks. Simple things take long than they should, I wear my SW less now than I did before 2.0 because the update made using the watch less enjoyable. The issue is not a name, or a lack of Pixel branded device, the issue is AW itself.

... in a nutshell, there are just better, more reliable, better sustained software operating systems out there. Garmin... A US military supplier, link below. Has GPS/fitness oriented wrist-wear products generations old that still work fine. US navy officers depend on these devices with their lives. Pebble... despite all the fit-bit bashing and hoopla around that... STILL WORKS in 2018!! True it may not be supported, but who cares? It just continues to WORK. Even fitbit (as awful as the www media made them out to be) has the common sense NOT to brick and ruin the older pebble devices. Xiaomi... Has the Mi band for ~$25. Its more of a basic time-teller, fitness wearable with notifications. That ecosystem at a meager $25 (!!) generally has been more reliable than Android Wear. True its very basic, but in terms of support and reliability this is an example of "less is more" or KISS (Keep it Simple Stupid). Googles biggest problem with Android Wear is they just can't seem to figure out a way to leave well enough alone... IF IT AIN'T BROKE, DONT FIX IT!! No excuses Google. Not at these prices. Here we are on the cusp of yet again another Google update. More buggy software update experiences are coming... I would LOVE to be wrong. I agree with the poster above. The issue is not the hardware. Hardware is fine so long as you don't mind charging the watch every other night. The whole AW software experience is the biggest problem (for anything not Huawei or TAG Heuer) https://www.military.com/daily-news/2017/06/16/the-navy-is-issuing-every...

"The issue is not the hardware. Hardware is fine so long as you don't mind charging the watch every other night." Yes but that is a problem to. It's one thing to charge a device that's fairly forthright. It's the reason why we have to charge that's the issue. Take a look at any more modern SW. Be it Sammy Gear 3 or An Apple Watch. There's a big honky difference between them and most of AW watches we currently have namely SIZE! Apple in particular has done a great die shrink with it's SOC in the watch. With this has come better performance and greater functionality. What do we have with AW? A repurposed SOC that is generations old. Not half the functions just to save on battery. Then the Casings. If I want a gigantic hunk of metal on my wrist I know where to go. If I want a dress watch then i'm not looking at all at Fossil or Michael Kors either. What we need is and SOC that's in the 10nm range at least better battery and thinner casings. Do that with the sensors we all want and it will sell. Keep doing what you are doing and expect a different result is the definition of insanity.

Yeah theres no denying... Android Wear is an ENTIRE SYSTEMIC FAILURE. From advertising (false advertising that is), to software updates and CERTAINLY to the hardware itself. Slow, laggy, crash-prone... and at least for me it all has gotten worse and worse with progressive software updates. I have kind of learned to forgive its battery deficiency issues, and the laggy-slow microprocessing... but that by no means lessens its importance any. But still when its all said and done.... FOR ME and MY overall personal experiences, given my list of preferences, and how I use the device... by far MY most catastrophic AW failure has been the buggy, crashy software updates. My watch went from PERFECTLY OK, to completely useless overnight.... I mean that in the literal sense. I woke up in the morning greeted with a MANDATORY software update... 45 minutes later my watch is a useless dumb-watch with a 36 hour battery life.

And that's truly sad. I should know, my Nexus 5X suffered from an i'll timed update from Google that Bootlooped and bricked my phone. Oh and I missed out on the Class Action to.

Bigger battery & thinner you say... make up your mind

How about more battery life? I need to be able to be able to get through an overnight or 2 without having to bring a charger. That was my main reason to go with Gear Sport. It can go a weekend without a charge. Also, waterproof. I still miss my pebble.

Nah, this would be nice but the success of the Apple Watch proves battery life is not a huge concern for people, and if it is it's far outweighed by other needs and wants.

How long does the Apple Watch last? Because my Asus ZenWatch 3 can't even finish a day. So yes, we do need better battery life.

That's my main issue. My ZenWatch 3 rarely makes it to the end of the day, and sometimes doesn't come close. Same problem I had with the Moto 360. Only my original LG G Watch could make it into a second day. I miss that battery life. My current watch is often utterly useless to me when I need it.

Google needs a Pixel watch to compete with the Apple Watch to show it means business in competing with Apple, Samsung an even Huawei so Google will have a full ecosystem (Pixel 2 and 2 XL, Pixel Book) to compete with them.

I would love to see step challenges like fitbit.

What no one is touching on is the cpu. To me that's the biggest failure of Android Wear, an aging cpu with no new update I am aware of around the corner. That's where Apple is winning so far, they have control of their cpu and do not have to wait on Qualcomm for an update. Google can improve on the software, but what are they doing for the brain of the hardware.

Yep, Ars (I think) had a great article about how Qualcomm has effectively killed AW. Google needs to step in and create their own CPU for wearables, but that's not the only issue.

Yeah... The slow CPU in these watches leaves a lot to be desired. Although I personally haven't had any major problems. A lag here and there, that eventually clears itself up decently enough. Although lately my moto360 is REALLY bad. AW 2.9 is really laggy now. 2.7-2.8 was not that bad.

The market won't bear the cost of constantly upgrading the chips in a watch. The batteries are limited as well. That's why no one is talking about it. Additionally, snapdragon isn't the only game in town, so Ars is a little click baity in that article.

Weren't the LG watches supposed to be the Pixel watch?

Yep, and apparently if they'd just been called Pixel Watch and Pixel Watch XL they would have been successful 🙄 Or hardware is not the problem, and the fundamental problem is that AW sucks.

The problem is partly the hardware because the current SoC is 2 years old and Qualcomm isn't too interested in updating it because the platform has stagnated and Google has not really done enough and we're slow to react to the Apple Watch, Wear OS can still succeed but Google has to (and I can't believe I'm saying this as an Android user) but Google has to learn from the success of the Apple Watch as well as Samsung to move forward and I have every Faith that Google will eventually get it right. Here's hoping they'll be a Pixel Watch.

I agree with the author of this article. Looking forward to Google I/O.

It's a shame since the Motorola 360 was out prior to the iwatch and looked promising. It all went downhill with Android Wear. I hope that Google sticks with one manufacturer (HTC maybe) for the Pixel line and maybe eventually create a watch. This will help promote consistency and quality hardware for the line

As a general rule, the people that actually use and need watches (hourly employees) can't really afford Android smart watches. In higher paying hourly work the Android watches are not dourable enough... They are fragile and be ruined in extremely physical or dirty environments... In very high paying work environments like oil & gas, the watches are banned because they are not intrinsically safe (risk of spark causing an explosion in hazardous plants if the watxhes broke... From... Say a fall or crush). Oh, and battery life is terrible... Nothing like obsessively compulsive daily battery charge for a watch.... Nothing beats an exceptionally tough in all environments, extreme heat or cold, intrinsically safe, atomic update always perfect time, and even solar (no battery)...the Casio G shock watch family... Not smart... Just exceptional at what it does... Provide the correct time.

-Updated processors
-Better battery life
-Lower prices
- No expensive pixel watch needed. Pixel phones are too expensive and not selling that good. Why should a over priced watch do better? Only tech nerds bother about pixel stuff. Not average consumer

A Pixel Watch is needed to cement the Pixel brand but at a lower price and while the Pixel 2 and 2 XL are overpriced, so is every other phone but that's the market now, the Pixel 2 and 2 XL in particular are cheaper than the iPhone X and 8 but not by that much I personally think the Pixel 2 and 2 XL isn't that overpriced, as it has the the core features and it's biggest selling point is the pure Android and Google software experience which is the smoothest, fastest and best IMO and 3 years of garranteed on timely updates security patches makes the Pixel 2 and 2 XL worth it to me.

Here is where updated pricessirs cause a problem. If the OS can manage for a long time, say three years, without requiring a higher powered processor, the market will stay where it is. As a niche product people are less inclined to update every year or two. Three years is an acceptable update cycle. Now, once the watch replaces the phone and the interface goes to audio, voice input, and less screen driven, then people will update their watches annually like they do phones. At that point, you will just carry a screen around with you, or some kind if Google Glass element.

Apple Watch really looks like trash.

Agree with Google Fit, but the title is misleading. Pretty sure Android Wear and iOS watches are not huge numbers. Both OSs are niche, so there is that. Plus Android Wear OS is pretty good as it is, but I do feel they need a better health app. So I don't necessarily feel the OS at large needs a lot more than what it currently offers.

Last night I got an update notification for Wear OS on my Phone. I declined it without any problems. I will happily remain on AW 2.9.x as long as I can. I continued to receive text message notifications this morning. So far so good. If history repeats itself though at some point in the future Google will force me to install the update... GAG. So the BIG selling point for Wear OS is iPhone / iOS compatibility. But Wear OS is being rolled out to watches months head of and WITHOUT the companion Apple iPhone app? Google can't even manage its own eco-system, now they are trying to manage a partnership with Apples? (facepalm). Wouldn't it be safer for them to wait for the Apple app? Beta test and confirm EVERYTHING works... and then once the wear-able ecosystem is stable and functioning in both systems? Release everything as a complete solution for both worlds. Who is making these decisions? I feel like Abbot & Costello are alive and well and managing Android Wear. Unlike Android Wear though an Abbot & Costello routine has a shelf life longer than 14 months.

What I want to see on the next Wear OS Device:
-Project Trebble inluded (Seperate Vendor Partition)
-A-B Seamless Updates (For faster updates)
-Updated Processor
-LG Watch Sport needs a major redesign to have a removable & replacable bands. The rotating crown is still for me the best feature among all Wear OS Devices but the bands are breakable and irreplacable unlike the Huawei Watch 2 LTE.
Android Central Newsletter
Get instant access to breaking news, the hottest reviews, great deals and helpful tips
Thank you for signing up to Android Central. You will receive a verification email shortly.
There was a problem. Please refresh the page and try again.