Google Maps update brings better search and terrain view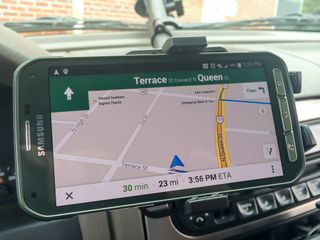 Shortly after the Google I/O keynote ended, Google pushed out an update to Google Maps to bring some new features to the free turn-by-turn navigation service. The change log this time is rather short, but the update does make it easier for you to search for places and know where to go.
According to Google, search results will appear on the map with descriptions so that you can now decide what you're looking for. Transit location will now show walking time and terrain view will give you a 3D landscape with orientation.
This is the latest update following a new revamped UI update that was pushed out last month.
Are you seeing the new Maps update pushed to your Android? What do you think of the new experience? Sound off in the comments.
Get the Android Central Newsletter
Instant access to breaking news, the hottest reviews, great deals and helpful tips.
androidCar had lane guidance in the demo today, hopefully this is either in this release or coming!

That started with the last update.

Yeah lane guidance is already in the app.

If you're in a supported country

The turn by turn direction update was fantastic. Posted via Android Central App

I think here maps is away better than Google's, and Google maps app has the same design of here's.
Nokia forever

And I think Google maps is way better than Here maps. From my Note 2 to you

I ended up using Google navigation a lot this past weekend, after having used Waze for the last year. I must say, I really liked the lane guidance feature and overall ease of use vs Waze. I may have to switch back. The only downside is it seems to use more power than Waze, my (admittedly low amp) car charger couldn't keep up.

Yup, a 2.1 amp charger is a must during navigation. Posted via Android Central App

The charger is 2 amp (for the attached cord), but the secondary usb port is not. Unfortunately, I can't find a car charger where the attached cord is not coiled, which doesn't work with my setup/car.

There are these two option in the AC shop:
https://www.androidcentral.com/e?link=http2F2... https://www.androidcentral.com/e?link=http2F2... Also, there is the Qmadix USB Dual Mobile Charging Hub 2.1 & 2.1 Amp and one I cannot remember the name of, but have. I will check when I get home. Do you have to have a hard wired + usb port? There is always this:
http://www.thinkgeek.com/product/11f0/?cpg=cj&ref=&CJURL=&CJID=2617611

And the new version number is??? The last update I got is 8.1.0 (801000923) and it screwed up the point of view. Instead coming from the bottom of the screen and going up, my car is coming from the left side of the screen and is going towards the right side of the screen. I hope they fix this bug soon.

Considering that the Google Maps navigation usually crashes out on me at least once between DC and Baltimore every time I drive that route (which has been far too often lately) I really hope this update brings some stability improvements.

Google maps is the best.
True that.
DOUBLE TRUE! Sent from: Ask the NSA.